Storm Forecast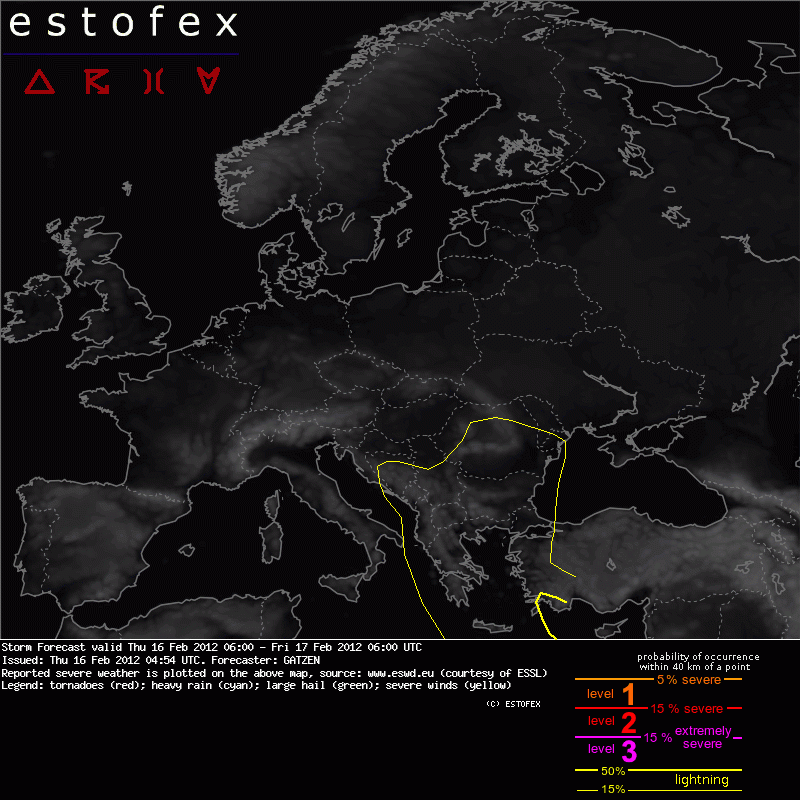 Storm Forecast
Valid: Thu 16 Feb 2012 06:00 to Fri 17 Feb 2012 06:00 UTC
Issued: Thu 16 Feb 2012 04:54
Forecaster: GATZEN
SYNOPSIS / DISCUSSION

A deep polar trough is located over eastern Europe. It will move eastward slowly. Dry and cool low-level air covers most of the affected region except for the east Mediterranean, where south-westerly winds ahead of a cold front will be associated with some moisture recovery to the south of Turkey. While the trough expands southward, lapse rates will increase and instability becomes likely. Additionally, lift is expected at the cyclonically sheared flank of a jet streak that travels with the rotating trough axis. First thunderstorms have already formed over the south Adriatic Sea. This convective activity is forecast to spread south-eastward affecting the Aegean Sea and the Mediterranean Sea to the south of Turkey until the night hours.

Main low level forcing will be located near the frontal system of a deepening low to the south of Turkey. Warm air advection and rather strong lift can be anticipated near a frontal wave that travels along the southern Turkish coasts in the afternoon and evening hours. Given westerly winds, strong upslope flow is not expected. However, excessive precipitation is not ruled out, although the threat is low. Rather weak vertical wind shear limits the chance of storm organization and severe convection is not likely.

In the wake of the cold front, lapse rates will further increase near the trough axis. Mid-levels will be well below -30°C and some forcing is provided at the northern flank of the mid-level jet streak. Showers and thunderstorms are forecast especially over the Aegean Sea. Convective activity will likely weaken late in the period when the trough spreads eastward and dry low-level air masses will spread southward.

A weak chance of some thunderstorms does also exist over Romania, Bulgaria, and surroundings. Steep lapse rates and some low-level convergence are expected to assist for some instability. Some weak thunderstorms are therefore not ruled out.