Storm Forecast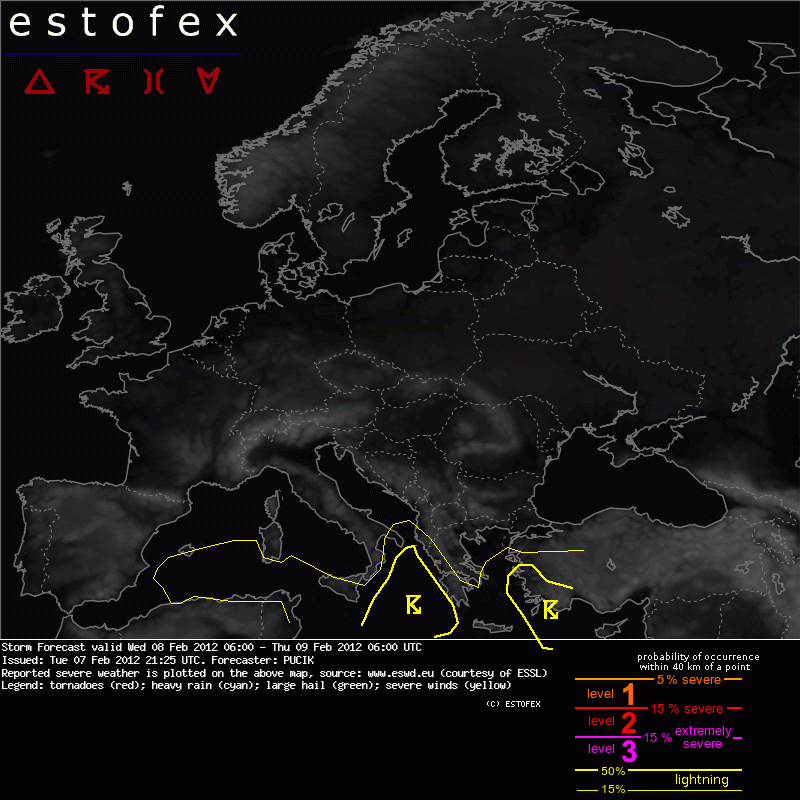 Storm Forecast
Valid: Wed 08 Feb 2012 06:00 to Thu 09 Feb 2012 06:00 UTC
Issued: Tue 07 Feb 2012 21:25
Forecaster: PUCIK
No threat levels have been issued

SYNOPSIS

Synoptic situation is not expected to undergo any major change during the forecast period with an extensive trough at mid and upper levels covering most of Europe creating a prolific blocking situation. Steering jet-stream is deflected towards Northern Africa and the Southeastern Mediterranean along with the deformed frontal zone. Several closed cyclonic vortices are imbedded within the trough with the most significant one centered over Balkans. Closer to the surface, an elonganted high pressure system stretches from Atlantic towards continental Russia with prevailing northeasterly flow advecting continental arctic airmass over most of Europe. A low pressure system over the Southeastern Mediterranean is expected to become detached from the main frontal zone/upper level forcing and is forecast to fill in slowly.

DISCUSSION

... Southern and Southeastern Mediterranean ...

Detachment of the frontal zone from the surface low, as well as the lack of upper level support from the jet-stream will likely lead to the weakening low level circulation of the surface low. Passage of the front will reduce the availability of the low level moisture and with only marginal CAPE values simulated by NWP, situation looks to be easing regarding the threat of an excessive convective rainfall. The highest amounts of precipitation from the DMC can be expected on the SW coastline of Turkey, especially in the first half of the forecast period.