Storm Forecast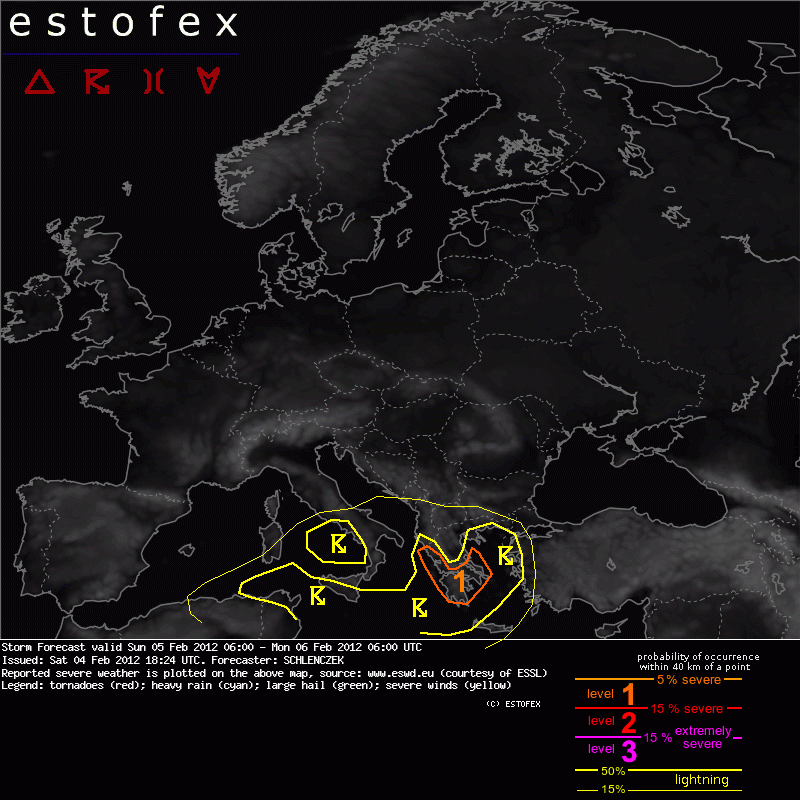 Storm Forecast
Valid: Sun 05 Feb 2012 06:00 to Mon 06 Feb 2012 06:00 UTC
Issued: Sat 04 Feb 2012 18:24
Forecaster: SCHLENCZEK
A level 1 was issued for coastal areas of Greece mainly for excessive convective precipitation.

SYNOPSIS / DISCUSSION

Cold air has overspread large portions of Europe and Asia and deep moist convection is confined to the Mediterranean region. Ahead of an upper trough, which is centered over the Tyrrhenian Sea, some low-end instability and strong shear overlap. It is expected that onshore advection of relatively moist and warm air will lead to continuous convective rainfall over SE Europe with the greatest probability of severe convective rainfall over Greece. Daily precipitation sums may exceed 50 mm in some places, locally even stronger precipitation may occur. A level 1 was issued as the rainfall/ flooding threat persists in the western parts of Greece and S Albania and will continue throughout the next 48 hours according to GFS.

Locally strong rainfall will also continue further north along the Adriatic east coast, but it is expected to be only partly convective and therefore no threat level is issued.