Storm Forecast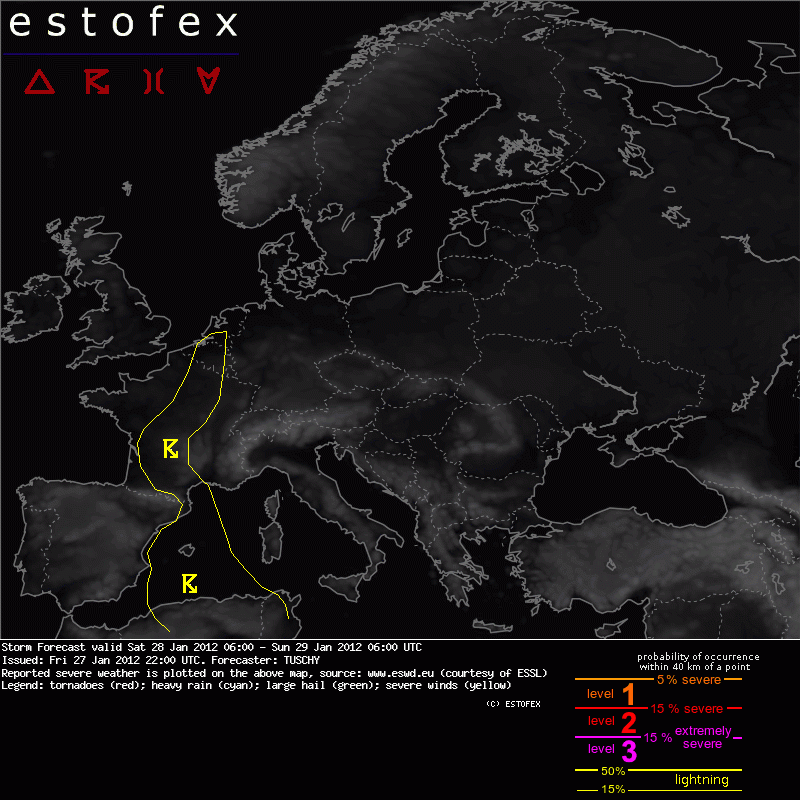 Storm Forecast
Valid: Sat 28 Jan 2012 06:00 to Sun 29 Jan 2012 06:00 UTC
Issued: Fri 27 Jan 2012 22:00
Forecaster: TUSCHY
SYNOPSIS

The wavy streamline pattern over the far NE-Atlantic continues. Strengthening ridging just west of Ireland and a weak trough over the North Sea cause an increase in the geopotential height gradient over W/NW Europe. As a result, a 50 m/s jet at 300 hPa forces the North Sea trough to amplify southwards, affecting far W-Mediterranean during the night hours.

A cold and rather dry continental air mass affects the rest of Europe. Hence, no further thunderstorm activity is anticipated.

DISCUSSION

... W-France ...

A strengthening 1030 hPa high pressure area builds northeastwards towards the UK. A brisk N/NE-erly flow evolves over W-France and assists in some weak moisture advection to the south. Coldest air at 500 hpa (e.g. -30 °C or less) grazes that region with somewhat better BL moisture, so marginal SBCAPE build-up is expected. There is no hint that updrafts become organized and/or deep enough to take profit of strong shear, so only sleet and strong wind gusts are forecast. A rapid decline of the activity occurs after sunset.

Very sporadic activity is possible over the E/SE North Sea, but thunderstorm coverage will be too marginal for a 15-% thunderstorm area. However, the thunderstorm area was expanded all the way to Belgium to cover the ongoing but rapidly decaying morning activity of isolated, electrified convection.

... W - Mediterranean ...

-25 °C or less at 500 hPa cover the W-Mediterranean, where SST run from 11 °C over the NW-Mediterranean to 18 °C to the south and east. One spot with better chances will be west of the Balearic Islands, where a warm eddy can be seen in the SST analysis data, increasing the sea surface-air mass temperature gradient there. Another region will be along the coast of N-Algeria and offshore, where better BL moisture exist. Also SE/E-ward facing coasts of Corsica and Sardinia may see some activity with marginal moisture convergence and lift, probably enough for an isolated thunderstorm risk. We did not add those islands to the thunderstorm area due to the sporadic nature of that activity. Very sporadic activity can't be ruled out outside the thunderstorm area, too....mainly west of Italy.

The atmospheric conditions however become increasingly favorable for back-building/slow moving convective activity (either showers or thunderstorms within the highlighted regions). The steering flow is weak with diffluence aloft. Placed beneath the right entrance of a modest 300 hpa jet streak over SE-France/NW-Italy, I would not be surprised to see a few high rainfall amounts mainly over Corsica, the Ligurian Sea and adjacent areas. We did not highlight that in our level scheme as DMC activity will be very low at best.