Storm Forecast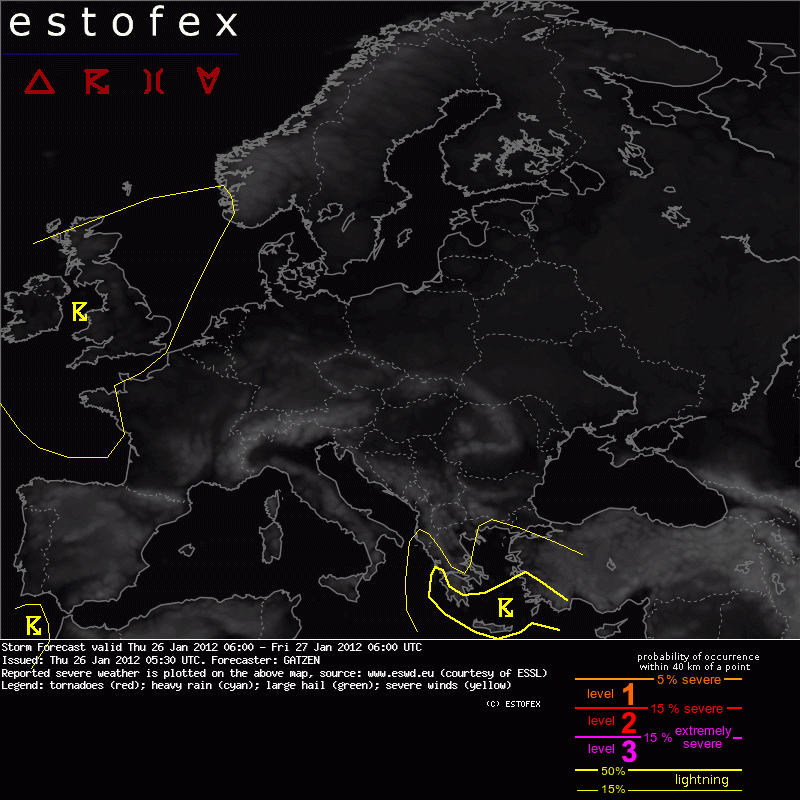 Storm Forecast
Valid: Thu 26 Jan 2012 06:00 to Fri 27 Jan 2012 06:00 UTC
Issued: Thu 26 Jan 2012 05:30
Forecaster: GATZEN
SYNOPSIS

Low geopotential over eastern Europe and another trough that slowly crosses he British Isles are divided by a sharpenin ridge over the central portions of Europe. At the southern periphery of the eastern trough, an intense vortex affects the east Mediterranean region.

DISCUSSION

Greece, Aegean, Turkey

Cold and dry low-level air masses spread south-eastwards into the east Mediterranean behind a cold front. However, the warm sea surface will provide steep lapse rates and sufficient low-level moisture to allow for CAPE in the deeply mixed air mass near the trough center. As a consequence, numerous thunderstorms are forecast. The main activity will spread south-eastward during the period due to low-level stabilization. Weak vertical wind shear and CAPE will limit the threat of organized thunderstorms.

British Isles and surroundings

Near the base of the western trough, numerous showers and thunderstorms have built in the morning hours that will likely go on during the period. However, chances of thunderstorms are forecast to decrease gradually as the low-level moisture decreases over the British Isles. Given about 10 m/s 0-1km vertical wind shear, a brief tornado is not ruled out, but the threat is too marginal to issue a level 1.