Storm Forecast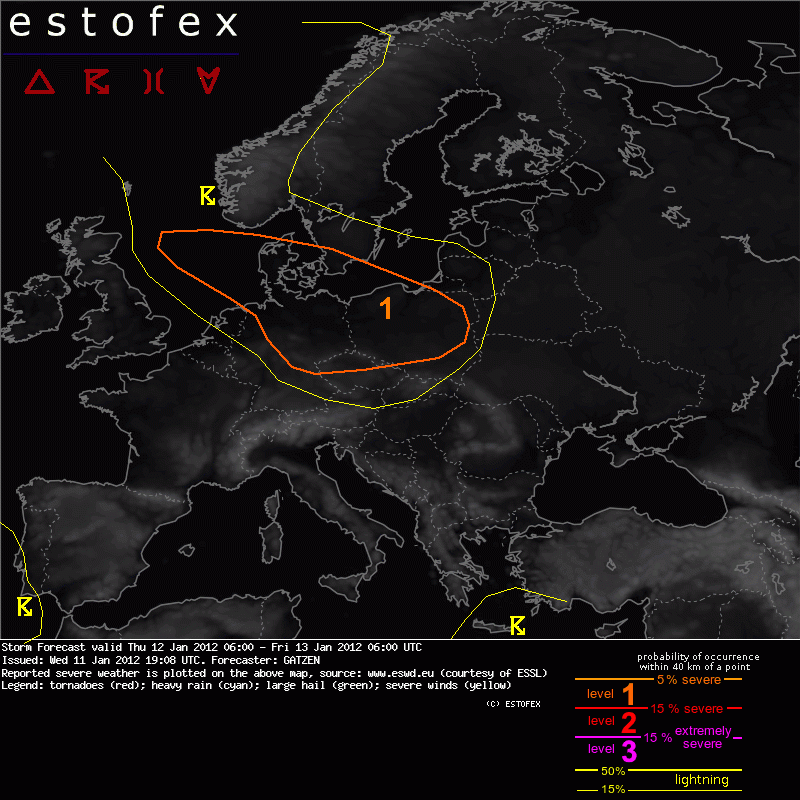 Storm Forecast
Valid: Thu 12 Jan 2012 06:00 to Fri 13 Jan 2012 06:00 UTC
Issued: Wed 11 Jan 2012 19:08
Forecaster: GATZEN
A level 1 was issued for Poland, southern Baltic Sea, Denmark, eastern North Sea, northern and eastern Germany, and northern Czech Republic mainly for severe wind gusts.

SYNOPSIS

High geopotential has build across the north-eastern Atlantic. The broad long-wave trough over eastern Europe will remain as a new intense polar trough migrates south-eastward into the Baltic Sea region during the period. A strong westerly jet streak will affect central Europe at the southern flank of this approaching trough. Ahead of the cold front, a tongue of rather humid maritime air will be present, while dry air masses will dominate most of the forecast region.

DISCUSSION

East Mediterranean

Near the trough center of the south-east European trough, steep mid-level lapse rates are present above the warm sea surface. Given some low-level moisture and weak lift, scattered showers and thunderstorms will develop. However, northerly surface winds and the advection of dry air masses will keep the storms off the coasts. Weak vertical wind shear will limit storm organization and severe storms are not forecast.

Central Europe

The Scandinavian trough will quickly spread into the Baltic Sea region. The associated strong westerly jet will move southward leading to lift along the cold front that will also move southward. A tongue of rich low-level moisture that is already present over northern Germany will lead to 0-1km mixing ratios of 5g/kg ahead of the cold front. The lift is expected to create neutral lapse rates that will allow for weak CAPE especially over Poland and eastern Germany. Further west, rather warm mid-levels will remain at the western flank of the mid-level trough, reducing the chances of thunderstorms.

Current thinking is that linear organized convection will develop along the cold front during the day. Especially over Poland, severe wind gusts are forecast along the gust front given the strong wind field (about 35 m/s at 850 hPa). A tornado is not ruled out especially near bowing segments as low-level vertical wind shear and SRH will be high (17 m/s 0-1km vertical wind shear and 400 mē/sē SRH). Late in the period, the weakening cold front will likely reach the Ukraine and Hungary. Decreasing low-level moisture will limit the thunderstorm potential.

Some additional thunderstorms are forecast over the Baltic Sea in the wake of the cold front. Low-level stabilization and rather weak vertical wind shear will reduce the thunderstorm potential.