Storm Forecast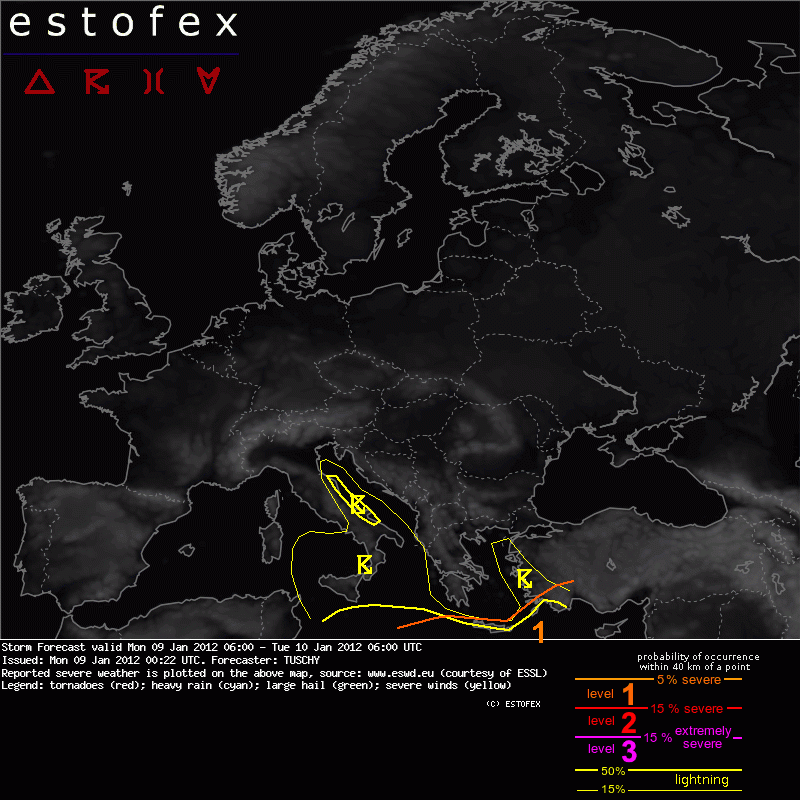 Storm Forecast
Valid: Mon 09 Jan 2012 06:00 to Tue 10 Jan 2012 06:00 UTC
Issued: Mon 09 Jan 2012 00:22
Forecaster: TUSCHY
A level 1 was issued for parts of the SE Mediterranean mainly for strong to severe wind gusts, isolated large hail/tornadoes and heavy rainfall.

SYNOPSIS

A deep upper trough is centerd over E/SE Europe. A gradually strengthening depression is forecast to develop west of Crete with a slow drift to the E/NE during the following 24 h.
High pressure over W/CNTRL Europe continues with quiescent conditions, whereas a more zonal flow pattern evolves north of Scotland/Ireland with increasing wind fields at all levels.

DISCUSSION

... Adriatic/Ionian Sea and Crete ...

Isolated to scattered thunderstorms occur beneath cold mid-levels, which cover the Adriatic and Ionian Sea. Main focus for initiation will be NE-ward facing coasts, where modest BL moisture flux convergence assists in some SBCAPE build-up. Not much moisture is needed due to steep mid-level lapse rates (e.g. exceeding 8K/km), so final thunderstorm coverage may become diffuse. Marginal hail and an isolated cold-core funnel/tornado may be observed.

Scattered to widespread showers/thunderstorms are forecast along a SW/NE aligned baroclinic zone, which meanders atop or just south of Crete all the way to SW Turkey. Latest data indicates that Crete remains along the cold/more stable side of that boundary, so heaviest precipitation/most organized convection remains south of that region. However, further model runs have to be monitored as not much northward shift of that boundary is needed for severe thunderstorms to affect Crete.

Along and south of that boundary, scattered to widespread showers/thunderstorms move from SW to NE. DLS of 15 m/s, 0-3 km shear of 15-20 m/s and some directional shear beneath 1 km may assist in organized multicells with isolated large hail, strong to severe wind gusts and isolated tornadoes. However, a near front-parallel flow will keep the overall storm mode quite messy, so discrete storms will remain sporadic in nature. Heavy rainfall (more stratiform) affects Crete and later-one also SW/S-Turkey. Again, a more pronounced flash flood risk may arise for Crete, if this boundary runs more to the north than currently forecast. Due to those uncertainties, the level 1 was shifted northwards and covers Crete (heavy rainfall risk).