Storm Forecast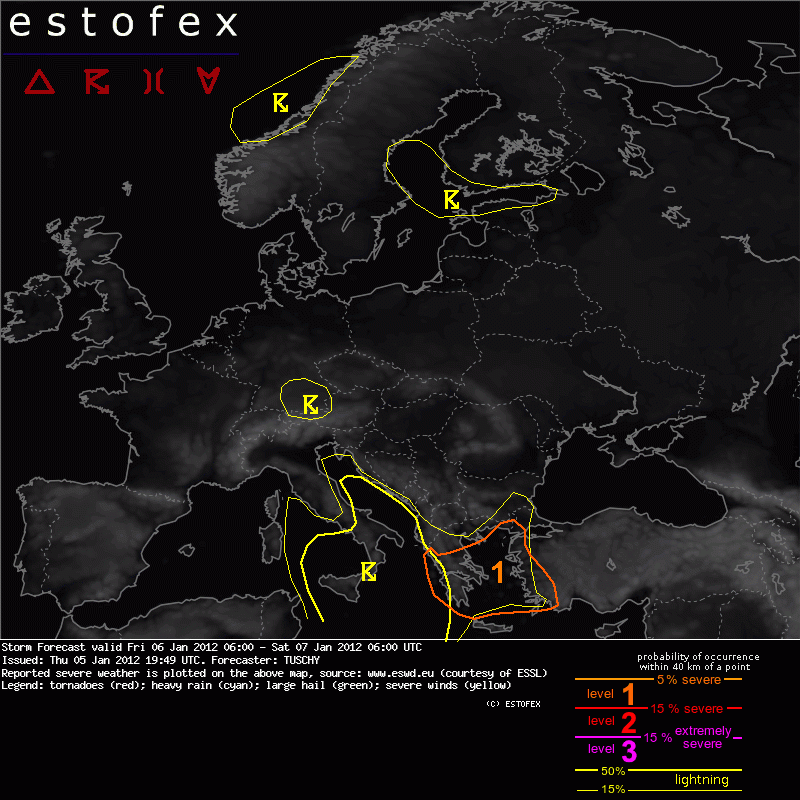 Storm Forecast
Valid: Fri 06 Jan 2012 06:00 to Sat 07 Jan 2012 06:00 UTC
Issued: Thu 05 Jan 2012 19:49
Forecaster: TUSCHY
A level 1 was issued for Greece, Aegean Sea and W-Turkey mainly for severe wind gusts, isolated tornadoes/large hail and locally heavy rainfall amounts.

A level 1 was issued for SW-Turkey mainly for heavy rainfall amounts.

SYNOPSIS

An highly meridional flow becomes established over most parts of central Europe as a strong upper trough continues to dive southwards. Assisted by a lee cyclogenesis SE of the Alps, the amplitude of this trough will become quite impressive, affecting Malta during the latter part of the forecast period.
A gradually strengthening cyclogenesis is forecast over the far S-Adriatic Sea/Albania. This feature remains progressive and moves rapidly eastwards, approaching the far SW-Black Sea during the evening and night hours. The ensemble spread regarding the intensification process of this depression is moderate and confidence in at least a 5-7 hPa core pressure drop is high before the low starts to fill as it exits the far NE Aegean Sea during the evening hours.

Embedded in this expansive upper trough, numerous smaller-scale vortices move general towards the SE/E with the strongest one affecting N-Norway/Sweden, Finland and N-Baltic Sea.
Ridging works in from the west and keeps conditions calmer compared to the past days. However, sporadic and short-lived thunderstorms are still possible over far S-Germany during daytime hours.

DISCUSSION

... Tyrrhenian/Adriatic and Ionian Sea, parts of Italy, Sicily, Greece, Aegean Sea and W-Turkey ...

A vigorous depression moves from Albania to the east and northeast, so the track of this feature is too far to the north for robust and long lasting moisture recovery. Nevertheless, a strong but short prefrontal moisture surge to the north overspreads the region and assists in modest CAPE in the range of 200-600 J/kg MLCAPE with the peak values probably evolving along the E-coast of the Aegean Sea. SSTs in the range of 12-16 °C (increasing from NW to SE) may also support some moistening of the BL although confidence is low given limited time-frame. Finally, the strong tilt of this vortex also keeps coldest mid-levels displaced to the west with only moderately steepened mid-level lapse rates. Hence, the main limiting ingredients for this set-up will be moisture/instability.

Abundant shear will be available although various jet streaks in different height levels are expected. Of main interest will be a deep and intense low-level/mid-level jet, which evolves along the eastern flank of the depression (Aegean Sea and W-Turkey) during the morning hours onwards. This jet also overspreads an SE-ward moving cold front. Forecast soundings show impressive directional shear values along the W-coast of Turkey.

Regarding initiation, the cold front will be the main focus. The front crosses Greece until noon and the Aegean Sea until the evening hours. Scattered thunderstorms evolve along that front, but mainly front-parallel flow may result in a messy picture of showers/thunderstorms. Given strong shear, organized multicells with strong/severe wind gusts, isolated large hail and heavy rainfall are forecast. Regarding the tornado risk, the westwards facing coasts of Greece and especially Turkey may see the highest probabilities, given rapidly increasing directional shear onshore. A coarse level 1 will cover that event.

With strong and very moist onshore flow for a couple of hours, a localized excessive rainfall risk may arise along the SW-coast of Turkey. Local models indicate rainfall amounts of more than 100 mm/24h. Hence the level 1 was expanded more inland over SW-Turkey.

The main thunderstorm activity is anticipated to occur beneath the coldest mid-levels further to the west, e.g. Ionian Sea, Tyrrhenian Sea, Adriatic Sea and parts of Italy. The main risk will be marginal to isolated large hail and strong wind gusts. An isolated tornado event/cold core funnel over Italy (mainly south of CNTRL Italy, including Sicily) can't be discounted with marginal onshore CAPE and modest LL shear. Also repeatedly onshore moving showers/thunderstorms may locally cause an heavy rainfall risk along the N/NE ward facing coasts.

... W-coast of Norway until 15Z and the N-Baltic Sea after 18Z onwards ...

A small but very cold upper disturbance crosses N-Norway and Sweden during the day, before entering the N-Baltic Sea thereafter. Temperatures at 500 hPa drop to -40 °C or less with some meager BL moisture available. Hence, 100-300 J/kg SBCAPE (offshore) are expected, barely enough for electrified convection but constantly proposed by a few models. Hence a low-end thunderstorm area was issued. Marginal hail will be the main hazard next to strong wind gusts.