Storm Forecast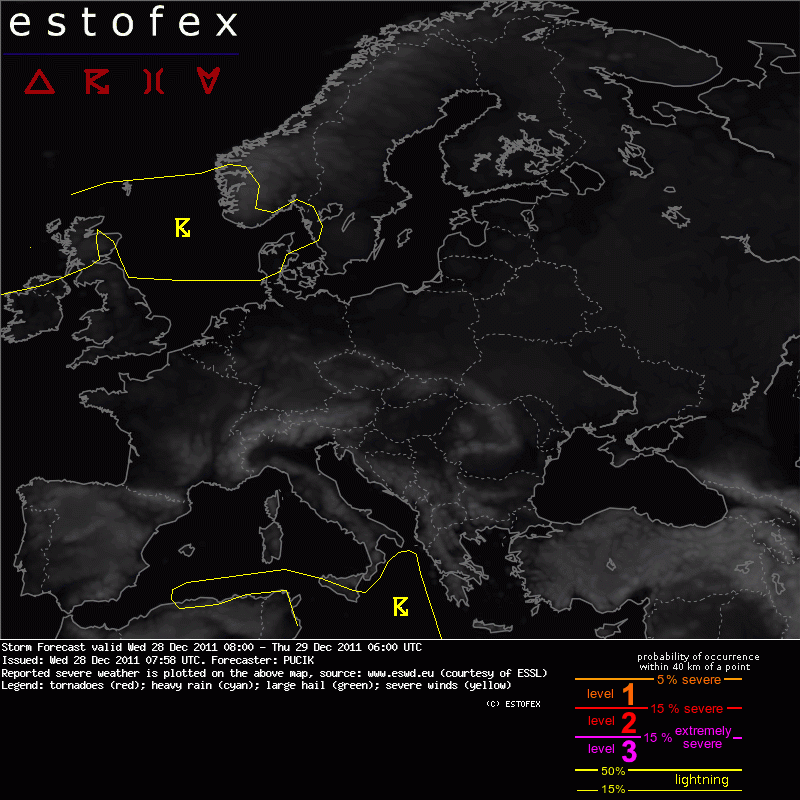 Storm Forecast
Valid: Wed 28 Dec 2011 08:00 to Thu 29 Dec 2011 06:00 UTC
Issued: Wed 28 Dec 2011 07:58
Forecaster: PUCIK
No threat levels have been issued.

SYNOPSIS and DISCUSSION

A very active weather pattern is prevalent over northern half of Europe, especially concerning the western part. A significant short wave with dry intrusion behind the axis of the jet-streak is accompanied by a very deep surface low pressure system. This system will affect most of Western Europe and Scandinavia. Pronounced sting-jet at the southern fringe (over 40 m/s at 850 hPa) of the low center will likely lead to very strong wind gusts (even hurricane force) over a swath from Scotland across the Northern Sea towards western coasts of Denmark. Even though some instability is present, especially within the dry intrusion of the trough, current satellite image reveals only weak cellular regularly spaced convection, without any more pronounced, organised system. It is therefore not very likely that DMC would significantly contribute to the overall strenght of the wind gusts and no Level is introduced.

Central parts of Europe are dominated by a high pressure system which should shift eastwards. Mediterranean should experience weak prevailing easterly flow with a cut-off low over Northern Africa. Weak instability combined with some synoptic scale forcing might result in a few weakly electrified cells over certain areas.