Storm Forecast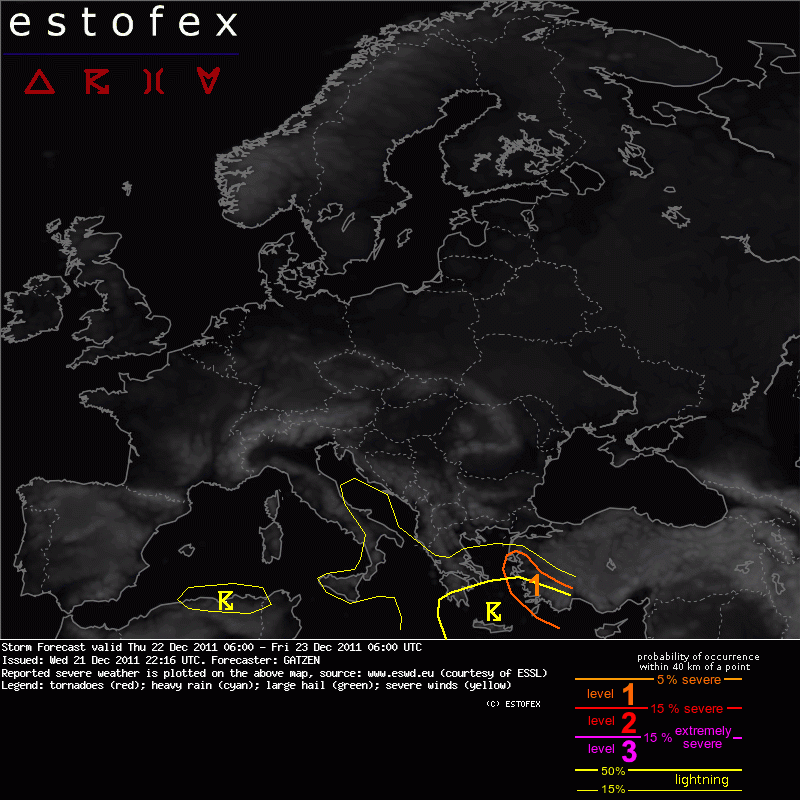 Storm Forecast
Valid: Thu 22 Dec 2011 06:00 to Fri 23 Dec 2011 06:00 UTC
Issued: Wed 21 Dec 2011 22:16
Forecaster: GATZEN
A level 1 was issued for western and southern Turkey mainly for excessive precipitation.

SYNOPSIS

The deep long-wave trough over eastern Europe will slowly propagate eastward. Over western Europe, high geopotential and warm maritime air masses are forecast downstream of a new approaching Atlantic trough. These air masses will be moist, but the weak lpse rates will likely remain at the southern flank of the mid-level jet.

DISCUSSION

Northern Aegean, western and southern Turkey

To the east of the main trough axis, a southerly flow will advect moist maritime air northward. Latest models indicate a 15-20 m/s low-level jet at 850 hPa. Upslope flow and low-level convergence will likely lead to strong lift. The main uncertainty with respect to deep moist convection will be the lapse rates that are rather poor. Mid-levels will not cool as the main trough cuts off to the west, so that QG forcing will likely weaken.

Current thinking is that best potential of deep moist convection will exsist in the morning hours and will move eastwards during the period. The main activity is expected over south-western and southern Turkey given upslope flow. Excessive precipitation and local flooding is forecast, especially due to training storms. Farther north, low-level stabilization is likely and stratiform precipitation will be likely dominate the flooding threat. However, given the strong low-level vertical wind shear, storms that may root to the boundary-layer may produce tornadoes. The threat is too marginal to issue a level 1 threat, though.