Storm Forecast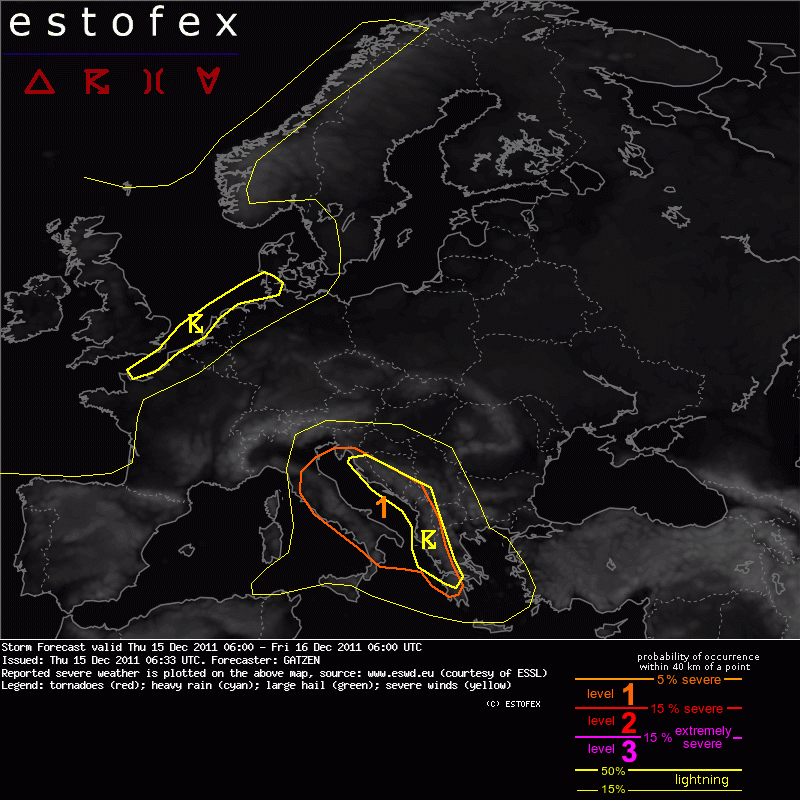 Storm Forecast
Valid: Thu 15 Dec 2011 06:00 to Fri 16 Dec 2011 06:00 UTC
Issued: Thu 15 Dec 2011 06:33
Forecaster: GATZEN
A level 1 was issued for (area name) mainly for (severe weather type(s)). (repeat for each area)

SYNOPSIS

Another strong jet stream spreads across the northern Atlantic into western Europe. A deep trough located downstream will rapidly move eastwards. It will affect central Europe from France to Poland. The southern part of this trough will move south-eastwards and is expected to cross the Adriatic reaching Greece at Friday morning. At the same time, the Atlantic jet streak and an associated intense surface low will approach western Europe.

DISCUSSION

Italy, Adriatic, Balkans, Greece

The intense trough moves into the region and will be associated with strong lift given a 45 m/s mid-level jet streak at the southern flank of this trough. A deepening surface low over northern Italy will be associated with south-westerly winds over the Adriatic. Latest observations indicate rich low-level moisture over the Adriatic sea that will advecvted into the Balkans. Steepening lapse rates are likely and initiation has occurred in the northern portions of the Adriatic. Current thinking is that the convective activity will increase during the day ahead of a cold front moving southwards from the northern Adriatic.

Main severe threat will be excessive precipitation along the mountains of the Balkans due to upslope flow and training storms along and ahead of the cold front. Additionally, strong low-level vertical wind shear will support storm organization and a few strong storms may be capable of producing severe wind gusts and tornadoes. 850 hPa winds will exceeed 15 m/s and 0-1km vertical wind shear will be around 10 m/s. Late in the period, thunderstorms will move to Greece and the Aegean Sea. Locally excessive precipitation is not ruled out.

North Sea region

A trough will rapidly move across the North Sea. Moist air masses will be affecteed by lift and instability is likely. Thunderstorms have developed over The Channel and will spread north-eastwards during the day, reaching Denmark later on. Given strong low-level vertical wind shear near the coasts, a tornado is not ruled out. Overall threat seems to be marginal, though.