Storm Forecast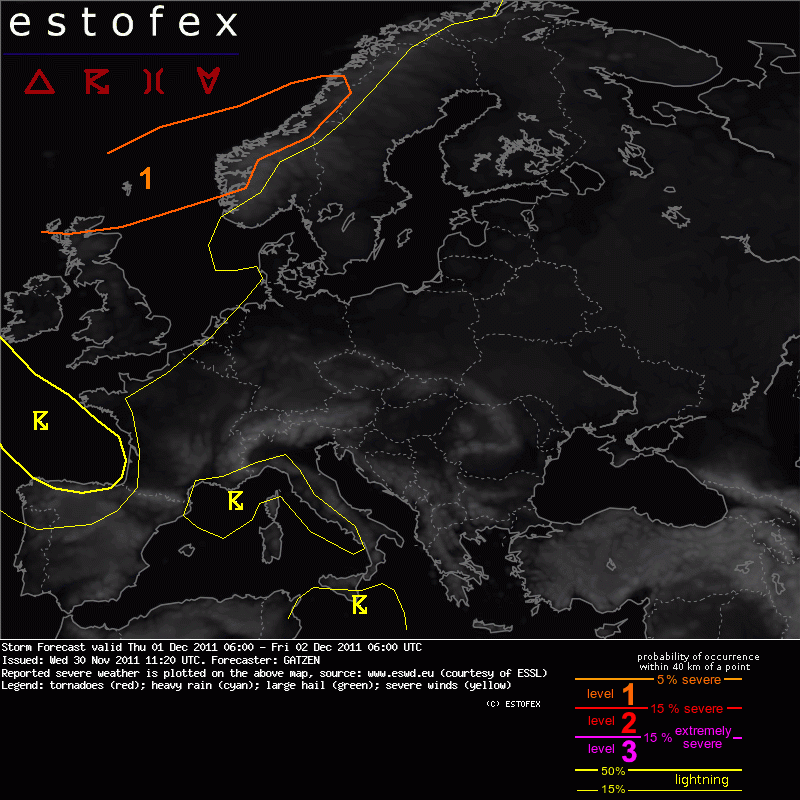 Storm Forecast
Valid: Thu 01 Dec 2011 06:00 to Fri 02 Dec 2011 06:00 UTC
Issued: Wed 30 Nov 2011 11:20
Forecaster: GATZEN
A level 1 was issued for the northern North Sea mainly for severe wind gusts.

SYNOPSIS

A ridge spreads from the Iberian Peninsula to the Aegean Sea. To the north, short-wave troughs move eastward across northern Europe. One trough will spread across north-eastern Europe early in the period. Weak low-level moisture is expected and deep moist convection is unlikely. To the west, two intense troughs are forecast ahead of a strong jet streak racing across the northern Atlantic. The eastern one will move north-eastwards crossing Scandinavia, while the western one ejects into the Iberian Peninsula and cuts off.

DISCUSSION

Northern North Sea region

Together with the mid-level short-wave trough, an intense surface low will move from the northern North Sea to central Norway until noon. At the southern flank of this low, a sting jet is expected by latest numerical models that will be associated with high winds. The contribution of deep moist convection to the occurrence of severe wind gusts is questionable given the lack of low-level moisture. However, some overlap of better low-level moisture near the low pressure centre and moderate lapse rates can be anticipated to the south of the low, where also some lift will be present due to a very strong mid-level jet streak that leads to differential cyclonic vorticity advection. Together with the fact that the water surface is relatively warm, some deep moist convection can be possible that will likely contribute to the downward mixing of high winds. Severe wind gusts of 40 m/s are forecast. Given the rather weak influence of the convection, a level 1 is issued.

Denmark, north-western Germany, Benelux, northern France, southern UK

As the mid-level trough starts to move south-eastward to the Iberian Peninsula, the intense trough axis will slow down over the British Isles during the period. Strong mid-level jet streaks are expected to spread north-eastwards ahead of the trough axis, leading to strong lift and vertical wind shear. Latest models indicate that this will be associated with frontal waves that travel across the area. Although plenty of low-level moisture will be advected northward ahead of the cold front, stable lapse rates will likely limit the potential of deep moist convection. Some storms may be possible at Thursday morning, but overall threat seems to be marginal.

Bay of Biscay

More storms are expected to develop near the trough axis of the approaching trough. Especially over the Bay of Biscay, the warm sea surface will enhance the potential of deep moist convection although the low-level moisture will be limited due to low-level cold air advection. As the vertical wind shear will be relatively weak near the trough axis, storms will likely not reach severe limits. Marginally hail and strong wind gusts are expected, though.