Storm Forecast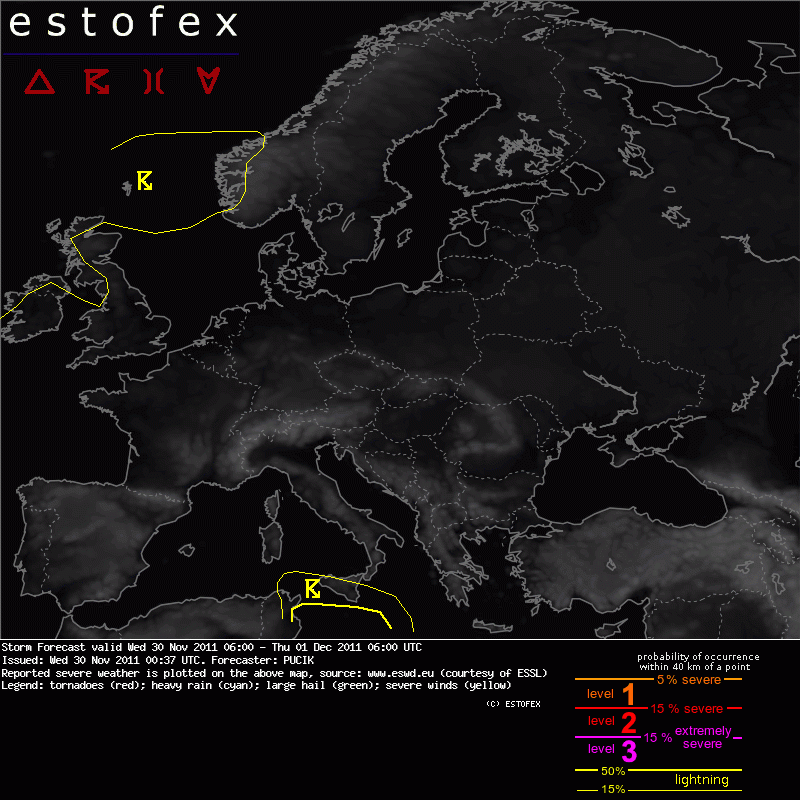 Storm Forecast
Valid: Wed 30 Nov 2011 06:00 to Thu 01 Dec 2011 06:00 UTC
Issued: Wed 30 Nov 2011 00:37
Forecaster: PUCIK
No threat levels have been issued.

SYNOPSIS

An extensive high pressure area is covering most of Southern, Central and also parts of Eastern Europe, with a ridge at mid-levels slowly shifting towards the east at higher latitudes. Northwestern part of Europe is very active with many baroclinic disturbances developing in a strong westerly to southwesterly flow. Scandinavia will be affected by one of these disturbances, while the other one, deepening in the exit region of a jet and forward flank of the sharp short-wave trough, will affect the British Isles. Some weakly electrified convection can be expected especially in the colder post cold frontal maritime airmass characterised by high lapse rates. Another area with DMC is expected over the coastlines of Tunisia and over the seas to the east of this country. This convection will be mostly driven by the steepening lapse rates thanks to the cool mid-levels.

DISCUSSION

... Scotland, extreme Northern England ...

Located in the left-exit region of a mid level jet-streak and ahead of the sharp trough, strong forcing is expected with the passage of the surface low, especially around the cold frontal zone. Despite the strong forcing most models produce CAPE only for the regions above the sea and close to the coastlines. Only one of the WRF runs based on GFS simulated more CAPE inland. Regarding the shear, strong, deep level shear would be in place with prominent shear at lower levels as well - with flow at 850 hPa reaching, or even exceeding, 30 m/s. Probabilities are too low at the moment to warrant a Level 1, but chance of isolated tornado or an enhancement of wind gusts by convection will exist in the region. An update might become necessary during the day. Threat should be confined to period between 18 and 00 UTC.