Storm Forecast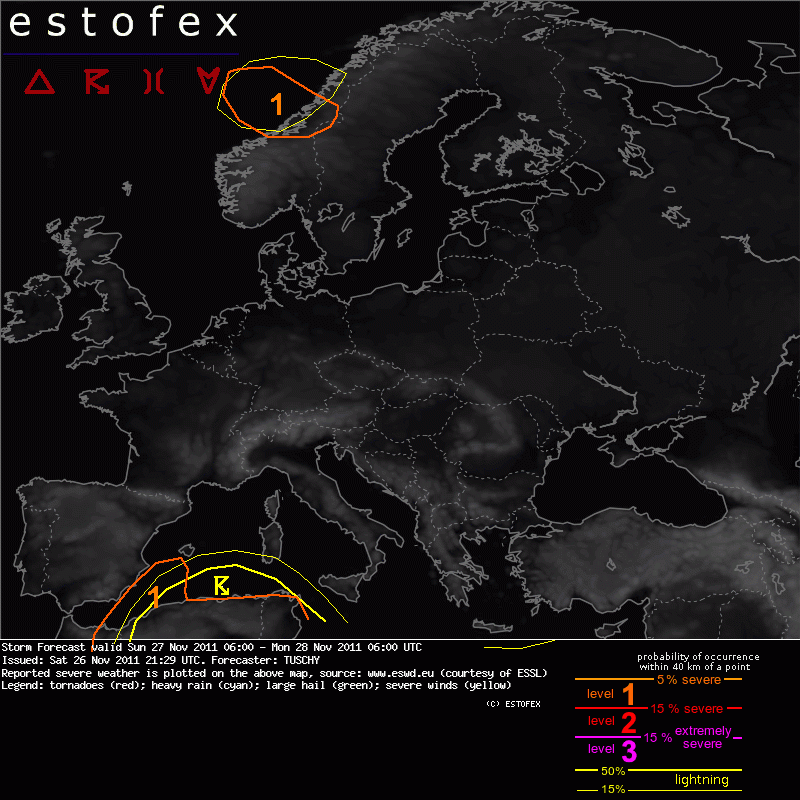 Storm Forecast
Valid: Sun 27 Nov 2011 06:00 to Mon 28 Nov 2011 06:00 UTC
Issued: Sat 26 Nov 2011 21:29
Forecaster: TUSCHY
A level 1 was issued for parts of the E-Norwegian Sea/Norway mainly for severe to damaging wind gusts.

A level 1 was issued for NE-Morocco, NW-Algeria and the far SW-Mediterranean mainly for heavy rainfall.

A level 1 was issued for NE-Algeria and N-Tunisia mainly for large hail, strong to severe wind gusts and an isolated tornado event.

SYNOPSIS

An intense cyclonic vortex is situated over N/NE-Europe with numerous embedded, strong depressions present. This configuration results in an area with severe to damaging wind gusts, described in the paragraphs below.
Ridging/high pressure is still present over central Europe and assists in the continuation of the stable conditions. A quasi-stationary upper low over N-Africa causes numerous showers/thunderstorms.

DISCUSSION

... North Sea, Norway/Sweden and the Baltic Sea ...

A 970-975 hPa low races SE-wards over S-Norway/Sweden during the forecast. At the same time, a 1025 hPa high pressure builds in from the west over W-CNTRL Europe. The result is a rapidly strengthening pressure gradient with the tightest gradient probably running from the N-North Sea / Denmark to the S Baltic Sea. Forecast soundings hint on a well mixed and slightly unstable air mass with some MUCAPE forecast, so full downward mixing of intense winds (e.g. 850 hPa wind exceeding 40 m/s) is expected....especially with any somewhat deeper convection offshore/along the coasts (EL temperatures down to -20 °C). This may cause a swath of severe to damaging wind gusts with life-threatening conditions!

An isolated thunderstorm may be possible along the W-coast of Norway. Mid-level temperatures do not cool as significant as 48 h ago, so only sporadic thunderstorms are expected. Hence, no thunderstorm area was issued.

Finally, the region Nordland, Norway may see an intense wind event, as a sub 980 hPa moves ashore. Good SBCAPE signals are present with 200-400 J/kg possible. As a 35 m/s 850 hPa wind max. crosses that unstable air mass, severe to damaging wind gusts are expected. EL temperatures come down to -30 °C or below, so isolated thunderstorms are possible. Due to the expected, electrified convection, an high-end level 1 was added (we would like to see better DMC chances or better forcing for a level 2 situation).

.... Far NE-Morocco and NW-Algeria, including the far W-Mediterranean ...

Where to go? This question arises with the quasi-stationary upper low over N-Africa, which already affected those areas during the past few days. During the following 24 h, it moves a bit to the north, which causes a more pronounced unstable sector offshore as cold temperatures at 500 hPa spread to the north. With constant onshore flow (N to NE-erly LL winds), showers and thunderstorms repeatedly move ashore. Heavy rainfall, locally excessive, is possible, so a level 1 was issued for NE-Morocco/NW-Algeria and the offshore areas.
Over NE-Algeria/N-Tunisia, the wind field becomes more favorable for well organized multicells, which may produce isolated large hail, strong to severe wind gusts and an isolated tornado event. Hence the level 1 was expanded far to the east, including N-Tunisia. Best overalp of shear/instability probably occurs just to the south of our forecast area. Thunderstorms keep going all day long.