Storm Forecast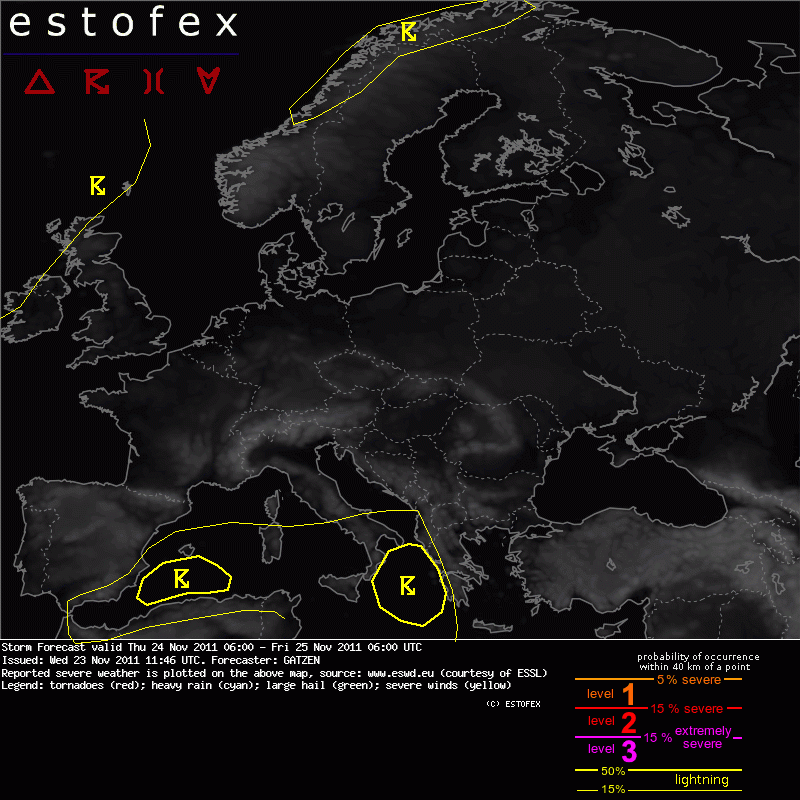 Storm Forecast
Valid: Thu 24 Nov 2011 06:00 to Fri 25 Nov 2011 06:00 UTC
Issued: Wed 23 Nov 2011 11:46
Forecaster: GATZEN
SYNOPSIS / DISCUSSION

A weakening ridge of an Atlantic high stretches from the Bay of Biscay to Belarus. Over Poland, a cut-off low moves southward and merges with the rather low geopotential over southern Europe. Over northern Europe, a ridge spreads eastward ahead of an intense polar trough entering the northern UK at the end of the period.

Best lapse rates are therefore expected over the Mediterranean due to the warm sea surface and rather cold mid-levels. Late in the period, moist adiabatic lapse rates are also likely over the sea to the north and west of the UK given cold polar air masses spreading south-eastward.

CAPE will be likely over the southern Mediterranean, where rich low-level moisture is indicated by latest soundings. Compared to the previous periods, this moisture will likely decrease somewhat as drier air spreads into the Mediterranean from the north-east. Moist maritime air masses over western Europe are not expected to overlap with steep lapse rates.

Strong forcing is unlikely over the Mediterranean at Thursday. Weak mid-level flow and quasi-geostrophic forcing are forecast. Therefore, outflow-boundaries of previous convection and the land/sea-breeze will be the most important sources of lift.

Current thinking is that scattered thunderstorms will likely continue during the period, with the main activity shifting southward. Weak vertical wind shear will not support storm organization. Given the rather high moisture content and the slow storm motion, locally excessive precipitation is not ruled out. The threat seems to be too weak to issue a level 1, though.