Storm Forecast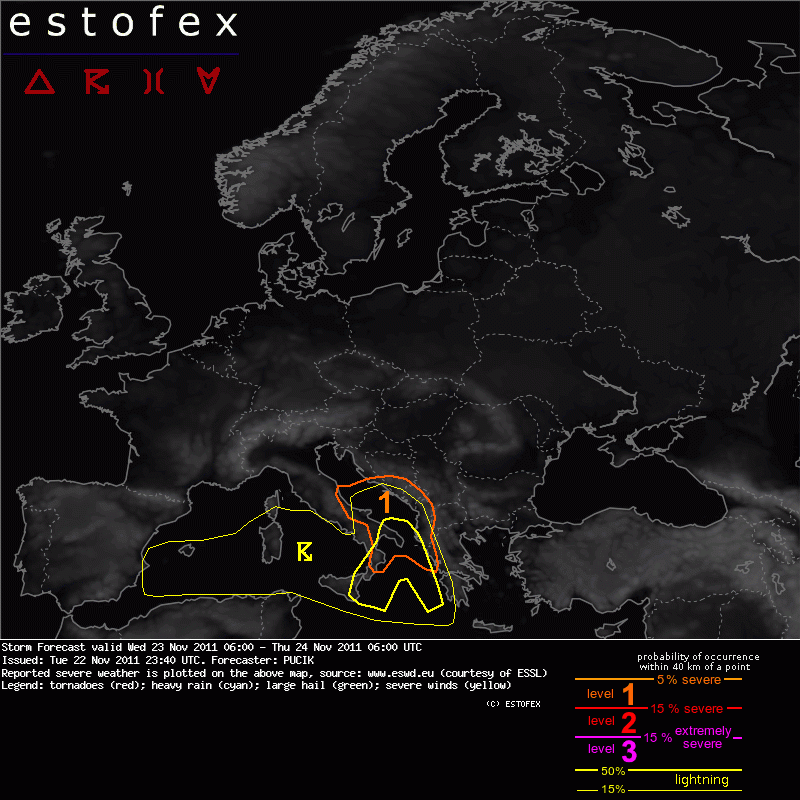 Storm Forecast
Valid: Wed 23 Nov 2011 06:00 to Thu 24 Nov 2011 06:00 UTC
Issued: Tue 22 Nov 2011 23:40
Forecaster: PUCIK
A level 1 was issued for SE Italy to W coastline of Balkans mainly for excessive precipitation.

SYNOPSIS

A long prevalent synoptic setup over Europe will eventually undergo a change. High over low configuration will weaken and diminish, as the cut-off low over the Central Mediterranean will fills up and the ridge drift to the east. From southwest, another ridge will stretch into Europe and on its northern flank, significant temperature gradient will induce strong southwesterly to westerly flow with several deep surface lows associated with it, affecting Northwestern Europe and British Isles. Cut-off low from Iberia will move to the south on the forward flank of the low.

Most of Europe will persist under stable and dry conditions, hostile for any DMC development. Most of the thunderstorm activity should be confined to the Central Mediterranean, in the forward flank of the weakening low.

DISCUSSION

... Southeastern Italy to Balkans coast ...

Models generally agree on the enhanced southerly to easterly low-level flow in this region on the forward flank of the low, reaching over 15 m/s at 850 hPa with a tongue of instability reaching to this area from south. Though degree of instability is variable in model runs, its position is relatively stable. Storms should form in a weak-shear environment, most likely along the convergence zones associated with the low. High RH in low to mid-levels of troposphere, slow storm motion, potential for backbuilding point to the possibility of excessive rainfall occurence in storms. Threat will be generally lower than during the previous forecast day, but a marginal Level 1 seems to be warranted. Its extent covers the most probable locations of thunderstorm development. So far it is impossible to be more precise due to the variability in the model runs regarding the position of convergence zones and precipitation areas.