Storm Forecast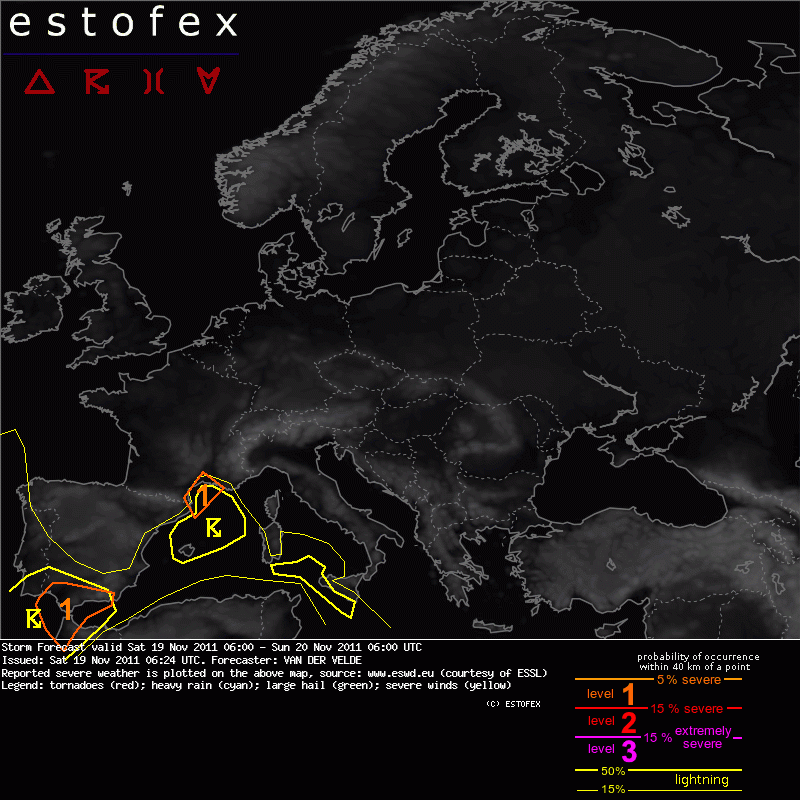 Storm Forecast
Valid: Sat 19 Nov 2011 06:00 to Sun 20 Nov 2011 06:00 UTC
Issued: Sat 19 Nov 2011 06:24
Forecaster: VAN DER VELDE
A level 1 was issued for southern Spain and northern Morocco mainly for excessive convective precipitation and chance of tornadoes.

A level 1 was issued for northeastern Spain and southern France mainly for excessive convective precipitation

SYNOPSIS

The Iberian Peninsula is being visited by a new low pressure area introducing a rainy episode, while high pressure keeps a firm grip on central and southeastern Europe with cold and stable conditions.

DISCUSSION

...southern Spain...

The cold front of the low slowly moves eastward through this region, triggering storms and advecting them inland along with a lot of moisture. This locally can create more than 100 mm rain. During afternoon and evening, deep shear and 0-3 km storm-relative helicity of 200-300 m2/s2 are strong enough to support development of supercells or brief mesocyclones in storms over Morocco and southern Spain. 0-1 km shear vector magnitudes of 10-15 m/s and low LCL heights allow tornadoes. This is mainly featured in HiRLAM and WRF models, GFS appears much more reserved in terms of instability and shear.

...southern France...

Advection of moist unstable air and storms from sea can lead to local heavy precipitation.