Storm Forecast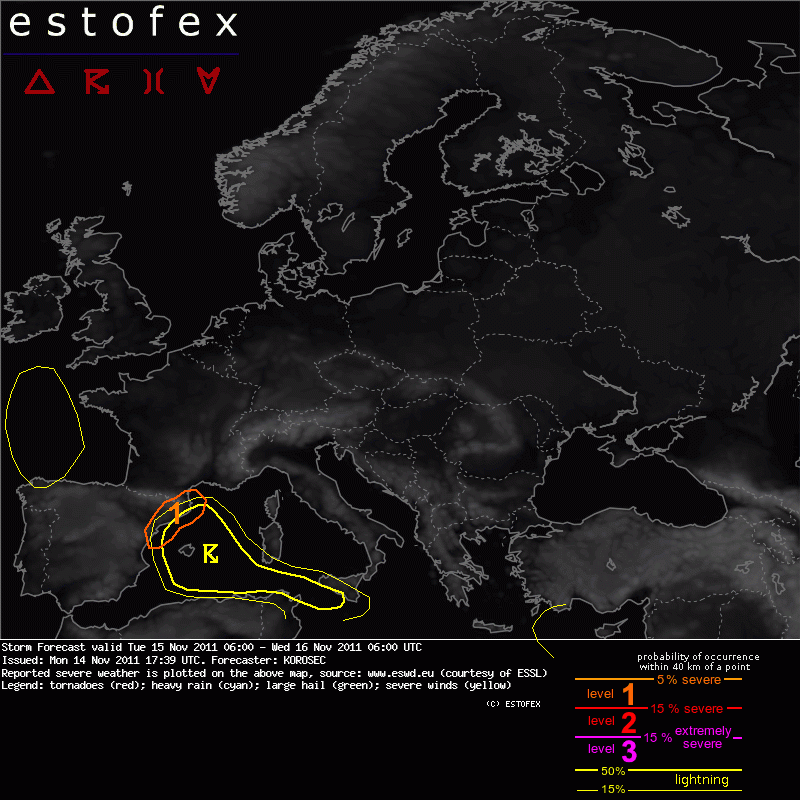 Storm Forecast
Valid: Tue 15 Nov 2011 06:00 to Wed 16 Nov 2011 06:00 UTC
Issued: Mon 14 Nov 2011 17:39
Forecaster: KOROSEC
A level 1 was issued for extreme NE Iberia mainly for excessive (convective) rainfall.

SYNOPSIS

A large omega blocking pattern persists over much of Europe with two upper lows on both of its flanks. A more dynamic upper low moves from NW Iberia towards north and merges with the main trough over eastern Atlantic. Connected to this low, a cold front moves into SW Mediterranean. The second upper low slowly fills out over western Turkey and moves east. At surface, a decaying cyclone remain over SE Mediterranan. There, some instability will remain in place, supporting some storms south of Turkey but separated from the main shear.

DISCUSSION

... extreme NE Iberia ...

A tongue of warm airmass continues advecting from the northern Africa towards NE Iberia. Models are in agreement of a slow cold frontal zone moving across the SW Mediterranean from to SW towards NE. Ahead of this front, persisting SE-erly flow will bring moisture onshore into the NE Spain, causing orographic lifting and therefore heavy rain lasting for several hours. Additionally, steeper mid-level lapse rates over still rather warm Mediterranean will result in marginal instability ahead and along the front which should result in some deep moisture convection. However, wind shear will be weak so well organized storms are unlikely. But a combination of convective cells pushing more intense rain inland into NE Iberia with orographic rainfalls could result in local excessive rain threat and some flash floods. A level 1 was issued to cover these areas affected.

A higher probability for electrified convection was extended further SE towards the southern Mediterranean where storms could occur, but in less instability and rather poor convergence present.

Some storms are also possible NNW of Iberia on the western side of the upper low slowly moving north. Some QG forcing will be present over the area with at least some instability. Despite rather limited activity, isolated storms may be possible an bring some intense rain towards the extreme NW Spain.