Forecast Update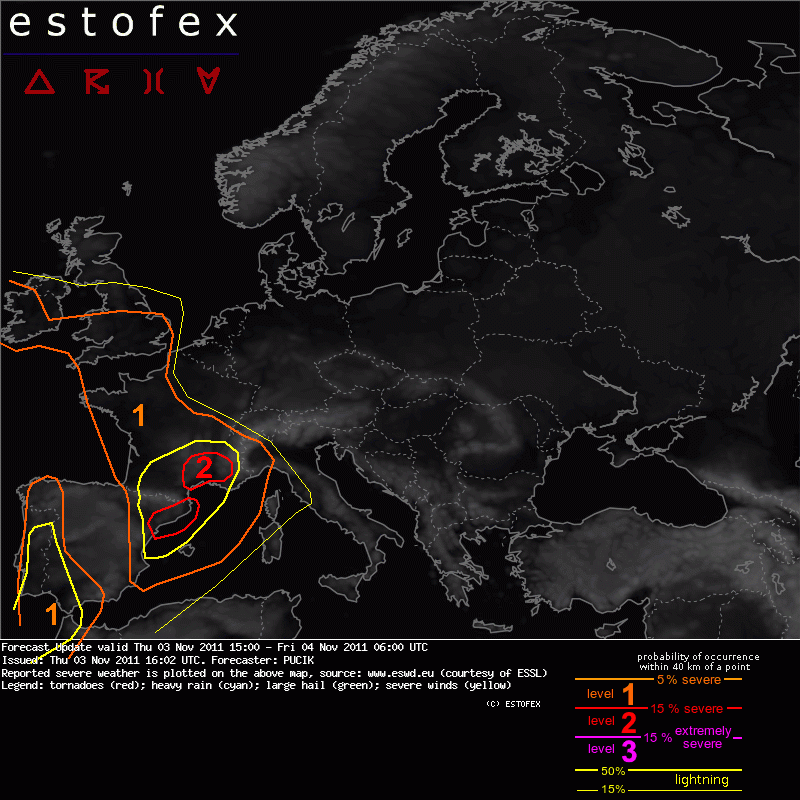 Forecast Update
Valid: Thu 03 Nov 2011 15:00 to Fri 04 Nov 2011 06:00 UTC
Issued: Thu 03 Nov 2011 16:02
Forecaster: PUCIK
A level 2 was issued for parts of Southern France mainly for excessive rainfall, tornadoes and severe wind gusts.

A level 2 was issued for parts of Northeastern Spain mainly for large hail, severe wind gusts, tornadoes and excessive precipitation.

SYNOPSIS

Refer to the original Storm Forecast

DISCUSSION

... S France ...

12 UTC Nimes-Courbessac sounding reveales very impressive low level jet with 25 m/s windspeeds around 800 hPa level transporting nearly satured airmass with moderate CAPE values at warm layers of troposphere. Barcelona 12 UTC shows around 2000 J/kg of MLCAPE and very moist low to mid levels of troposphere. Surface observations reveal mesoscale low development in the lee of Pyrenees, enhancing surface southeasterly flow over the highlighted region. Conditions have become favorable for development of highly effective rain producing convective clusters with likelihood of training pattern over this area, resulting in excessive rainfall, possibly with rain rates over 100 mm/3h. Additionally, even stronger vertical wind shear at lower levels (22 m/s of 0-1 km shear in Nimes sounding) than anticipated by models, low LCLs and high CAPE values till 3 km point to the enhanced chances of tornadoes. Especially at higher elevations, severe wind gusts might occur as well. The tornado threat will be most prominent in the evening hours close to the coastlines.

... NE Spain ...

12 UTC Barcelona sounding shows impressive conditions for supercellular storms with 26 m/s of DLS and moderate CAPE values. Also shear at lower levels along with SREH is enhanced with surface SE onshore flow. As storms approach this moderately unstable region with high shear, they may strenghten and become capable of producing large hail, severe wind gusts and even an isolated tornado is not ruled out. In case of storm clustering and evolution of training pattern over some areas, very moist low levels point to the possibility of excessive rainfall event.


Other levels have been slightly adjusted according to the new data but their threat description as written down in the original Storm Forecast are still valid. Please refer to it for further details.