Storm Forecast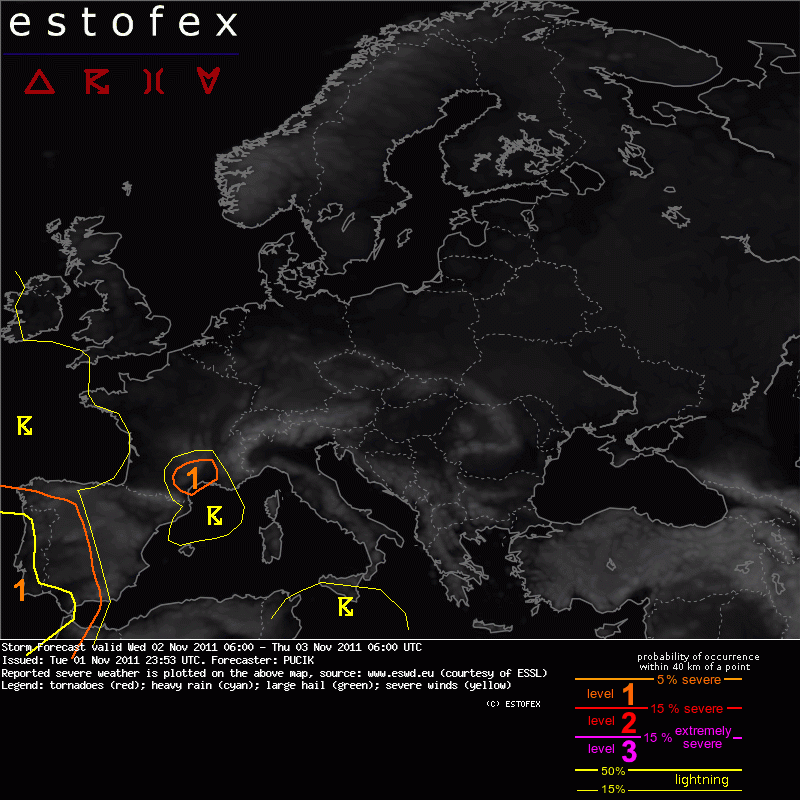 Storm Forecast
Valid: Wed 02 Nov 2011 06:00 to Thu 03 Nov 2011 06:00 UTC
Issued: Tue 01 Nov 2011 23:53
Forecaster: PUCIK
A level 1 was issued for Western Iberia mainly for excessive precipitation and to the lesser extent for tornadoes and marginal severe wind gusts.

A level 1 was issued for Bay of Lyon mainly for excessive precipitation.

SYNOPSIS

A blocking situation has established over Europe, with extensive ridge covering large parts of Central Europe, inducing strongly meridional flow at its flanks. Embedded in the higher geopotentials, weakening trough will transform into a cut off low over Northern Germany, progressing northwards. Much more active pattern is forecast for the Atlantic region, with the amplification of a deep trough with the strongest jet at its southwestern flank. Under the trough, a large scale surface low pressure system will reside, with its frontal system spanning the whole latudinal range of Europe. With warm and very moist airmass advection at lower levels ahead of the main frontal system, conditions will exist for locally high rain fall amounts. Thunderstorms will be mostly confined to the southern sector of the trough and to the post frontal airmass with high lapse rates.

DISCUSSION

... Western Iberia ...

The arrival of the significant trough, cyclonically curved jet-stream along with the surface front should provide strong forcing for the development of convection. Current satellite images show that the front indeed does involve some clearly cellular forms of DMC. NWP simulates low end latent instability in both the warm sector, especially close to the front under the LLJ and also in the cooler airmass behind the front. It is probable that the most significant activity will be tied to the front, with development of large stratiform rain shield with embedded banded convection. Degree of the wind shear will be conducive to well organised convection, but in this scenario, strong isolated supecellular storms remain very unlikely. Nevertheless, strong low level shear induced by 25 m/s flow at 850 hPa and moderate SREH ahead of the front might support some rotation in few of the cells.

It is likely that the most significant threat will be an excessive precipitation, due to the strong LLJ carrying very moist airmass and possibility of the passage of several bands of convection passing over one place. Threat will be diminished by relatively quick passage of the frontal system towards southeast, limiting chances for very long duration of consecutive cell passage. With the arrival of the jet-max during the night hours and its exit region over Southern Iberia, along with the front movement slowing down and the highest dew points, it is likely that the highest rainfall amounts will be observed here. Another threats might include marginally severe wind gusts and tornadoes, especially if some stronger cell can develop rotation in their lower levels.

... Bay of Lyon coastal areas ...

With moderate surface and 850 hPa flow perpendicular to the coastline (southeasterly), in combination to weak westerly upper level flow and in case of persistent convergence zone stalling over the coastal areas, environment will be conducive to development of back-building storms. Models do point to the tongue of instability and enhanced PWAT over this area and albeit they do not simulate very high precipitation amounts, moist vertical profiles do point to the possibility of excessive rainfall amounts in case that backbuilding DMC initiates. Therefore a Level 1 seems to be warranted for this region.