Storm Forecast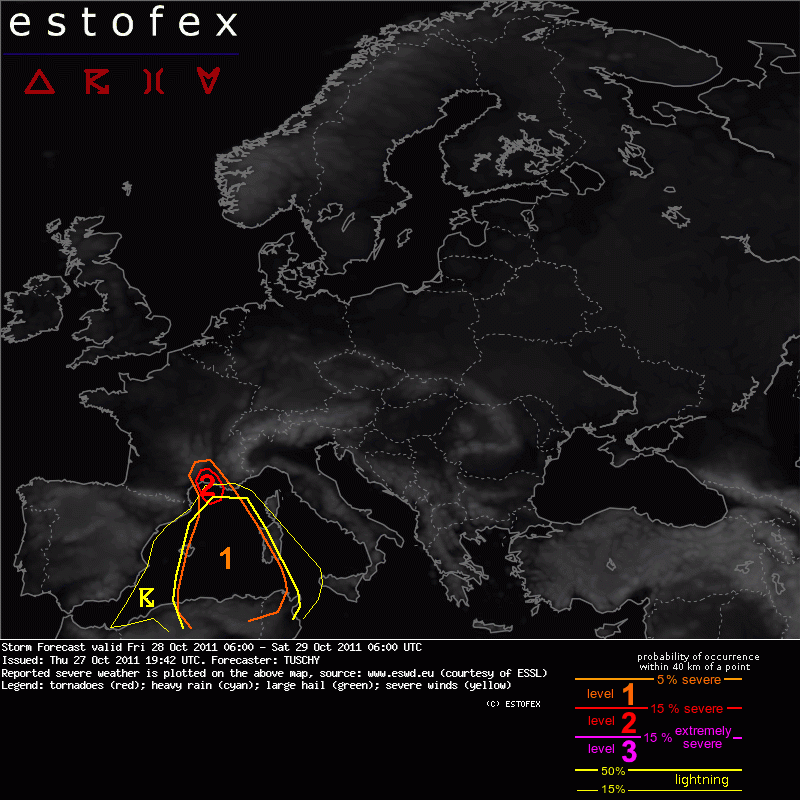 Storm Forecast
Valid: Fri 28 Oct 2011 06:00 to Sat 29 Oct 2011 06:00 UTC
Issued: Thu 27 Oct 2011 19:42
Forecaster: TUSCHY
A level 2 was issued for extreme S-France mainly for excessive rainfall amounts. An isolated tornado event is possible.

A level 1 was issued for parts of the W-Mediterranean mainly for heavy rainfall, isolated large hail and isolated waterspouts.

SYNOPSIS

An upper trough over SW-Europe starts to constrict while moving towards N-Africa. The belt of strong westerlies is displaced well to the north, so strong ridging over central Europe keeps most areas stable and dry. Cool air over E-Europe also precludes any organized thunderstorm risks.

DISCUSSION

... S-France and W-Mediterranean ...

Ongoing severe to locally excessive rainfall event will be the main concern during the day time hours. At 20Z (27th), a well developed V-shape MCS with cloud tops of about -65 °C is in full progress W/SW of Marseille (France). Similar to past events, this MCS evolved within a slow moving warm conveyor belt with deep tropospheric moisture, sampled well by the latest Palma de Mallorca sounding.

From the morning hours until the early afternoon hours, not much change in this configuration is expected as the upper trough gradually descends to the south (e.g. N-Algeria). This assists in the continuance of a quasi-stationary N-S aligned belt with deep tropospheric moisture and near uni-directional 15-20 m/s S-erly flow. A very effective moisture transport towards the level 2 area is expected with ongoing slow moving/back-bulding storms. Excessive rainfall will be the main risk, although enhanced 1km and 3km directional shear may also assist in an isolated tornado event. After ~ 15Z, the overall risk for the organized and long-lived storm clusters gradually diminishes (especially as winds below 850 hPa start to weaken/back somewhat), although heavy rainfall may last well after sunset (then, probably more stratiform in nature).

Further to the south, including all of the W-Mediterranean, scattered showers and thunderstorms are forecast in an environment with 15-20 m/s DLS and at least modest MLCAPE in the order of 400 to 1000 J/kg (increasing from the Balearic Islands eastwards). Excessive rainfall and isolated large hail will be the main risk, although an isolated waterspout event can't be ruled out. The activity keeps going all night long with a constant shift of the maximum activity to the east and south (including NE-Algeria).