Storm Forecast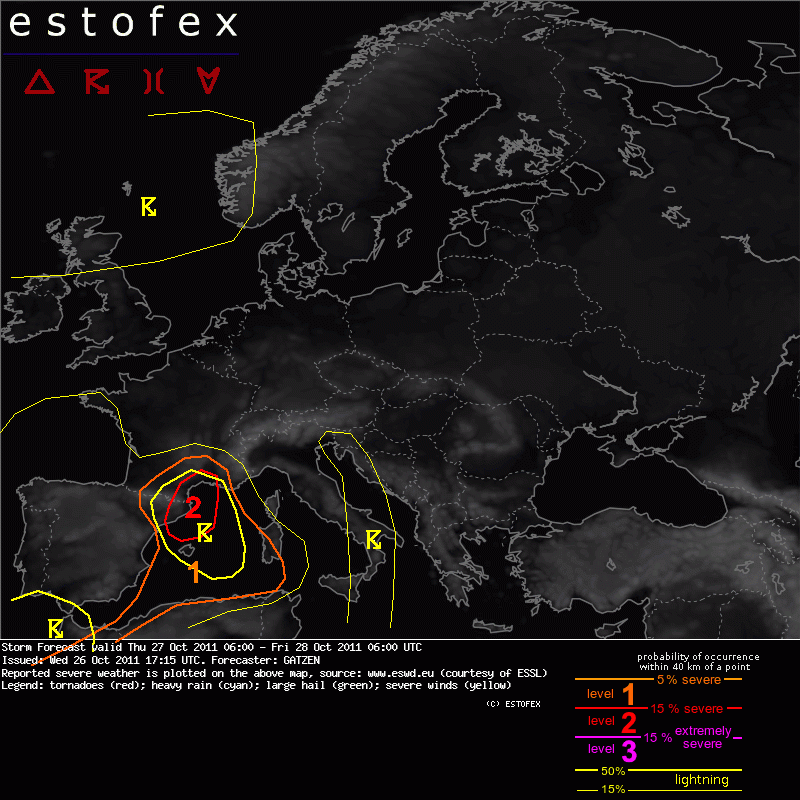 Storm Forecast
Valid: Thu 27 Oct 2011 06:00 to Fri 28 Oct 2011 06:00 UTC
Issued: Wed 26 Oct 2011 17:15
Forecaster: GATZEN
A level 2 was issued for north-western Ibearia and surrondings mainly for excessive rain.

A level 1 was issued for the west Mediterranean mainly for excessive rain and tornadoes.

A level 1 was issued for northern Morocco mainly for excessive rain.

SYNOPSIS

Increasing geopotential is expected over most of Europe during the period. An intense trough will separate from the westerly jet over Iberia and forms a cut-off low at late Thursday. Downstream, a ridge spreads into the central Mediterranean.

DISCUSSION

West Mediterranean

To the east of the developing cut-off low, a tongue of low-level warm air rapidly advects into the west Mediterranean. This will be associated with increasing lapse rates especially at mid-levels at Thursday morning. At low levels, latest models expect a strong moisture increase until Thursday as well. An overlap of this moisture and the mid-level lapse rates is likely and CAPE is forecast.

Lift can be expected as the mid-level trough and an associated jet streak slowly propagate eastward, and initiation becomes likely at the nose of the warm air advection from the Balearic Islands to the Spanish/French coasts. Showers and thunderstorms are forecast to develop in the morning hours and will likely persist through-out the day. Storms are expected to root to the boundary-layer given the rather warm sea surface and will likely profit from favourably veering profiles in the warm air advection regime. Latest GFS indicates around 15 m/s 0-3km bulk shear and 150 mē/sē 0-3km SRH. Supercells may develop capable of producing tornadoes and isolated large hail. The main threat will be excessive rain given the persistent inflow of moist air from the south-east that may support training storms affecting the coastal regions of north-western Iberia and south-eastern France with a danger of flash flooding.

Farther south, additional storms are forecast along the cold front that moves eastward. These may organize into a linear MCS posing a threat of strong winds to the north of the Atlas mountains in the afternoon and evening hours. Tornadoes may occur along the leading gust front given rather strong vertical wind shear. Additionally, excessive rain is not ruled given the slow movement of the frontal system.