Storm Forecast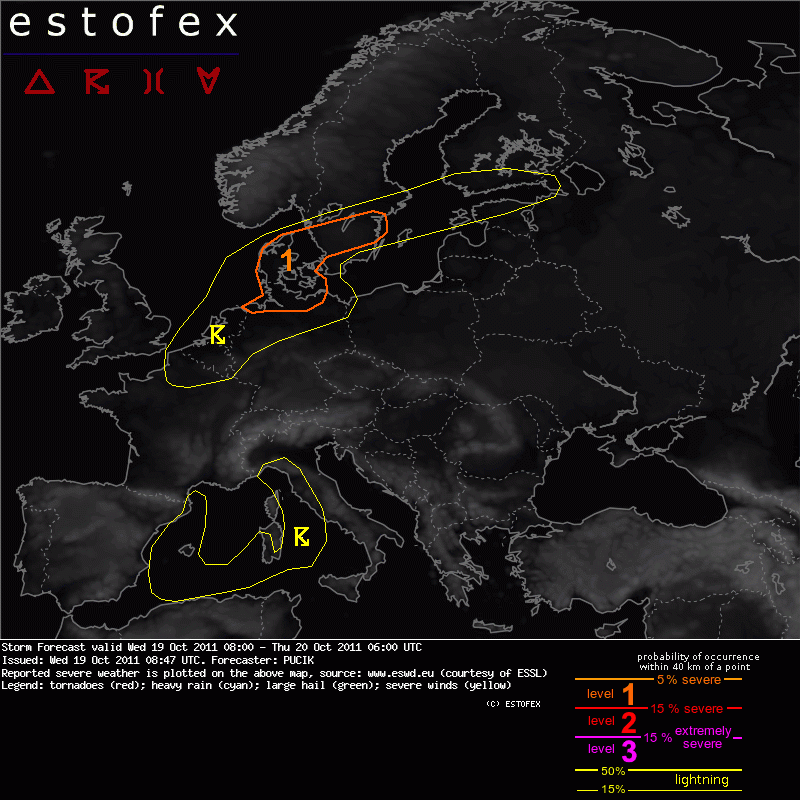 Storm Forecast
Valid: Wed 19 Oct 2011 08:00 to Thu 20 Oct 2011 06:00 UTC
Issued: Wed 19 Oct 2011 08:47
Forecaster: PUCIK
A level 1 was issued for Denmark and Southern Sweden mainly for marginally severe wind gusts.

SYNOPSIS

The main macrosynoptic player influencing the unfolding of scenario is a rather significant trough, extending across the whole troposphere with its axis stretching across Scandinavia into Western Europe during the morning hours. Subsequently, its axis will rotate towards the east with southern amplification during the day into the Mediterranean. Trough involves several embedded vorticity maxima, especially at its southern and eastern flank. Trough is filled with very cold mid-level airmass and closer to the surface it exists in the form of a deep closed cyclonic vortex centered over the northern Norwegian sea and a frontal system that progresses across southern parts of Western Europe and over Central Europe during the day. The highest coverage of convection can be expected in the artic maritime airmass advected behind the cold front, which is characterised by steep mid-level lapse rates. Another round of thunderstorms could be possible over the Western Mediterranean Sea, where the cooling of mid-level temperatures is expected with the arrival of the trough.

Another important factor, cut-off low over the Black Sea, that has been prevalent over the region for several days, is progressing eastwards and out of the forecast domain.

DISCUSSION

... Denmark, Southern Sweden ...

Satellite analysis shows a mid-level vortex in the embedded trough approaching the region, along with bands of convection. NWP prediction nicely reveals bands of enhanced vorticity rotating around the vortex and probably providing some forcing for the convection via the upward motion ahead of the bands (in neutral temperature advection at lower levels). Soundings from 00 UTC show in the proximity area a moist neutral profiles with very strong wind shear, which should persist also during the day, particularly in the lower levels, with LLS exceeding 10 m/s (with 850 hPa flow over 20 m/s). Even though the degree of latent instability should stay in the marginal range, strong low level flow could enable even weak deep moist convection to be accompanied by marginally severe wind gusts. Tornadoes are not completely ruled out either, but their chances are impeded by rather weak shear at the deep layers of troposphere. A marginal Level 1 is introduced for the region, where the most prominent overlap of strong LLS and weak instability will exist.