Storm Forecast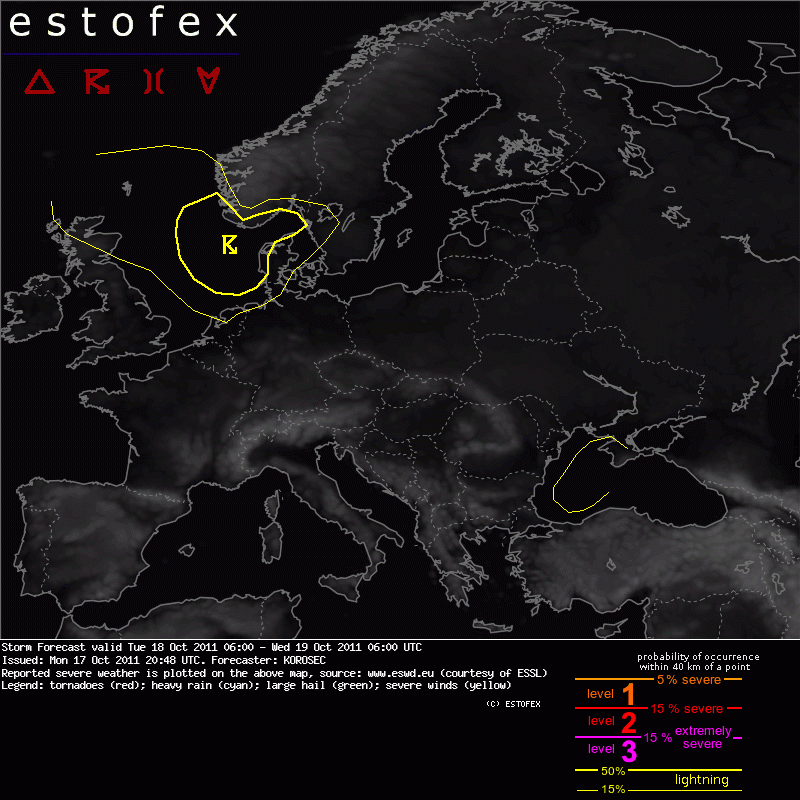 Storm Forecast
Valid: Tue 18 Oct 2011 06:00 to Wed 19 Oct 2011 06:00 UTC
Issued: Mon 17 Oct 2011 20:48
Forecaster: KOROSEC
No threat levels have been issued.

SYNOPSIS and DISCUSSION

The main feature today will be an intense deep upper trough located over NW Europe. There will be a small upper low crossing Black Sea during the forecast period. Stable conditions prevail across the rest of Europe.

... North Sea and surrounding areas ...

A deep trough, characterized by very cold mid-level temperatures will result in steep lapse rates, including the low levels. An intense cyclone will continue deepening while moving NE along the western Norwegian coast. Marginal instabilily will likely release with steep lapse rates over warm SSTs. Within rather marginal shear, widespread showers and isolated thunderstorms will likely form, staying sub-severe so no threat levels are needed.

The cold front extending from central Scandinavia SW-wards will be moving towards the western Alps by Wednesday morning.

... Black Sea ...

Quite an impressive upper low with deep surface low remains over Black Sea and slowly moving towards NE. Staying over warm SSTs will likely result in some instability. Still high PWAT values suggest that excessive rainfall threat will be the main threat on the back side of the low along the coastal areas on Romania and Bulgaria. However, weaker shear preclude organized storms and also the rainfalls will be less intense/excessive than previous days. So not threat levels have been issued for these areas either.