Storm Forecast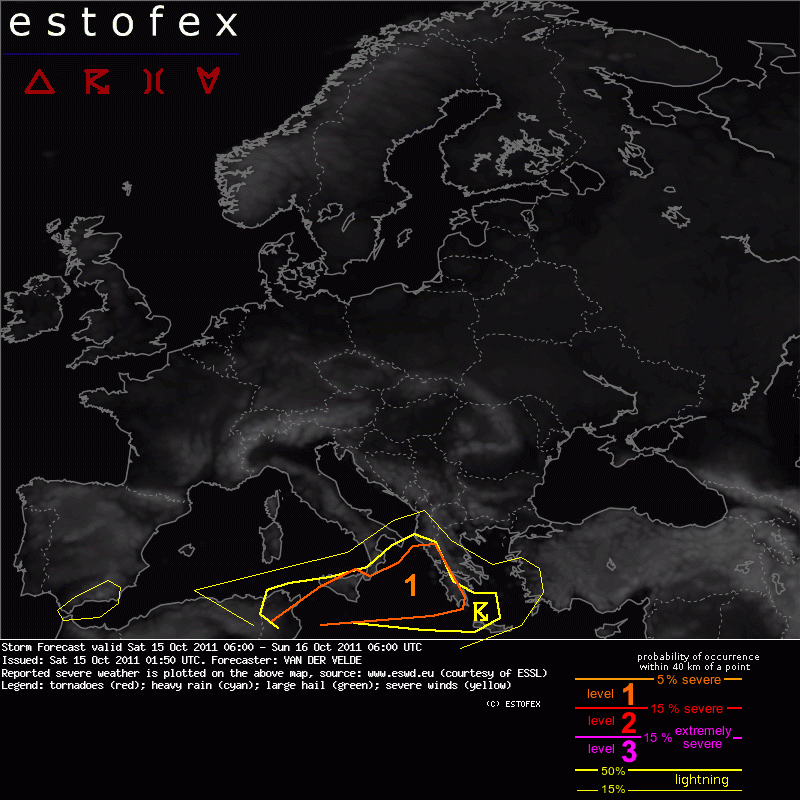 Storm Forecast
Valid: Sat 15 Oct 2011 06:00 to Sun 16 Oct 2011 06:00 UTC
Issued: Sat 15 Oct 2011 01:50
Forecaster: VAN DER VELDE
A level 1 was issued for Greece mainly for excessive convective precipitation.

SYNOPSIS

A ridge is still firmly in place over western Europe, from Spain to Scandinavia. A dynamic trough extends southward into Bulgaria with cold airmass convection over parts of Romania, western Ukraine and Moldova. This trough extends over the Mediterranean area, with a sea level low pressure area over the eastern Ionian Sea and troughs extending to Tunesia. The airmass is moist and unstable.

DISCUSSION

...Tunesia, Sicily, Ionian Sea, western Greece...

The low moves slowly southeastward along the Greek coast. Convection can stick for long periods in the same place and cause excessive rain sums and flash floods. Isolated events also possible on Sicily. Southeast of Sicily and along the Greek west coast, veering winds with height create favorable shear for supercells (>250 mē/sē SREH 0-3 km and 15-30 m/s 0-6 km shear) which can produce large hail and severe wind gusts (mostly offshore though). Inland over Greece the SREH is high but offset from the CAPE source, limiting the threat. Waterspouts are possble too given the strong low level temperature lapse rates and buoyancy.