Storm Forecast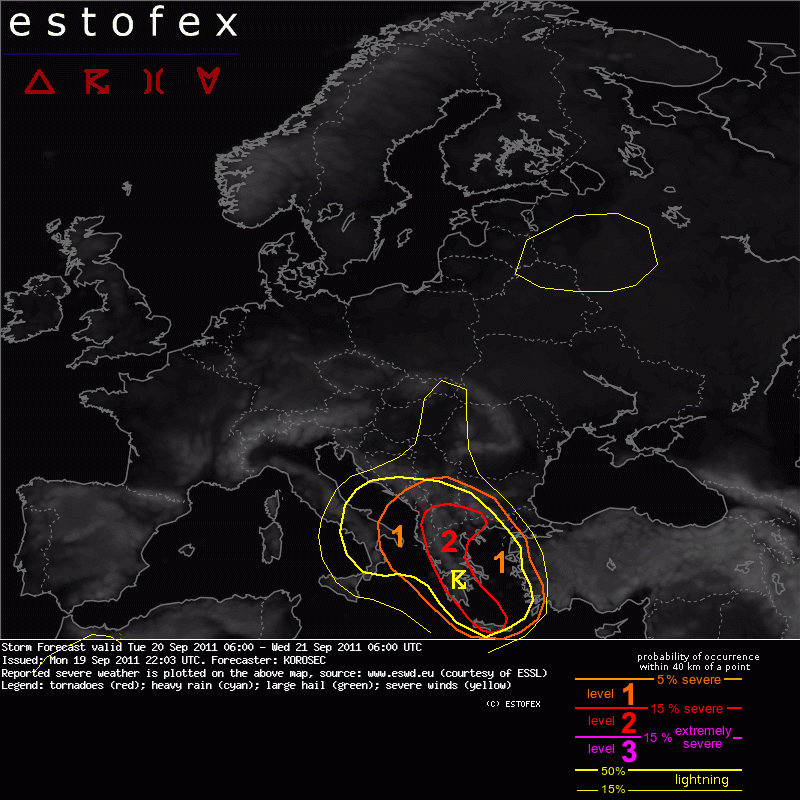 Storm Forecast
Valid: Tue 20 Sep 2011 06:00 to Wed 21 Sep 2011 06:00 UTC
Issued: Mon 19 Sep 2011 22:03
Forecaster: KOROSEC
A level 2 was issued for Albania, Macedonia and Greece mainly for excessive convective rainfall, severe winds, large hail and tornadoes.

A level 1 was issued for surrounding areas of level 2 mainly for a few waterspouts and intense rain.

SYNOPSIS

An impressive upper low continues from central Mediterranean towards southeast and serves as a focus for another robust convective day. Behind it, upper ridge spreads into central Europe. At surface, a broad SFC low with a sharp cold front moves across Greece.

DISCUSSION

... Albania, Macedonia and Greece ...

Its likely that activity will continue from the previous night as the trough/upper low continues to move towards southern Balkans. Very strong WAA ahead of the low and QG forcing will maintain intense rainfalls across the risk areas. High PWAT values and especially pretty impressive moist influx suggest that flash flooding risk will be the main threat today, as strong orographic precipitation combine with deep convection. Accompanied by very rich BL moisture and strong mid-level jet, conditions will also be favorable for organized severe storms. Around 1000-2000 J/kg of MLCAPE combined with 20-25 m/s deep layer shear, as well as moderate LL shear/SREH, will be supportive of numerous multicells and supercells. Those will be capable of producing all types of severe weather events. Locally very high precipitation sums are expected where storms could maintain for longer period of time.

The upper low will be moving from central Italy across southern Adriatic sea towards Greece, with very cold mid-levels and weak wind field beneath it. Expect slow moving storms trailing with the center low across the aforementioned areas, bringing risk for a few waterspouts and intense rainfall as good LL instability and lapse rates will be present.