Storm Forecast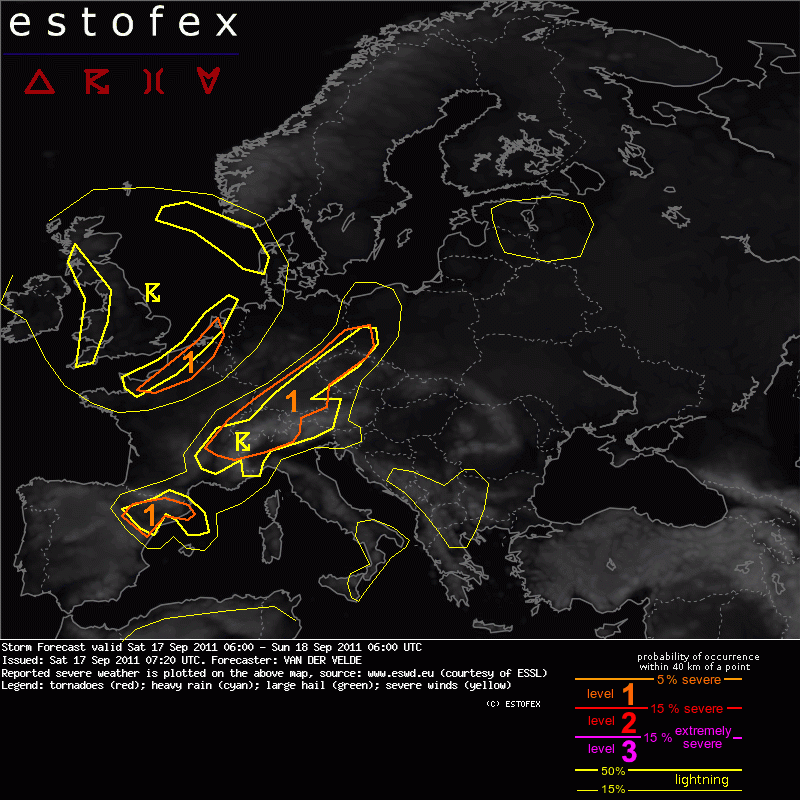 Storm Forecast
Valid: Sat 17 Sep 2011 06:00 to Sun 18 Sep 2011 06:00 UTC
Issued: Sat 17 Sep 2011 07:20
Forecaster: VAN DER VELDE
A level 1 was issued for eastern France, Switzerland, southern Germany, northern Italy and western Czechia mainly for large hail and excessive convective precipitation (Alps).

A level 1 was issued for northeastern Spain mainly for large hail, isolated severe wind gusts, and isolated excessive convective rain.

A level 1 was issued for northwestern France, western Belgium and western Netherlands mainly for isolated tornado chance.

SYNOPSIS

A cold front and a secondary cold front, both associated with a British Isles/North Sea low, affect the European mainland today. The former has become rather stationary over France and Germany with strong moisture advection over southern Alps and has a band of significant CAPE on its warm side. The latter will likely trigger some convection as it enters France and Benelux during the late afternoon. It is followed by colder unstable air.

DISCUSSION

...eastern France, northern Switzerland, southern/eastern Germany, western Czechia...

More than 700 J/kg CAPE should be present along the front. Vertical shear is just moderate with veering winds with height leading to 100-200 mē/sē of storm-relative helicity. 0-6 km vectors are 12-17 m/s and oriented under a slight angle with the triggering front. Storm vectors are quite parallel to the front. Capping appears to be weak. There will likely be a tendency for linearly organized clusters. The main threat is large hail. Closer to central Germany, the 0-1 km shear is larger than 10 m/s, overlapping with good low-mid level lapse rates, and some potential for tornadoes exists there.

... southern Switzerland, northern Italy, western Austria...

Excessive convective rainfall is likely, resulting in flash floods. WRF and HiRLAM models simulate persistent cells mainly over the southeastern Switzerland area during afternoon/evening.

...northeastern Spain...

Large hail is possible as storms develop in 0-6 km shear around 15 m/s, with >1000 J/kg MLCAPE, and likely sufficient forcing (decreasing from the west). Delta-theta-e of 16-20 degrees is additionally a factor which indicates enhanced potential for severe downdraft wind gusts or microburst. During the night as the cold front wraps around the Pyrenees, storms will likely group in a band through the northeastern half of Catalonia and produce locally large, perhaps excessive rain sums.

...northern France, Benelux...

A band of slight CAPE with WRF and HiRLAM models producing convective precipitation is associated with the secondary cold front in the afternoon and early evening. The zone is overlaid by 25-30 m/s 0-6 km deep layer shear vectors and 10-13 m/s shear in the 0-1 km layer, supportive for mesocyclones in storms, with isolated tornadoes possible.
At night a coastal front may form and produce locally large convective rain sums, but probably no more than a couple tens of millimeters.