Storm Forecast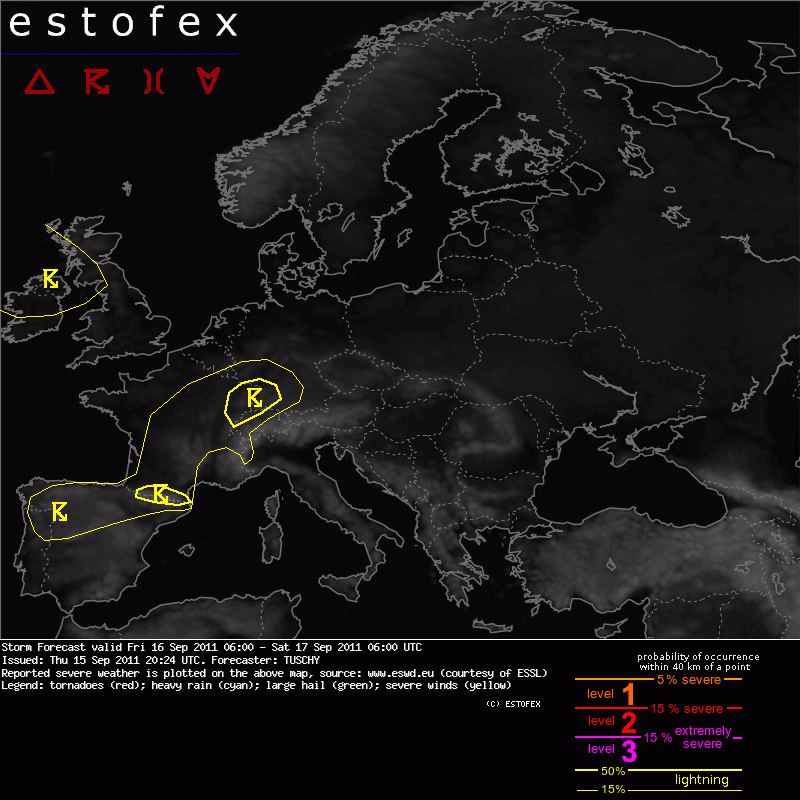 Storm Forecast
Valid: Fri 16 Sep 2011 06:00 to Sat 17 Sep 2011 06:00 UTC
Issued: Thu 15 Sep 2011 20:24
Forecaster: TUSCHY
SYNOPSIS

Another upper trough with marginal amplitude approaches NW Europe during the day. Combination of northward mixing moisture from the Mediterranean and the approaching trough from the west allow a few thunderstorms to evolve. Otherwise no risk for widespread or severe storms can be detected.

DISCUSSION

... France and parts of Germany ...

As flat upper trough crosses UK from SW to NE during the day, a zonal/slightly cyclonical curved flow is present over France/Germany. I'm not impressed by neither forcing nor unfavorable placement of upper jets, so initiation will be more isolated in nature. Two foci exist:

a) Pyrenees all day long. Placed beneath EML plume, not much forcing/heating will be needed for initiation along the mountainous region. All models agree in afternoon convection, which gradually decays after sunset. Weak shear but increasing moisture may assist in an augmented heavy rainfall risk, which remains below any level threshold.

b) E-France/W-Switzerland/SW-Germany after 21 Z, as upper trough sneaks in from the west. Good moisture supply from the W-Mediterranean and eastward moving EML create a favorable environment for some nighttime MUCAPE. 15 m/s DLS and some MUCAPE overlap may assist in an isolated better organized storm with marginal hail/strong wind gusts. Clusters of showers/thunderstorms move to the east/northeast during the night.

For central/southern France, widespread initiation is unlikely and I kept this area in a 15% thunderstorm area. Models indeed inidcate good CAPE build-up, but this area remains mostly capped during the day. Only a few, isolated storms are forecast with marginal hail/strong wind gusts.

...Ireland, parts of UK and Scotland ...

During the day, some SBCAPE is forecast, probably peaking over Ireland. If indeed a few stronger updrafts manage to evolve, 15-20 m/s DLS may assist in a few better organized thunderstorms over Ireland during the afternoon hours, but current confidence is too low for any level areas.

During the night, some offshore convection may evolve as mid-level temperatures drop (due to the approaching trough axis). Nothing severe is forecast.