Storm Forecast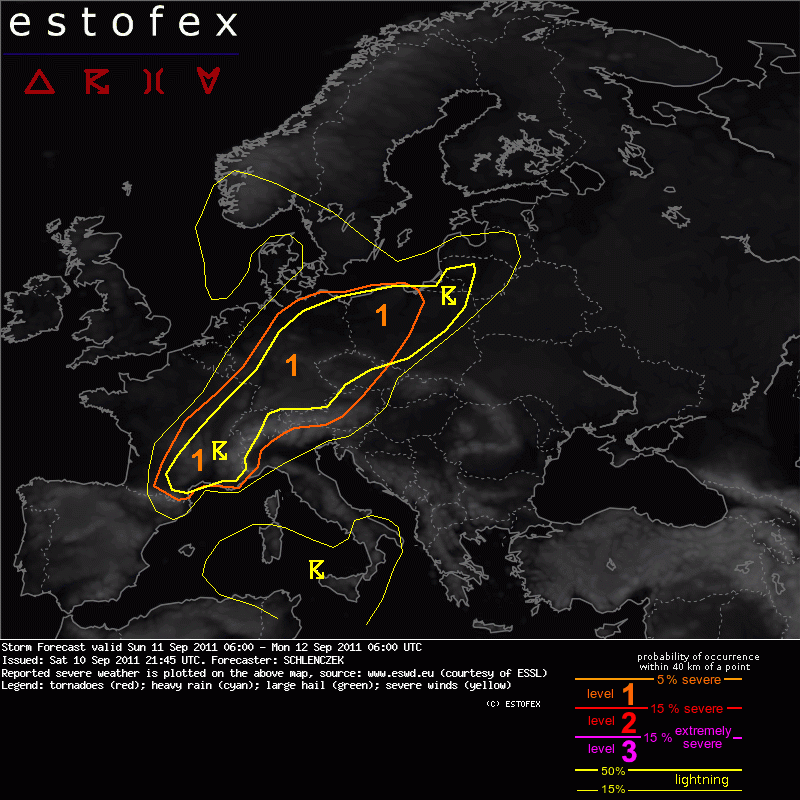 Storm Forecast
Valid: Sun 11 Sep 2011 06:00 to Mon 12 Sep 2011 06:00 UTC
Issued: Sat 10 Sep 2011 21:45
Forecaster: SCHLENCZEK
A level 1 was issued for the SE parts of France, Switzerland and most parts of Germany for large hail, severe wind gusts, and tornadoes.

A level 1 was issued for W Austria, W Czech Rep. and W Poland mainly for severe wind gusts and large hail and to a lesser extent for tornadoes.

SYNOPSIS

A broad upper trough, initially located north of Ireland, shifts eastwards towards S Scandinavia until Monday morning. Ahead of this trough, a strong SWerly upper jet streak stretches from the S Bay of Biscay towards S Norway. A plume of warm and unstable air over the western and central parts of Europe is advected eastwards during the period.

DISCUSSION

...France, Germany, Alpine region, Czech Rep. and W Poland...

Very humid and warm air overspreads most parts of western and central Europe as well as the western and central Mediterranean and will lead to a significant amount of MLCAPE during Sunday afternoon / evening. The recent model output from GFS suggests MLCAPE between 500 and 1500 J/kg in most places, partly overlapping with 20 - 25 m/s of 0-6 km deep layer shear. Only -50 to -100 J/kg CIN are forecast which will increase the chance of widespread convective initiation when the trough approaches France, Germany and the Benelux countries. The environment should be supportive for organised multicellular systems and supercells which may produce large hail and severe wind gusts.

During the late afternoon, LL shear increases over E-central France, Luxembourg and SW / W Germany. An overlap of 10 - 12 m/s LLS, T/Td around 22/18 and locally enhanced 0-3 km SRH and LL CAPE will lead to a tornado risk in most portions of the LVL1 area. The focus of convective activity should reach central and eastern Germany in the late afternoon and W Poland during the evening / night hours.

Right now, a clear focus for widespread severe weather is not shown in GFS and WRF-NMM. If later model runs or recent data show spots with a higher probability of severe weather, an upgrade to LVL2 will follow.

...Mediterranean region...

Moderate values of MLCAPE are present in the western and central Mediterranean region, but high CIN should preclude widespread convective initiation. An isolated thunderstorm with large hail and / or an isolated severe wind gust cannot be ruled out but overall probability of thunderstorms is too low for a LVL1 area.