Storm Forecast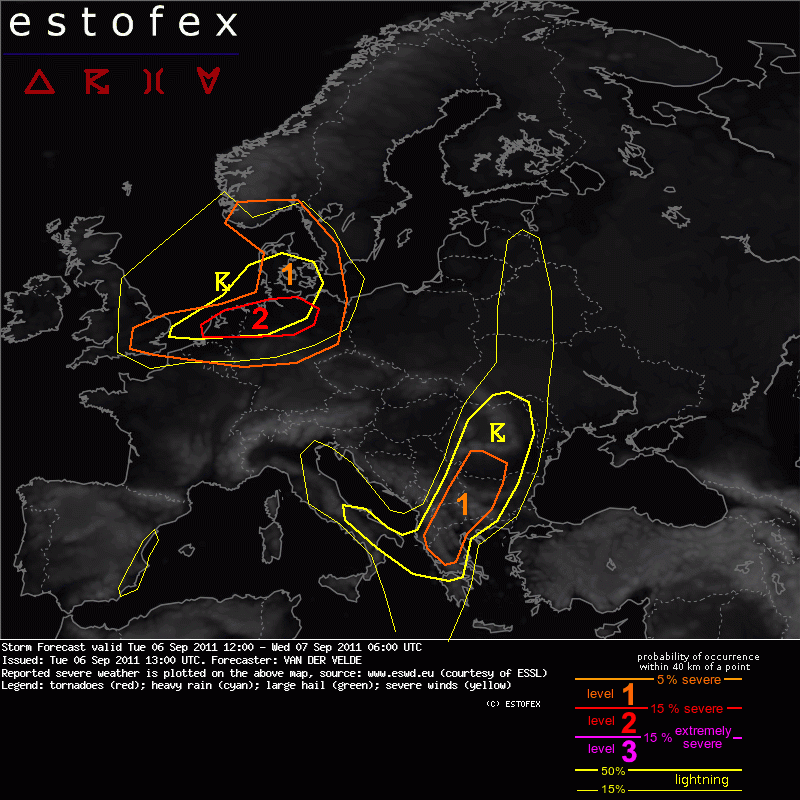 Storm Forecast
Valid: Tue 06 Sep 2011 12:00 to Wed 07 Sep 2011 06:00 UTC
Issued: Tue 06 Sep 2011 13:00
Forecaster: VAN DER VELDE
Levels 1 and 2 were issued for parts of the UK, Benelux, Germany, Denmark, Norway and Sweden mainly for severe convective wind gusts and tornadoes.

A level 1 was issued for a part of the Balkan mainly for isolated excessive convective rain.

SYNOPSIS

A vigorous low pressure system centered north of Scotland causes an episode of stormy winds over western Europe. Its surface cold front should arrive at 18Z to the Netherlands and should reach southern Sweden and Luxembourg between 00-06Z. The front is in mid levels clearly ahead of the surface front, with some potential instability visible in wetbulb potential temperature fields. The cold front is accompanied by a >70 m/s jet maximum at 300 hPa.

DISCUSSION

... parts of the UK, Benelux, Germany, Denmark, Norway and Sweden ...

As the cold front moves across the southern UK during the afternoon, a wave in the dynamic tropopause and a left jet exit dig into the region (as seen in GFS especially at PVU=1 level) and the PV anomaly gets perpendicular to the flow causing strong forcing for linear convection, with the strongest forcing over the Netherlands and Germany. 850 hPa winds of 25-30 m/s are predicted, which in case of a strongly forced convective line can cause widespread potentially damaging wind gusts. Equilibrium level temperatures are coldest over the southern North Sea, which is where the larger chance of thunder resides. EL temperatures warmer than -10°C are forecast to the south and will limit thunder chances only to the most strongly forced convection. Due to the presence of a strong jet, the 0-6 km deep layer shear is 25-40 m/s all through the level 1 area. Storm-relative flow is helical with 0-3 km SREH of 250-400 m²/s², the highest values not in the colder unstable airmass, though. Mesocyclonic storms (mini-supercells) can be isolated or embedded within the convective line. Within the level 2 area, 0-1 km low level shear ranges between 18-28 m/s which is in strong support of tornadoes and bow echoes.
GFS and mesoscale WRF models simulate convection both on the cold front and a following trough/secondary cold front. WRF Uni-Leipzig actually simulates the convective line on the postfrontal band.

... Balkan ...

Unstable air and very slow storm motion will likely cause locally excessive rain sums. Storm initiation and regeneration can be enhanced by local terrain conditions.