Storm Forecast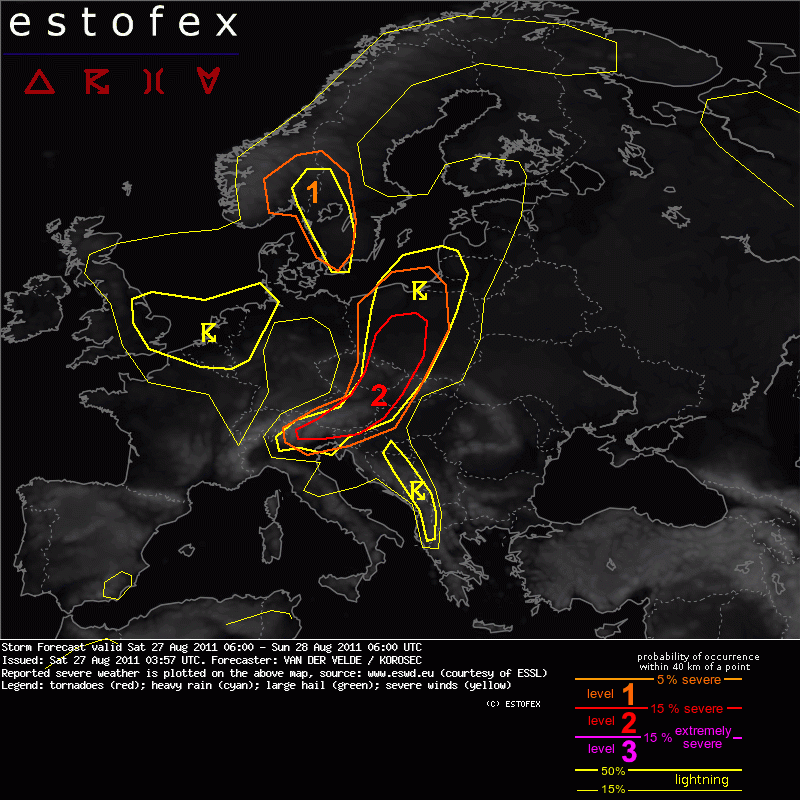 Storm Forecast
Valid: Sat 27 Aug 2011 06:00 to Sun 28 Aug 2011 06:00 UTC
Issued: Sat 27 Aug 2011 03:57
Forecaster: VAN DER VELDE / KOROSEC
A level 2 was issued for N Italy, Austria, Slovenia, across E Czech Republic and W Slovakia into central Poland mainly for large hail and severe wind gusts, and perhaps a tornado. Excessive convective rain chance exists along the south flank of the Alps.

A level 1 was issued for areas surrounding the level 2 mainly for some large hail and severe wind gusts and excessive convective rain.

A level 1 was issued for southern Scandinavia mainly for excessive convective rain, large hail, and some chance of tornadoes.


SYNOPSIS

A deep trough over western Europe now acting as a negative tilted trough with its axis crossing the central Europe during the day. At surface, a sharp cold front extends from southern Scandinavia towards the southern Alpine region. The front gets pushed eastwards and serves as a focus for robust convective activity over the highlighted areas. Cool maritime airmass overspreads western Europe and results in scattered convection.

DISCUSSION

... southern Alpine region ...

An active cold front with a history of intense severe storms over France and Germany on Friday, will continue moving east across the central Europe. Its characterized by the sharp temperature gradient between very hot and unstable airmass ahead of it with a cool maritime airmass behind it.
It is becoming likely that activity will continue from the early morning storms/MCS over the western Alps. A well-defined DCVA crosses the Alps and should provide strong QG forcing. Once the front moves further east and strong heating takes place, storms should fire along and just ahead of it. BL airmass remains very hot and humid, so 1000-2000 J/kg of MLCAPE seem reasonable to be available. Overlapped with quite strong deep layer shear around 20-25 m/s, conditions will therefore be favorable for well organized multicell and supercell storms, capable of producing (very) large hail and damaging severe winds. With a shallow secondary SFC low developing over northern Mediterranean during the day, backed flow in the LL is likely to result in enhanced shear/SREH. Values around 150-250 mē/sē could then also support a tornadic storm or two. Activity should spread across the level 2 area during the afternoon hours and diminish overnight.
Excessive rain sums may be obtained along the south side of the eastern Alpine region as the intersection of frontal and orographic lifting in a high CAPE region ensures continuously regenerating storms which move slowly eastward.

... NE Austria across E Czech Republic and W Slovakia into central Poland ...

Although deep shear vectors will be aligned with frontal forcing, high MLCAPE (2000 J/kg is likely to be around in some places) and interaction of organized cells with a very dry mid level airmass (visible in 00Z soundings and in GFS delta-theta-e values up to 25°) can create a threat of severe wind gusts (incl. microburst). Bow echo development with more widespread wind damage is possible. GFS indicates that greater than 200 mē/sē 0-3 km SREH will be present in this region, even 300 mē/sē over Austria. The latter appears mostly on the cold side of the front, although there is likely a fringe region where both CAPE and helical inflow are present. Large hail, severe gusts are the main threats with an isolated tornado not ruled out. The 0-1 km shear and relatively high LCL (1500 m) on the warm side of the front are not that supportive of tornadoes, though.
Storms will move mainly northward at fairly large speed but may train through a region and cause large rain sums. Vertical shear and forcing drops off rapidly toward the east, and so is the likely severe weather potential.

... southern Norway and Sweden ...

Strong upslope moisture flux over southern Norway will peak during the morning, and produce large rain sums with or without (advected) convective input. GFS depicts some 1000-1500 J/kg over southern Sweden advecting into Norway (see Greifswald 00Z sounding), and the frontal lift will be aligned with the shear and storm motion, so that storms can train for longer times in the area. Moderate CAPE and shear allow large hail (but large warm cloud depth will counter this). Over southeastern Norway the low-level shear ranges >10 m/s which is considered favorable to tornadoes, and LCLs will be low (<600m), so their occurrence is not ruled out.