Forecast Update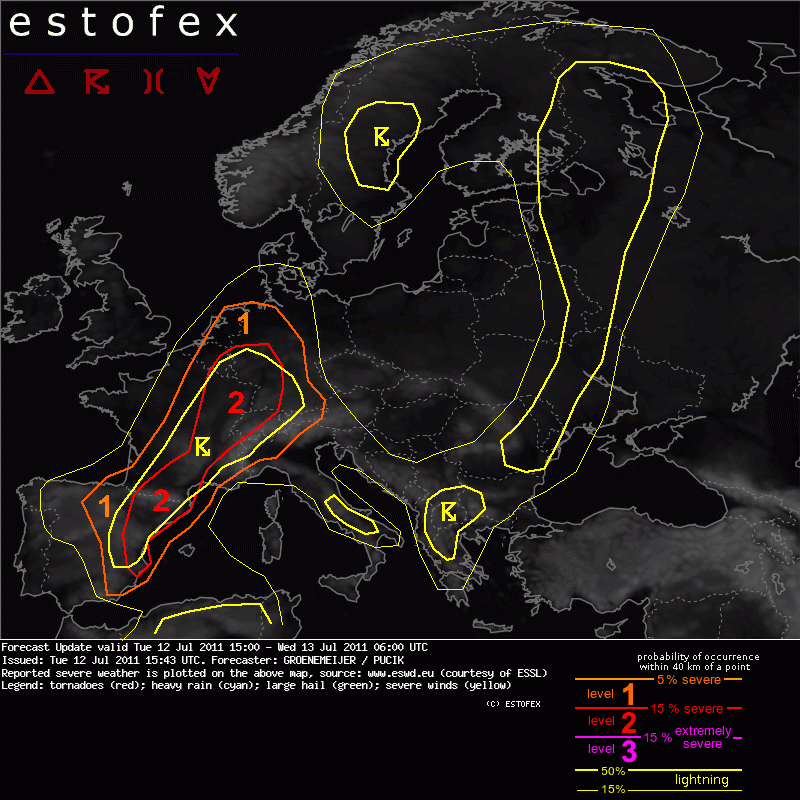 Forecast Update
Valid: Tue 12 Jul 2011 15:00 to Wed 13 Jul 2011 06:00 UTC
Issued: Tue 12 Jul 2011 15:43
Forecaster: GROENEMEIJER / PUCIK
A level 2 was issued across eastern Spain and eastern France mainly for very large hail, isolated severe wind gusts and an isolated tornado.

A level 2 was issued for NE France, SE Benelux and W Germany for isolated tornadoes, severe wind gusts, large hail and extreme rainfall.

A level 1 was issued across areas of Spain, France, Italy and Switzerland for large hail and isolated severe winds gusts, across Belgium and the Netherlands mainly for excessive rainfall, and across Germany for a lesser threat of severe wind gusts, tornadoes and extreme rainfall.

DISCUSSION

North of the Pyrenees...

Surface analysis shows small low pressure system across northern France. Model guidance suggests that this low will gradually move northeastward with significant helicity developing on its eastern and, especially, northern flank.

Convective initiation has been rather isolated along a N-S convergence zone stretching from Luxembourg to the Massif Central. These are expected to move northeastward across Switzerland into central and southern parts of Germany. Have decided to issue level 2 for these any subsequent storms that, given the strongly sheared and increasingly helical environment are prone to produce severe weather.

Additional development is imminent to the west over north-central France. In any case, these storms are expected to encounter a zone of surface-based instability ahead of them as well as a highly helical flow, so that updraft rotation is likely and the risk of a few tornadoes will exist.

Although not ruled out further south, the most likely region for tornado occurrence appears to be from near Reims across the SE Benelux into the Ruhrgebiet where helicity will be maximized.

Excessive precipitation is expected to set in overnight across the Benelux states overnight as convection clusters in response to increased upper-level forcing.

South of the Pyrenees...

Extensive cloudiness has prevented storm initiation across SE Spain for a long time, whereas scattered storm development has occurred across NE and northern Spain. Recent staellite imagery shows initiation is now imminent over SE Spain too.

These storms will continue to pose a threat of very large hail and severe winds before weakening overnight.