Storm Forecast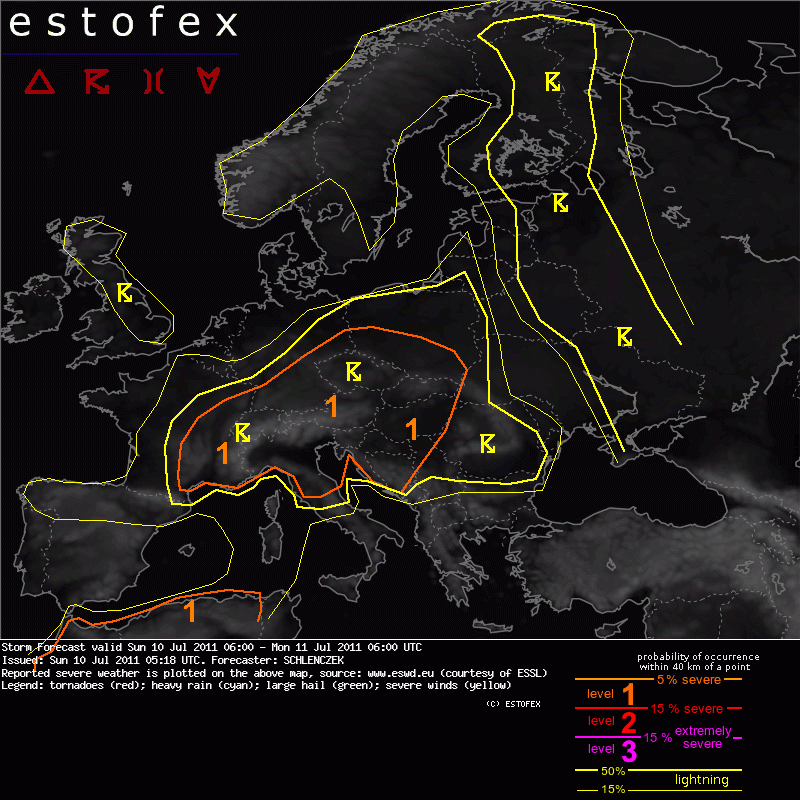 Storm Forecast
Valid: Sun 10 Jul 2011 06:00 to Mon 11 Jul 2011 06:00 UTC
Issued: Sun 10 Jul 2011 05:18
Forecaster: SCHLENCZEK
A level 1 was issued for S/SE-central Europe mainly for large hail and to a lesser extent for severe wind gusts and excessive precipitation.

A level 1 was issued for the N Maghreb States mainly for large hail.

SYNOPSIS

A southwesterly upper level flow has established over most parts of SW to NE Europe between an upper high over the eastern Mediterranean and an upper trough over the northern North Sea. Warm and unstable air is located southeast of the frontal boundary which stretches from W Portugal via central France and E Germany towards the N Baltics. Vertical shear is only in order of 10 - 15 m/s in most places and therefore the potential of severe weather is tied to those regions where instability is highest.

DISCUSSION

...France, S Germany, SE-central Europe...

Some 1000 - 1500 J/kg MLCAPE are expected in this region, overlapping with 10 - 15 m/s of 0-6 km deep layer shear. SRH3 in order of 100 - 150 mē/sē is forecast which could be enough for a few mesocyclones. Well-organised multicells should be the main convective mode in this situation with large hail being the main threat, some of them may propagate backward and may produce a local flash flood event. To the southeast, the vertical gradient of Theta-E increases and this may allow some severe wind gusts as well.

...N Maghreb States...

Instability is somewhat lower than in the other LVL1 region, but deep layer shear around 20 m/s may support a few isolated organised multicells and / or supercells which may produce isolated large hail.