Storm Forecast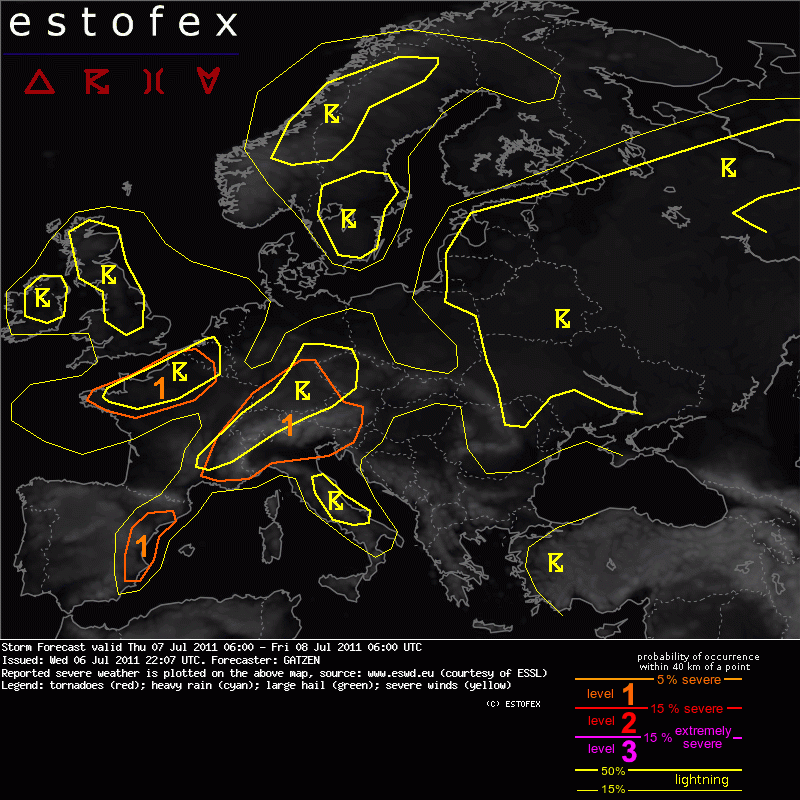 Storm Forecast
Valid: Thu 07 Jul 2011 06:00 to Fri 08 Jul 2011 06:00 UTC
Issued: Wed 06 Jul 2011 22:07
Forecaster: GATZEN
A level 1 was issued for the northern Alpine region mainly for severe wind gusts and excessive rain.

A level 1 was issued for south-eastern France and Switzerland mainly for severe wind gusts and excessive rain.

A level 1 was issued for the Alps and northern Italy mainly for large hail and severe wind gusts.

A level 1 was issued for eastern Spain mainly for large hail.

A level 1 was issued for northern France mainly for tornadoes.

SYNOPSIS

A quasi-stationary trough is centred over the British Isles, another over Belarus. Between these features, a ridge amplifies over Poland. A strong mid-level jet curves around the western trough and affects most of western and northern Europe. At low levels, a frontal boundary extends from northern Spain across France into central Germany on Thursday.

DISCUSSION

Northern Alpine region

Ahead of the western trough, a tongue of rather steep lapse rates indicated by latest Nimes sounding advects into the Alpine region east of a cold front. At low levels, easterly winds are forecast to the north of the Alps, where the low-level moisture is expected to increase underneath an inversion during the day. Thunderstorms are initially expected over the Alps during the noon and afternoon hours. Slightly enhanced deep layer vertical wind shear at the anticyclonically sheared flank of the mid-level is forecast to support some stronger storms, capable of producing large hail and severe wind gusts. Locally, excessive precipitation is not ruled out.

In the afternoon and evening hours, latest GFS model run indicates a weak short-wave impulse ejecting from the base of the western trough. This will be associated with some QG forcing and increasing thunderstorm activity over the western Alpine region. A cluster of storms is forecast that may even organize into a bowing line spreading north-eastward or eastward. Rather strong low-level convergence and moisture will favour this development over most of southern Germany. Strong to severe wind gusts and locally excessive rain are forecast. Additionally, large hail may occur especially near the Alps, where CAPE will be highest.

South-eastern France to Switzerland

Latest model output suggests an overlap of moist and unstable air masses along the cold front with increasing vertical wind shear of 20 m/s in the lowest 3 km and 25 m/s in the lowest 6 km. However, it seems that westerly surface winds will spread into Switzerland rather quickly, leading to unfavourably thermodynamic profiles. The best veering is expected over south-eastern France, where southerly winds will remain in the afternoon hours ahead of the cold front.

Current thinking is that most convection will initiate in the afternoon hours, when westerly surface winds will limit the organization. Clusters of storms are expected to spread north-eastward, posing a marginal threat of excessive rain and severe wind gusts. Tornadoes are not completely ruled out and may occur at the leading gust front, where 0-3km SRH could reach values of 200 mē/sē according to the latest GFS.

Southern Alps and northern Italy

Some storms are forecast to develop especially in the southern Alps on Thursday given moist low-level air and rather steep mid-level lapse rates. In the afternoon and evening hours, some more storms may also develop farther south along outflow-boundaries. This will be supported by QG forcing as a mid-level disturbance moves into the delta flow of the jet over northern Italy.

The storms are forecast to organize given weak southerly to easterly winds at low-levels and increasing westerly winds above the boundary-layer. Supercells are expected to produce large hail and locally severe wind gusts. The storms will likely spread eastwards while they will likely weaken during the evening and night hours.

Eastern Spain

A low-level convergence zone will spread into eastern Spain on Thursday. Although the QG forcing is expected to be weak, the low-level forcing may support some storms in the afternoon and evening. The storms will have a rather high potential to organize given weak easterly winds at the surface and strong westerly winds at mid-levels, leading to a vertical bulk shear of 15 m/s in the lowest 3 km and 20 m/s in the lowest 6 km. Large of very large hail is not ruled out when this scenario materializes.


Northern France, British Isles

Underneath the cyclonically-sheared flank of the mid-level jet streak, strong QG forcing is forecast to spread into northern France in the afternoon and evening hours. A low-level convergence line is expected to spread eastward over western France in the afternoon, leading to slightly backing surface winds over northern France, where south-westerly to southerly winds may evolve. With low-level mixing ratios of 8 g/kg and some diurnal heating, the neutral to slightly unstable air mass is expected to become increasingly unstable with low-level CAPE in the order of some 100s J/kg.

Thunderstorms are forecast along and ahead of the convergence line that will spread eastward in the evening hours. Given increasing south-westerly winds at 850 hPa, low-level veering profiles will become favourably supportive for storm rotation (0-1 km SRH 120-160 mē/sē). Mesocyclones are forecast to develop, capable of producing tornadoes. Isolated large hail and severe wind gusts are not ruled out.

Farther north, the severe potential decreases over the British Isles. Although instability and vertical wind shear do not seem to be supportive, a tornado is not completely ruled out.