Storm Forecast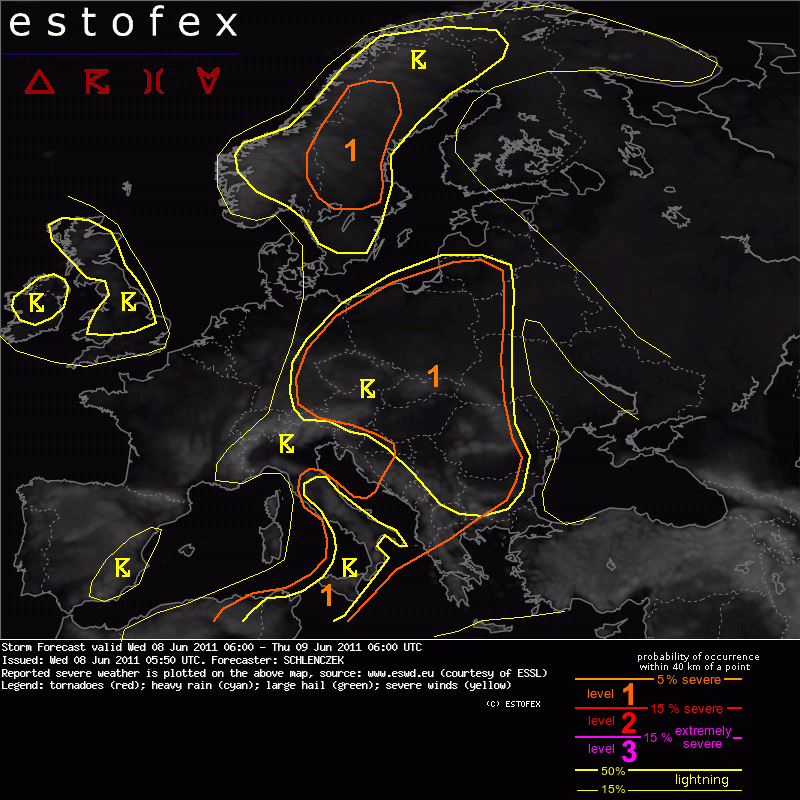 Storm Forecast
Valid: Wed 08 Jun 2011 06:00 to Thu 09 Jun 2011 06:00 UTC
Issued: Wed 08 Jun 2011 05:50
Forecaster: SCHLENCZEK
A level one threat was issued for S Scandinavia mainly for excessive rainfall.

A level one threat was issued for parts of central, eastern and southeastern Europe mainly for large hail, severe wind gusts and excessive rainfall.

A level one threat was issued for the central Mediterranean region including S Italy and Tunisia mainly for large hail and severe wind gusts.

SYNOPSIS

A broad upper trough is centered over western Europe. At its southern tip over northern Algeria, a 25 m/s upper jet streak points towards southern Italy and Greece. The vortex core of a deep low pressure system embedded in this upper level structure is centered over the British Isles. A cut-off low over Russia moves slowly eastwards.

In the wake of an upper ridge over eastern Europe, a tongue of warm and unstable air overspreads the eastern and central parts of Europe. Except for N Tunisia, S Italy and the SW Balkans, vertical bulk shear is mostly below 10 m/s at all levels. High CIN but weak forcing should preclude a severe weather outbreak in the regions with enhanced shear and moderate instability.

DISCUSSION

...British Isles...

Some cold air convection is forecast for most parts of the British Isles and Ireland. Overall shear and forcing is weak and therefore, severe weather is rather unlikely. One cannot discount an isolated funnel / brief tornado but the threat is marginal.

...N Maghreb States, SW Mediterranean, Sicily, S Italy...

Some slightly enhanced SRH values and 15 m/s of 0-3 km shear suggest a possible development of well- organised multicells and supercell storms over the southern level one region. CIN is rather high and storms will tend to stay (very) isolated, which enhances the severity of an individual storm, but leads to a low coverage of reports, though. The most likely severe weather phenomena with such storms are large hail and severe wind gusts.

...S Adriatic, W Balkans...

Further northeast, forcing is even weaker than over S Italy and therefore, initiation is quite unlikely to occur in the regions with the strongest shear. Isolated convection may develop further downstream where CIN is lower but shear is weaker. A few large hail / severe wind gust reports are likely and therefore, a low-end level one is issued.

...Scandinavia...

Low to moderate instability is observed in a region across S and central Sweden towards Norway. Deep layer shear is only in order of 10 - 15 m/s but some storms may lead to local flooding as a continuous moisture inflow from the south is shown in the GFS forecasts which will likely support stationary multicells and multicell clusters. The region where local excessive rainfall and isolated large hail is most likely is covered by a low-end level one.

...Area from E Germany towards Baltics and S Balkans...

A broad region with moderate to high instability but very weak shear is present over eastern Europe. Some mid level cloudiness may hinder convective initiation until the late afternoon, but pulsating single cell storms and briefly organised multicells are likely to occur and may produce marginally severe hail, severe wind gusts, and heavy rainfall due to a very slow storm motion. There is no clear focus for enhanced activity within the entire region and a level one is issued for a low number of severe storms within a highly active thunderstorm region. In the evening hours, storms may tend to form large clusters / MCSes which will predominantly produce heavy rainfall.