Storm Forecast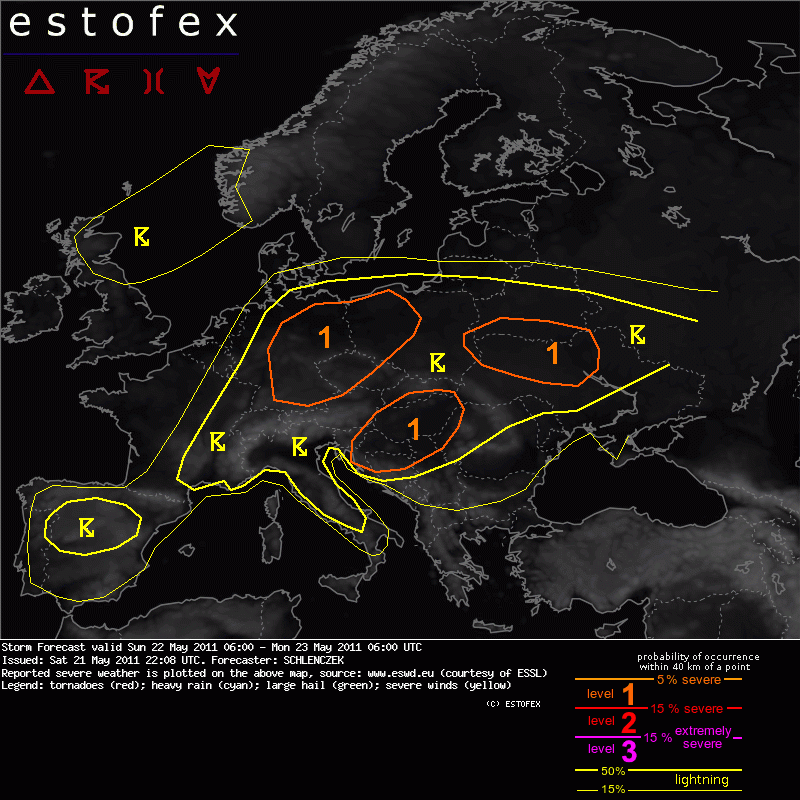 Storm Forecast
Valid: Sun 22 May 2011 06:00 to Mon 23 May 2011 06:00 UTC
Issued: Sat 21 May 2011 22:08
Forecaster: SCHLENCZEK
A level one threat was issued for central / eastern Germany, W Czech Rep. and western / northwestern Poland mainly for severe wind gusts and large hail.

A level one threat was issued for parts of SE-central Europe mainly for large hail and severe wind gusts.

A level one threat was issued for E Poland, S Belarus and NW Ukraine mainly for large hail and severe wind gusts.

SYNOPSIS

A strong low pressure system over Scotland is forecast to move eastwards, affecting S Scandinavia and parts of central Europe. Ahead of this low, a small region will show overlapping 15 - 20 m/s deep layer shear and several hundred J/kg CAPE.

An upper level disturbance over Tunisia leads to unsettled conditions over the central parts of the Mediterranean.

DISCUSSION

...Germany, W Poland, W Czech Rep...

Ahead of the approaching cold front, diurnal heating will create some 1000 - 1500 J/kg MLCAPE in an environment with 10 - 15 m/s deep layer shear, locally near the front even up to 20 m/s. It is likely that remnants of a cluster / MCS over France will reach western Germany in the morning hours. The cold pool of older systems may trigger new multicells which should tend to organize into a linear MCS. As often observed in similar situations, isolated severe wind gusts will be the main threat. GFS and ECMWF ensemble forecasts show some uncertainties in the position and intensity of the cold front which excludes the western parts of Germany from any threat level. Severe storms should be most likely in the eastern / northeastern parts of Germany where shear is in order of 10 m/s but instability has its local maximum in this region. Isolated large hail may also occur with the strongest storms and a marginal level 1 is introduced.

The western parts of Poland will see similar conditions but the cold front is expected to reach this region during the late afternoon / night hours.

...SE-central Europe...

Like on the day before, moderate instability and weak shear is forecast for a broad region. Some hot-spots within this region are covered with a level 1 threat for isolated large hail / severe wind gusts. Most of the storms should be multicells and thunderstorm activity as a whole will be diurnally driven.

...Belarus and N Ukraine...

A similar situation compared to SE-central Europe is expected for the regions further east. Isolated large hail / severe wind gusts from briefly organized multicells will be the main threat.