Forecast Update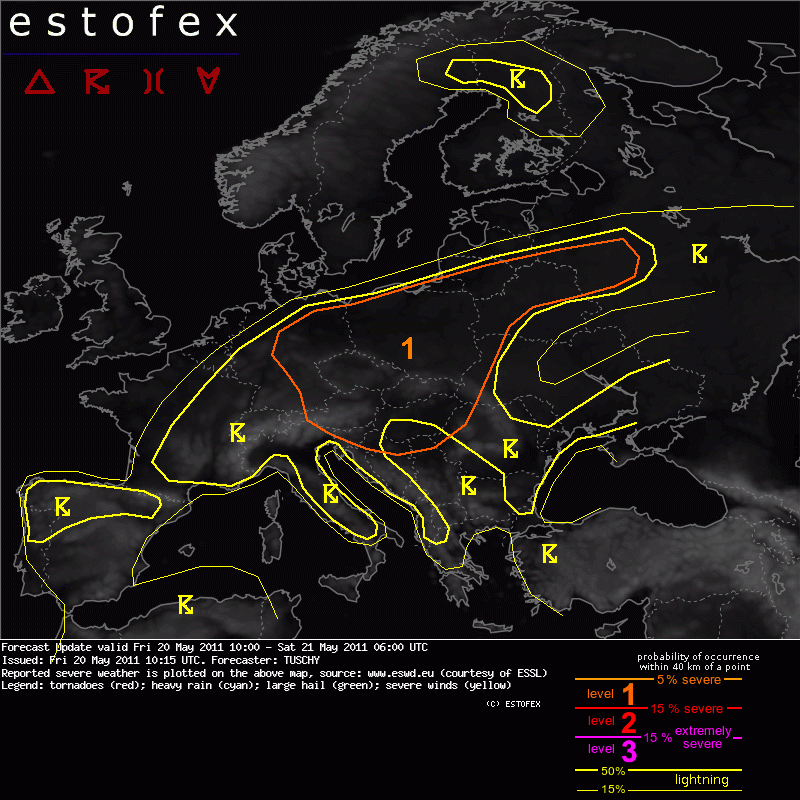 Forecast Update
Valid: Fri 20 May 2011 10:00 to Sat 21 May 2011 06:00 UTC
Issued: Fri 20 May 2011 10:15
Forecaster: TUSCHY
A level 1 was issued for most parts of central/east central Europe mainly for large hail, strong to severe wind gusts and locally excessive rainfall.

SYNOPSIS

Please refer to the main outlook, issued at Thu 19 May 2011 18:18 Z

DISCUSSION

A few cosemtic changes have been performed. Main thinking however remains the same. Latest high resolution VIS loop already indicates increasing TCU fields atop mountainous areas within the highlighted area. Also, first thunderstorms are in progress over SW-Germany, Slovakia and parts of Poland.

We expanded the 50-% probability area over Germany/France far to the west/north to account for the more wavy character of the frontal boundary. Wind field within the PBL remains complex with numerous convergence zones present in latest surface analysis. Nevertheless, strongest thunderstorms are still expected from CNTRL/E-Germany all the way to SE-Latvia/N-Belarus (scattered to widespread) with lower coverage further south from S-Poland to Hungary. 00Z soundings confirm modest lapse rates within the level 1 and shear, increasing somewhat towards CNTRL/E-Germany, N-Poland, Latvia and Lithuania.

Large hail and strong to severe downbursts are forecast mainly during the initiation stage. Where thunderstorm coverage will be more robust, cold pools may assist in more organized small-scale clusters, producing strong to severe wind gusts. Also, weak wind field and modest to high PWAT values allow short storm motion vectors with an augmented risk for locally excessive rainfall amounts.

However, as mesoscale effects and also internal ones play a major role today (regarding thunderstorm organization), it remains difficult to pinpoint areas with highest severe probabilities.