Storm Forecast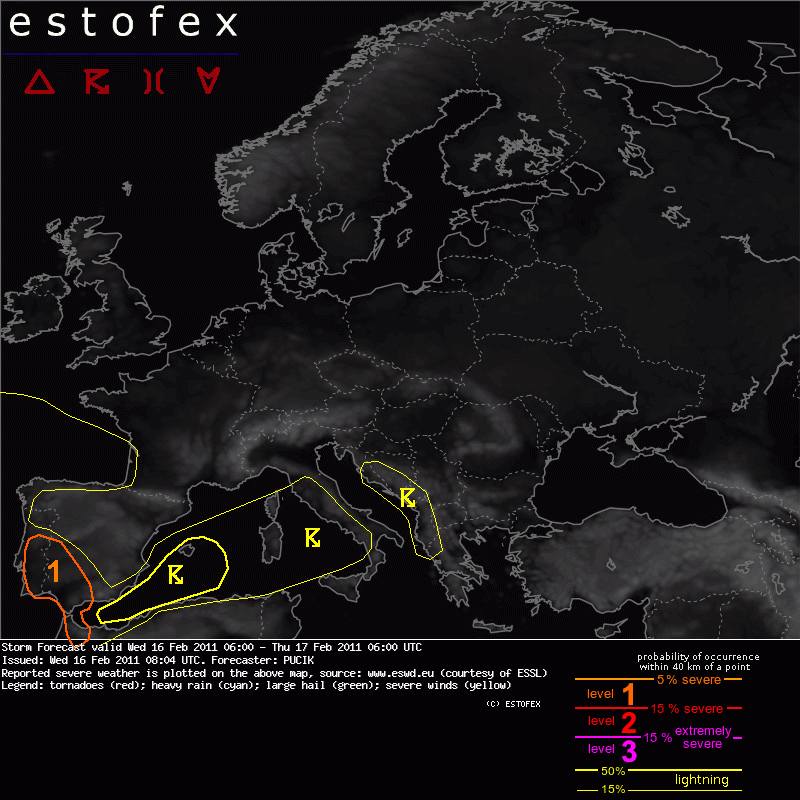 Storm Forecast
Valid: Wed 16 Feb 2011 06:00 to Thu 17 Feb 2011 06:00 UTC
Issued: Wed 16 Feb 2011 08:04
Forecaster: PUCIK
A level 1 was issued for Southwestern Iberia mainly for severe wind gusts and tornadoes.

SYNOPSIS

In the strong northwesterly flow over Southwestern Europe, a low pressure system will move over Iberia towards the Southern Mediterranean. Several vorticity maxima are simulated along the periphery of the low, propagating in the strong jet-stream, reaching up to 50 m/s at 500 hPa level. It is this region, Southern, Western Mediterranean and coastal areas of Iberia, that should experience conditions favorable for deep, moist convection. The rest of Europe should strive in the stable environment with a ridge over Central Europe and a deep low over Russia. The low owes its origin to the very cold airmass being advected over the region. This airmass involves temperatures under -20°C at 850 hPa and its boundary with a modified polar airmass over the rest of Europe is actually the most significant one during this forecast period.


DISCUSSION

... Southwestern Iberia ...

Models simulate rather marginal instability built-up, but with favorable forcing, as revealed by vorticity advection fields at 500 and 300 hPa levels and sufficient moisture, scattered thunderstorms might initiate. With strong northwesterly flow especially over the southern part of the region, moderate to strong wind shear is predicted. Most of the wind shear will be concentrated to the lowest 1 km, especially over the inland areas, where bulk values well over 10 m/s are predicted. It is quite probable that a linearly organised system of thunderstorms develops ahead of one of the vorticity maxima and travels southeastwards. Marginally severe wind gusts and/or weak tornadoes might accompany the passage, as well as isolated small hail. The overall threat seems to warrant a low-end Level 1.

... Western Mediterranean ...

It will be this region, that should experience the highest coverage of thunderstorms with sufficient forcing and instability fields overlapping each other. Most of the thunderstorm activity will likely be observed during the night hours and will gradually move towards the east, in accordance with the movement of the mid-level features.