Storm Forecast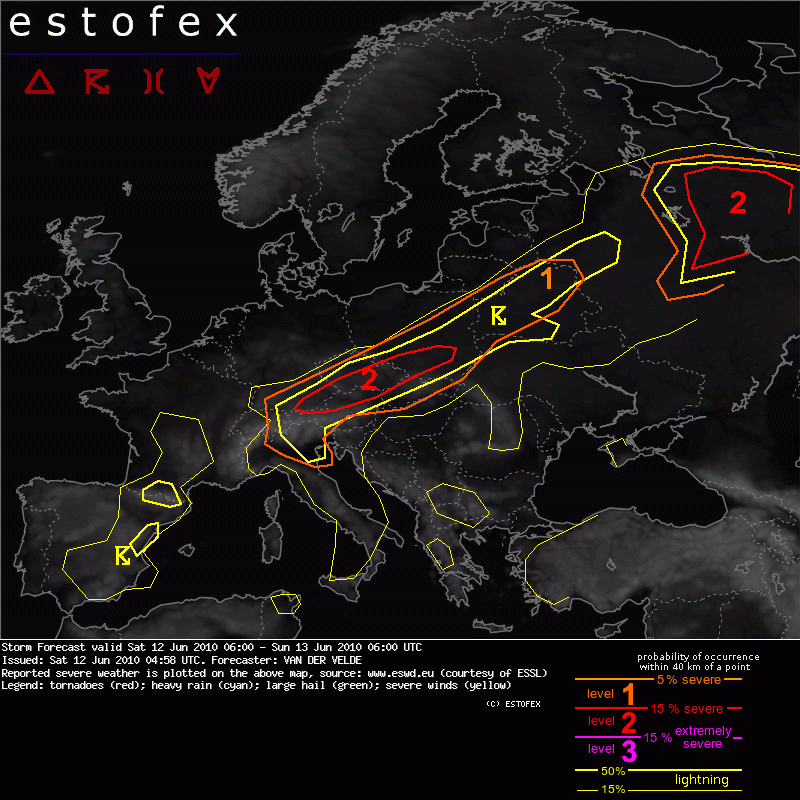 Storm Forecast
Valid: Sat 12 Jun 2010 06:00 to Sun 13 Jun 2010 06:00 UTC
Issued: Sat 12 Jun 2010 04:58
Forecaster: VAN DER VELDE
A level 2 was issued for a part of Russia for severe convective wind gusts, tornadoes and large hail.

A level 2 was issued for SE Germany, N Austria, Czech Rep., S Poland mainly for large hail, as well as excessive convective precipitation and isolated convective wind gusts.

A level 1 was issued for N Italy, parts of central Europe and Belarus mainly for large and convective wind gusts.


SYNOPSIS

An interesting weather pattern is in place over Europe, with low pressure over Scandinavia and a large positively tilted upper trough extending from it to the Iberian Peninsula, where an upper cut-off low resides. Between cooler airmasses over the NW half and warm airmasses over the SE half of Europe, a stationary front is present with a large amount of MLCAPE reaching 1000 J/kg to locally 2000 J/kg as predicted by GFS. Strong deep layer shear north of this front but still moderate (15-20 m/s 0-6 km) within the not much capped CAPE region should enhance the severe weather potential of ensuing storms. GFS lets a wave develop in this front and move off to NE Belarus where it arrives by 06Z. An earlier wave associated with a more mature low has developed during the past forecast period and will now affect Russia.


DISCUSSION

...Russia (approximately N and E of Moscow)...

The wind field and resulting vertical shear conditions widely overlapping with the CAPE region make for a level 2, possibly level 3 episode. Near the occlusion more than 300 mē/sē SREH and 15 m/s 0-1 km shear are present, while wind profiles and linear forcing are very favorable for a squall line, likely with bow echoes. This could result in a widespread severe gust (>25 m/s) threat. Further support for this comes from delta-theta-e of 20-25 K.
Supercells are also possible ahead of the line or embedded. These could produce large hail as well as tornadoes.

...SE Germany, N Austria, Czech Republic, S Poland , N Italy...

The combination of moderate MLCAPE, moderate wind shear (15-25 m/s 0-6 km and 100-150 mē/sē SREH 0-3 km), locally delta-theta-e >20K and good mesoscale ascent (low level convergence, some QG lifting) should result in multiple thunderstorm clusters, which move approximately east/northeastward along the front itself, which can enhance local precipitation sums. At mid to high levels, storm-relative winds blow towards the cool side of the front, which should prevent cooling on the warm side where new cells initiate.
Large hail (locally a very large hail event not ruled out) is the primary threat. An isolated severe gusts event and local flash floods are also well possible.