Storm Forecast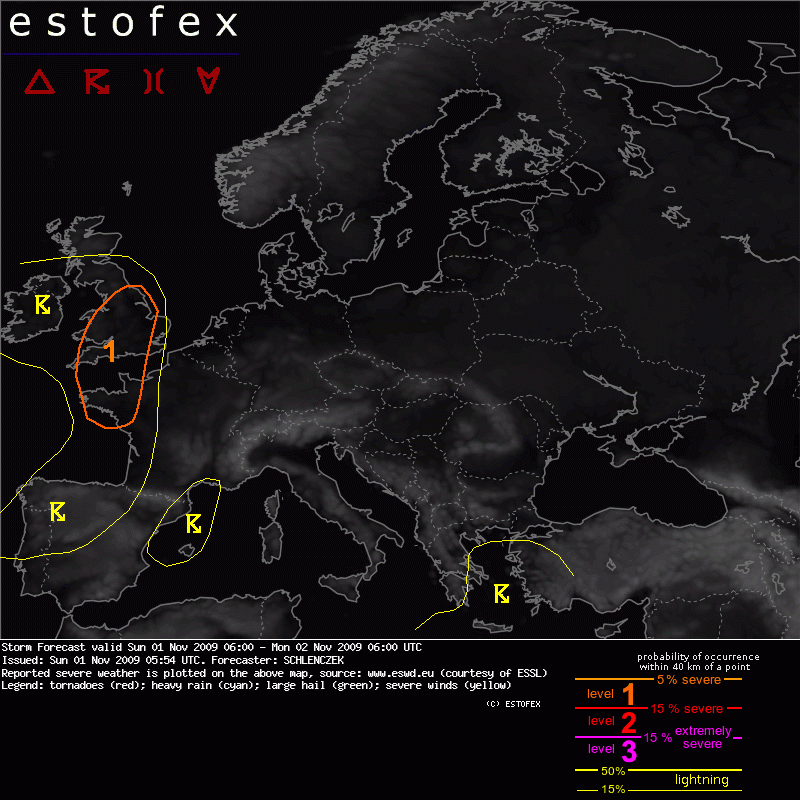 Storm Forecast
Valid: Sun 01 Nov 2009 06:00 to Mon 02 Nov 2009 06:00 UTC
Issued: Sun 01 Nov 2009 05:54
Forecaster: SCHLENCZEK
A level 1 was issued for NW France towards E-central England mainly for severe wind gusts and tornadoes.

SYNOPSIS

The Omega-like upper flow pattern over central Europe becomes more asymmetric during Sunday as a progressive upper longwave trough near Iceland approaches the British Isles while digging southward. In the vicinity of a shortwave trough ahead of the longwave trough, a baroclinic wave with a 990 hPa surface low is forecast to deepen. In the wake of this low, a sting jet has developed near the bent-back occlusion which is moving towards W Ireland. Unsettled conditions are also expected in the wake of the cold front where a large area with scattered showers and weakly electified thunderstorms is moving to the southeast. The cold front should stretch from the Irish Sea via the W British Channel towards NW Spain at 06 UTC and will rapidly move eastward. This low will occlude after having passed central England and the N North Sea.

Another upper trough is located over eastern Europe, stretching from W Russia towards the Aegean Sea. A small but intense jet streak over the E Mediterranean will have its left exit region near Cyprus in the early afternoon. In the warm and moist air ahead of the trough, thunderstorms will develop. Some of them might become severe as deep layer shear in order of 20 m/s is in place. It is possible that a tornado and / or a large hail / severe wind event could be observed in Cyprus or S Turkey which is east of our forecast area. In the wake of the trough, rather cool and drier air overspreads the central / eastern Mediterranean. Along a frontal boundary which stretches from Sardinia via N Tunisia towards Egypt, thunderstorms should be most likely.

Between those two upper troughs, a ridge will provide moderately warm and stable conditions for central Europe and E Scandinavia.

DISCUSSION

...Ireland, S / central UK, British Channel, NW France...

In the vicinity of the cold front, ECMWF and GFS show some weak signals of instability. In this almost saturated airmass, vertical shear will strengthen to 30 - 35 m/s from the 0-6 km layer. Very strong QG forcing in the left exit region of this diffluent shortwave trough provides sufficient lift for ascent. The region with low-end instability and strong deep layer shear overlaps with a local maximum of SRH1 / SRH3 which is forecast around 400 / 600 mē/sē. Current thinking is that especially in the region with highest wind speeds perpendicular to the cold front, which is now near SW Wales, a narrow convective line and / or some discrete low-topped supercells may develop. Each storm will pose a threat of severe wind gusts due to evaporative cooling near the dry intrusion around 700 hPa and downward transfer of momentum, given 700 hPa wind speeds around 30 - 35 m/s and up to 30 m/s at 850 hPa. Especially the rotating storms will also pose a threat of tornadoes that might even exceed F1 intensity. Both tornadoes and gusts are most likely along a small area from SW Wales towards east-central England. The front should have passed the area of interest in the early afternoon, limiting the threat of severe convective weather. In the wake of the cold front, winds at all levels are relatively weak and some of the showers / thunderstorms may produce an isolated funnel / spout-type tornado.

An isolated severe wind gust may also occur further south in W France but confidence is too low that more than an isolated event can be expected there. Vertical shear and helicity decrease towards the south which limits the potential of organised multicellular convection.

...E Spain, W Mediterranean...

In the second half of the forecast period, the cold front / upper trough will also affect the eastern parts of Spain and the W Mediterranean / Balearic Islands. Some thunderstorms may develop in an environment with a few hundred J/kg CAPE and 20 m/s deep layer shear. SRH may be locally augmented ahead of the cold front with easterly SFC winds which will favour organised multicells and possibly an isolated low-topped supercell. An isolated tornado is not ruled out but overall threat is too low for a LVL1.