Storm Forecast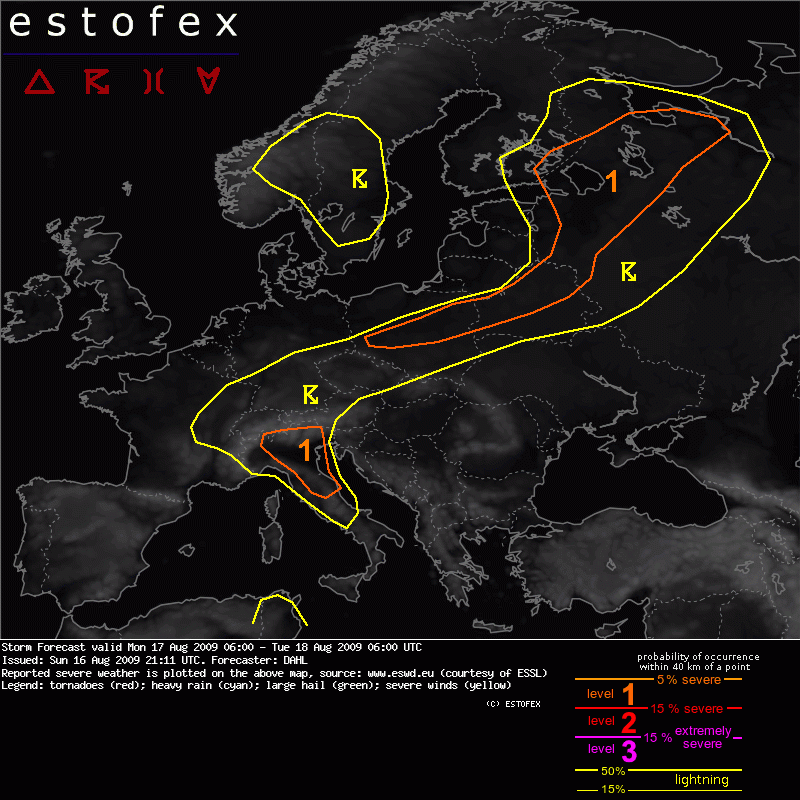 Storm Forecast
Valid: Mon 17 Aug 2009 06:00 to Tue 18 Aug 2009 06:00 UTC
Issued: Sun 16 Aug 2009 21:11
Forecaster: DAHL
A level 1 was issued across Poland, Belarus, and W Russia for tornadoes and damaging wind gusts.

A level 1 was issued across N Italy for excessive convective rainfall.


SYNOPSIS

Meandering upper westerlies are stretching from the Atlantic across the northern/central parts of Europe. A short-wave trough is simulated to move from the North Sea into the Baltic States during the period. A low-level baroclinic zone will extend from N Iberia across Germany into the Baltics/W Russia early in the period, with its NE portions making some east- and southward progress in response to the approaching upper short-wave trough. At the SFC, rather quiescent synoptic conditions prevail.

DISCUSSION

... Poland ... Belarus ... W Russia ...

A marginal kinematic and thermodynamic setup for sever storms will likely evolve over N Poland and Belarus ahead of the short-wave trough late in the day. However, CAPE will likely be quite marginal with only few 100 J/kg, and DLS is simulated to be in the 15 to 20 m/s range. 0-1 km shear is expected in the 5 to 10 m/s range. Also, deep-layer forcing should be rather weak given a rather large lateral distance to the upper trough, and what forcing will occur should overspread the region during/after sunset. Still, linear segments and possibly a few mesocyclones seem to be possible, with a marginal wind and tornado threat. Peak activity should occur in the evening and night hours.
A preceding, less well pronounced short-wave trough will overspread Finland and W Russia in the early afternoon hours. Though extensive cloudiness/stratiform precip may occur, scattered/imbedded thunderstorms are anticipated. Rather strong LLS will exist which implies that at least short-lived mesocyclones, with an attendant tornado threat, may occur.

... Italy ...

Scattered storms should evolve over Italy during peak-heating hours. Given anticipated slow storm motion, but rather strong CAPE and high moisture contents, it seems that some threat for excessive rainfall exists.