Extended Forecast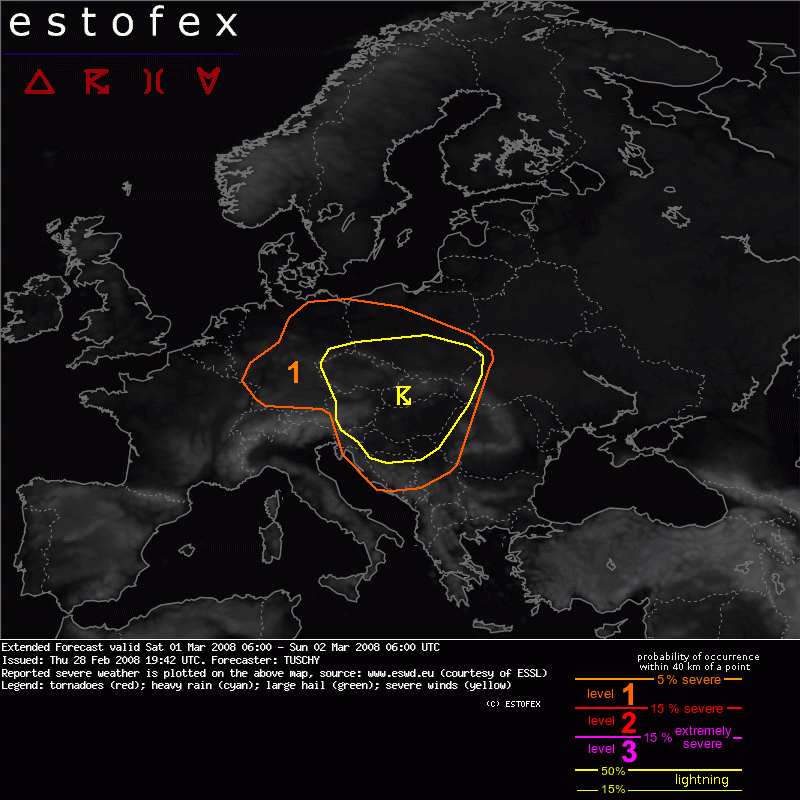 Extended Forecast
Valid: Sat 01 Mar 2008 06:00 to Sun 02 Mar 2008 06:00 UTC
Issued: Thu 28 Feb 2008 19:42
Forecaster: TUSCHY

SYNOPSIS

Strong high pressure area over SW Europe
continues to drift eastwards, while an intense jet stream orbits the high on its north side, digging southeastwards resulting in a gradually amplification of an upper-level trough running from Norway to the Black Sea area.

Racy southeastward translating cold front over central Europe poses the main risk for convection.
The Mediterranean area stays warm and dry.

DISCUSSION

.... Parts of Poland, the Czech Republic, parts of Austria, Slovakia, Slovenia, Hungary, Croatia, Bosnia and Herzegowina, Serbia and Montenegro....

The main attention has the SE-ward racing cold front as diurnal heating starts to modify prefrontal airmass. Atmosphere becomes more unstable and surface temperatures are forecast to climb well above 10°C from S / E-Austria - Hungary south-/southeastwards. T-Td spread increases during the day and LCLs climb to above 1000m for a short time during the peak daytime heating before coming back down ahead of the cold front. Hence there still exists uncertainties regarding the final tonado risk especially over E-Austria where shear and instability would overlap. Right now the main risk looks like to be a severe to damaging wind gust threat along the cold front, which could affect a quite large area.
For now a broad level-1 area is the best choice but probabilities may be augmented in later outlooks.

....Germany, Belgium, the Netherlands and NW- / W-Poland....

The risk of an isolated tornado and severe-damaging wind gust continues along the cold front until about 12Z before the front reaches the Alps.

During the afternoon hours / between 12Z and 18Z / another speed max crosses N-Germany with more than 35m/s at 850hPa from the NW. Steep LL lapse rates should support a downward mixing of those impressive winds with an attendant severe wind gust risk. Degree of convection decides how high probabilities have to be augmented.