Storm Forecast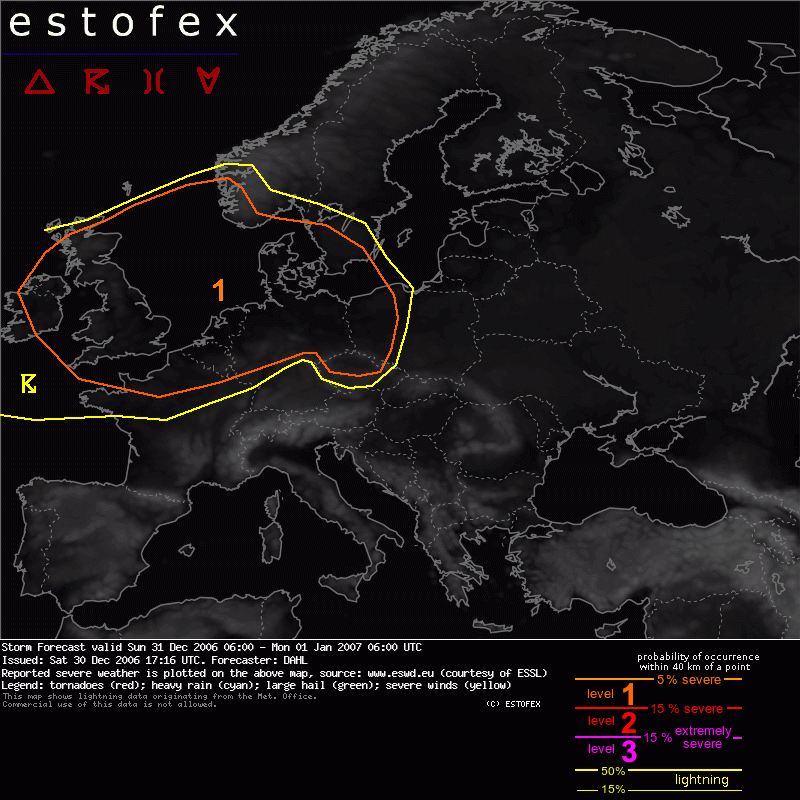 Storm Forecast
Valid: Sun 31 Dec 2006 06:00 to Mon 01 Jan 2007 06:00 UTC
Issued: Sat 30 Dec 2006 17:16
Forecaster: DAHL
SYNOPSIS

Progressive upper flow pattern continues with two successive vort maxima affecting the forecast area during the period. The first one should be located over Germany at the beginning of the period and dig SEWD into E Europe during the day while the next perturbation will cross the N British Isles in the early afternoon hours and move into central Scandinavia by Monday 06 Z. This feature will merge with upstream vort max, affecting the N France, the Benelux States, and NW Germany late in the period. At low levels this evolution will be accompanied by another intense SFC low whose cold front will cross the British Isles during the afternoon and reach NW Germany and N France late in the period. This front will again be the focus for potentially severe convective development.

DISCUSSION

Extreme E Germany ... W Poland ... N Czech republic

The cold front of the SFC low expected over N Germany by Sunday 06Z may still contain linear shallow convective elements which is supported by GFS potential instability fields. Large-scale background winds will already exceed severe limits but may be augmented by the convection. Also, low-level and deep-layer shear will be more than sufficient for rotating updrafts, supporting a threat for tornadoes. However, the low-level thermal structure of this low is expected to weaken after about Sunday 00Z which may be a hint that convective threat decreases early Sunday morning. However, given vigor of large-scale forcing for ascent and still weak signals in the models that convection may exist along the front, a categorical outlook will be maintained for W Poland, the N Czech Republic and extreme E Germany.

British Isles ... N France ... Benelux States ... NW Germany

Upstream system is quite similar in terms of strength, though the GFS has even clearer signals in the conditional and convective instability fields in the warm-sector air mass. Greatest threat for convection should exist over the N British Isles and the North Sea in the afternoon and early evening hours. Main threat with the linear convection should be an enhancement of already severe SFC wind gusts. Any isolated cell will have the potential for developing strong rotation with an attendant threat for tornadoes. Nonsupercell tornadoes could also occur along the leading edge of the linear system. Convective threat may develop southwards into N France, the Benelux States, and NW Germany during the night. This scenario is again conditional upon the development of convection which is challenging to predict as it apparently depends on the depth and the positioning of the dry intrusion relative to the surface front.