Storm Forecast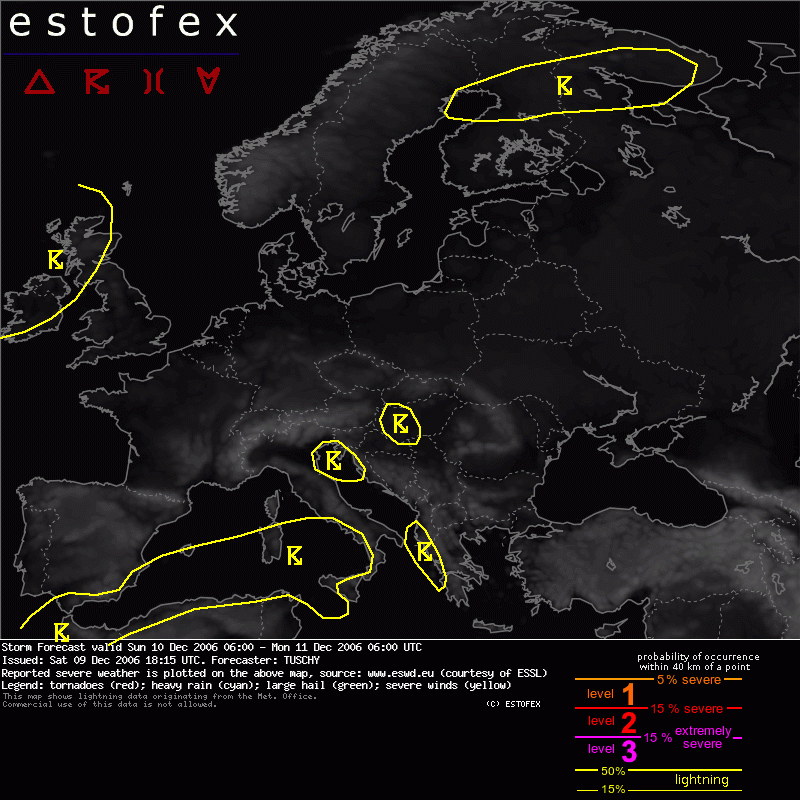 Storm Forecast
Valid: Sun 10 Dec 2006 06:00 to Mon 11 Dec 2006 06:00 UTC
Issued: Sat 09 Dec 2006 18:15
Forecaster: TUSCHY
SYNOPSIS

The 00Z FNL run continues to indicate a well pronounced negative geopotential height anomaly south and especially southeast of Iceland. A broad cyclonic vortex southeast of Greenland will finally start an eastward progression, while maintaining strength.
The 00Z forecast of the Ocean Prediction Center predicts a 482 gpdm center and an intense 939hPa surface cyclone just south of Iceland during the next 24 hours.
Downstream of this system, strong warm air advection will support a strengthening ridge over western Europe.
A weakening and splitting upper-level trough will continue to influence SW Europe and the western and central Mediterranean.
Unseasonably warm temperatures can be expected over eastern Europe as far north as western Russia.

DISCUSSION

...W-Mediterranean...

Yesterday IR images and synop datas indicated a very dry airmass overspreading most parts of the western Mediterranean with dewpoints in the singles.
This strong offshore flow from S-France and E-Spain will undergo a weakening trend during the forecast period as a result of a strengthening depression over NW Africa and rising pressure over France.
The forecast sounding of Mallorca still has a very dry boundary layer so do not expect any significant convective activity north of the Balearic Islands.
The surface flow will finally acquire an easterly component over the Balearic Islands during the afternoon hours and a zone of increasing convergence and slightly higher moisture content will evolve over the W-CNTRL Mediterranean.
Lapse rates stay steep enough for isolated TSTM development.
Storms, which can manage to develop around, south and east of the Balearic Islands would see up to 30m/s DLS, which would support an enhanced severe wind gust risk, but expected storm coverage will be too low for warranting any higher probabilities.

...Ireland, Scotland and parts of United Kingdom...

Strong cold front of aforementioned intense low pressure system will rapidly spread towards the SE reaching Ireland, Scotland and extreme NW UK during the latter part of the forecast period.
Latest indications are that coldest mid-level airmass wil stay just west of the area of interest until the end of the forecast period.
So first concern for thunderstorm development will be the cold front.
Right now, there are no signs for any significant activity due to still pretty warm mid-levels, but forcing should be fairly strong and an isolated thunderstorm can't be excluded with mainly a severe wind gust risk due to extreme shear values.

The higher risk for a few more thunderstorms could finally arise over Ireland and Scotland during a 02-06Z time - frame , when the cold front continues its southeastward movement, departing the area of interest.
GFS indicates a region of dry air behind the frontal system, but low IPV values don't support any stratospheric origin.
NMM is a little bit more aggressive and takes the mid-level cold pool further towards the east.
Later modifications of this thunderstorm area may become necessary, when NMM seems to have a better handling with the mid-level cold pool than GFS.
Right now, only sporadic thunderstorm development can be expected with an attendant severe wind gust risk due to a strong background flow.