Storm Forecast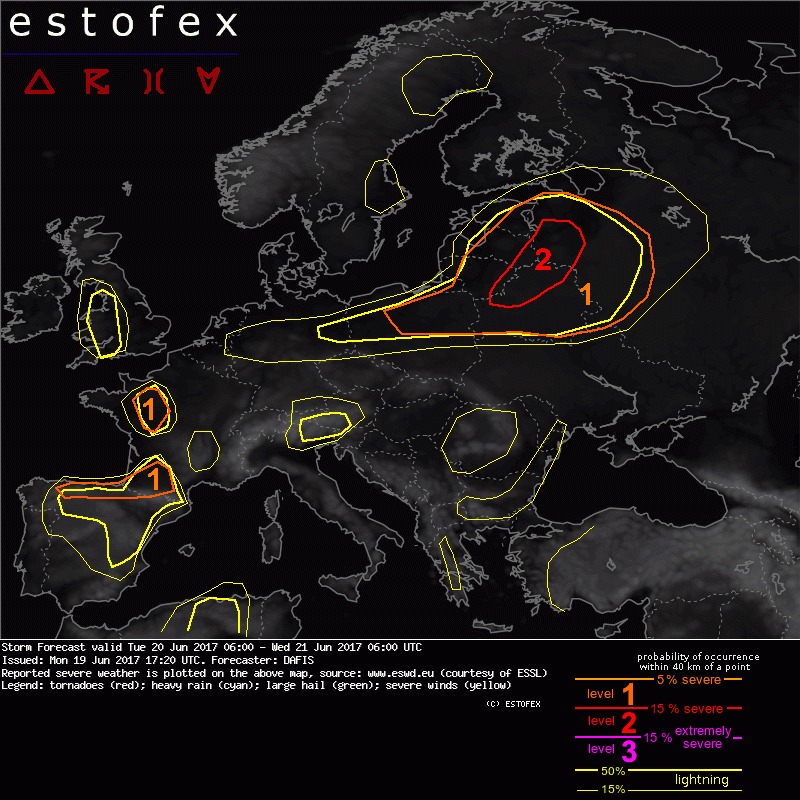 Storm Forecast
Valid: Tue 20 Jun 2017 06:00 to Wed 21 Jun 2017 06:00 UTC
Issued: Mon 19 Jun 2017 17:20
Forecaster: DAFIS
A level 2 was issued for NE Europe mainly for the severe wind gusts, large hail and tornadoes.

A level 1 surrounds level 1 area for the same threats but with lower probability of spatial coverage.

A level 1 was issued for NW and SW France and N Spain mainly for severe wind gusts.


SYNOPSIS

A wide ridge covers most of the European domain, but several low/mid-level disturbances increase the probabilities of thunderstorms over many areas. A short-wave trough affects N Spain, another one will provide lift in NW France tomorrow, the cut-off low over Turkey will gradually fade as it moves to the east and a vigorous short-wave trough will cross the Baltic States, Belarus and NW Russia, associated with a cold front near the surface. The cold front of the low pressure sytem over SE Finland, will push moist, unstable air masses from Benelux all the way east to Russia and areas with a higher chance of severe DMC events are highlighted with a level 1.

DISCUSSION

.... NE Europe ....

As the cold front is expected to enter the domain over the Baltic States, a plume of warm and moist air ahead will be pushed vigorously to the east. Latest NWP model guidance predict a LL jet streak travelling east towards Russia and along with DLS between 20-25 m/s, we expect widesread CI and several storms to be organized into multicells (one or two surepcells are not ruled out) producing large hail, severe wind gusts and tornadoes. 850 hPa flow is forecast 20-25 m/s, and this can be translated into severe to damaging wind gusts on the surface within the more discrete downdrafts. Better chances for tornadogenesis exist over the Russian part of level 2 as looped hodographs suggest the formation of large helicity.

... France, N Spain....

NWP models calculate extreme values of CAPE as air masses with steep lapse rates are advected from the SW, but boundary layer will be strongly capped at least until 15z. Dry entrainment between 850 and 650 hPa should also be a limited factor for widespread CI. Local convergence zones along with the passage of a weak mid-level vorticity lobe, will provide additional lift to diabatic heating in NW France. CI is expected in the afternoon and forecast soundings suggest that dry mid-low levels increase the probability of severe wind gusts (downbursts).

Same conditions are expected for SW France and N Spain, where air parcels will struggle to overcome the LL cap, but global and regional models show CI in the afternoon mostly near orographic features. DLS will be weak and almost stationary storms may be able to produce severe wind gusts or large hail, as MLCAPE is forecast to reach values up to 2000 J/kg.