Storm Forecast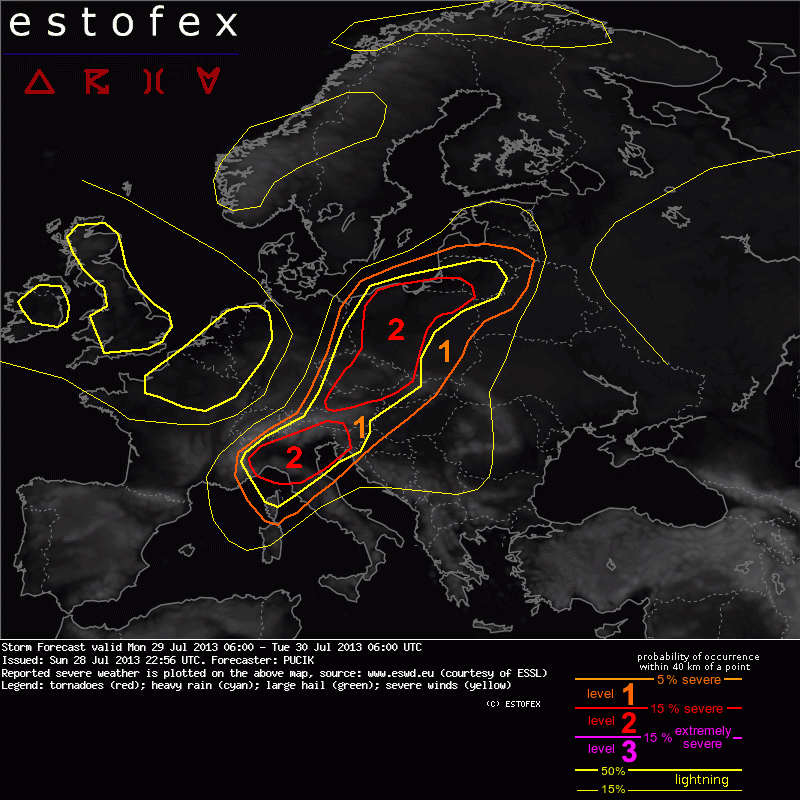 Storm Forecast
Valid: Mon 29 Jul 2013 06:00 to Tue 30 Jul 2013 06:00 UTC
Issued: Sun 28 Jul 2013 22:56
Forecaster: PUCIK
A level 2 was issued for Northern Italy mainly for large to very large hail, severe wind gusts, tornadoes and to the lesser extent and excessive precipitation.

A level 2 was issued for Northern Austria, Czech Republic and Southwestern Poland mainly for severe to extremely severe wind gusts, large to very large hail and to the lesser extent for excessive precipitation.

A level 2 was issued for Northwestern to Northern Poland mainly for large to very large hail, severe wind gusts and tornadoes.

A level 1 is surrounding level 2īs with isolated events of severe weather possible.

SYNOPSIS

With this day onward, the overall synoptic-scale pattern is going to change quite rapidly. Southern base of the strongly amplified trough over Atlantic will eject from Iberia towards Northern Italy and Central Europe, with strong flow over 20 m/s at 500 hPa surrounding it. With the rapid progression of the trough, strong lee cyclogenesis is simulated behind the Alps in the southerly flow and with increasing PVA, especially over SE Germany and N Austria. The trough of surface low will likely stretch towards Poland, with surface frontal system positioned at the rear of the low. Towards the afternoon and evening hours, surface low will move in accordance with the trough - i.e. towards the northeast. Behind the associated frontal system, which will accelerate substantially (especially its southern part), a ridge will quickly spread into Central Europe with strong pressure gradient.

DISCUSSION

... Northern Italy ...

With the rapid approach of the trough axis and attendant strong PVA already in the morning hours, storms might be already ongoing from the beggining of the forecast period, spreading quickly towards east . Even though CAPE values are not predicted to be very high (between 500-1500 J/kg), forcing factor will be unseasonably pronounced, compensating fo the lack of strong buoyancy. Vertical wind shear is forecast to be favourable for well organised convection, including supercells and bow-echoes, with bulk values in the 0-6 km layer between 20 and 30 m/s. Large to isolated very large hail, as well as damaging wind gusts might occur with any storm developing in this setup. An enhanced 0-1 km shear and SREH is forecast near the Gulf of Genoa around 09 UTC (with 850 hPa flow over 15 m/s), so that tornadoes will be possible with any sustained supercell in this area.

... Northern Austria, Czech Republic, Southern Poland ...

A surge of "cooler" airmass in the shallow layer of troposphere is observed over this region as of Tuesday evening, associated with the translation of the surface low towards northeast. Before noon, approach of the trough from southwest will spark lee cyclogenesis behind the Alps, quickly creating another surface low over SE Bavaria and N Austria, its trough stretching towards Poland. Between this feature and a ridge amplifying from west, strong pressure gradient will develop. Pronounced surface convergence is forecast in the rear part of the surface low, along the frontal boundary. In the increasing southerly flow, a plume of enhanced mid-level temperature gradient will advect over the region.

Moderate degree of buoyancy should form in response to this setup with CAPE values up to 2000 J/kg as the surface dewpoints reach the upper "teen" values. Moderate to strong vertical wind shear will exist on the forward flank of the trough axis with bulk 0-6 km values 15-25 m/s. In case that airmass manages to recover from the cooler surge earlier on, we expect deep and well mixed boundary layer, supporting high values of downdraft-CAPE. With the strong forcing from the trough, conditions seem to be prime for a quick cell clustering into a well-organised, rapidly advancing MCS, capable of a long swath of severe to extremely severe wind gusts, especially as low level flow strengthens with the deepening surface low. Just before the clustering takes place, or at the southern end of the complex, more isolated supercells capable of large to very large hail will also be possible, especially over N Austria. Especially in the western part of the system, excessive precipitation events might be also observed.

It is not very clear yet how much west can the recovery take place and thus we stay with a high end-Level 2 with possible upgrade as the day ensues. Current thinking is that the most severe part of MCS wil travel from extreme SE Germany, NW Austria to the central parts of the Czech Republic and S Poland.

... Northwestern to Northern Poland ...

At the northwestern flank of the surface flow, along the "warm" wave of the frontal boundary, strongly veered low-level flow is simulated with SREH values exceeding 300 m2/s2 in the surface to 3 km layer. Combined with moderate values of CAPE and 15 to 25 m/s of deep layer shear, conditions will be very favourable for supercellular convection. Especially towards the evening hours, degree of low-level shear will increase, thus also enhancing the potential for tornadoes. Greatest chances will exist with the isolated tornadic storms in case they would "ride" the boundary. Nevertheless, any supercell in this environment could be capable of large to very large hail and severe wind gusts. There is also a possibility that an MCS from the Czech Republic and Southern Poland reaches this region in the night hours, augmenting severe wind gusts potential.