Storm Forecast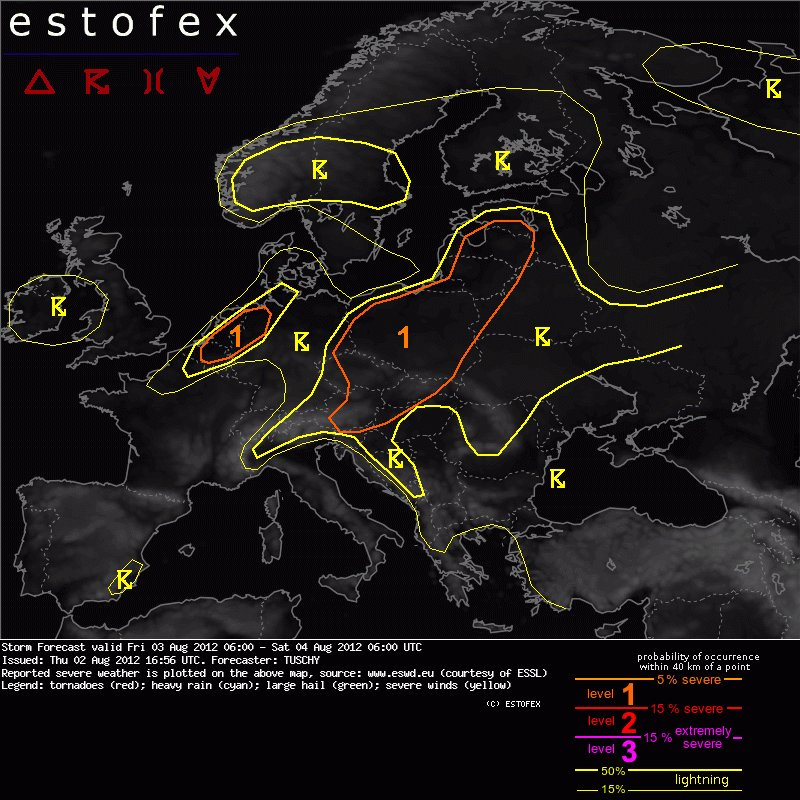 Storm Forecast
Valid: Fri 03 Aug 2012 06:00 to Sat 04 Aug 2012 06:00 UTC
Issued: Thu 02 Aug 2012 16:56
Forecaster: TUSCHY
A level 1 was issued for parts of Austria mainly for heavy rainfall and isolated large hail.

A level 1 was issued for the Czech Republic, far E Germany, Poland, parts of Slovakia, Latvia and Lithuania mainly for large hail and heavy rainfall amounts.

A level 1 was issued for Belgium, the Netherlands and far NW Germany mainly for an isolated large hail and tornado event.

SYNOPSIS

A strong low is placed over NW Europe with a weaker one over E-Europe. Weak ridging is present over the C-Mediterranean, where hot and stable conditions persist.

DISCUSSION

... Austria, extreme E Germany, the Czech Republic, parts of Slovakia and Poland ...

A leisurely eastward moving cold front serves as focus for scattered to widespread convective initiation (CI). Differences in the eastward progression are still present in model fields, but prefrontal air mass qualitiy is more or less the same: good BL moisture beneath marginal mid-level lapse rates result in mainly 500 J/kg MLCAPE north/northeast of the Alps with higher values over Austria and Poland ( where locally better BL moisture exists). Regarding the wind field, a 15-20 m/s 500 hPa jet streak moves from E-Germany into NW Poland, where DLS therefore acquires values supportive for a few better organized multicells. Weaker shear (below 15 m/s 0-6 km shear) is forecast towards Austria and SE Poland, but better CAPE may offset weaker shear.

Main uncertainty will be the placement and strength of a convective cluster over SE Germany/N-Austria and the Czech Republic, ongoing from the overnight hours. Southbound moving outflow boundary may seriously impact the forecast over NE/E-Austria, as cold front (modulated by that outflow) may be displaced already further to the south than models currently forecast.

Otherwise, with no real mid-level disturbance forecast (despite weak signals in PVU fields), ongoing diffluent streamline pattern and weak to zero CIN along/ahead of the cold front, early and scattered to widespread CI is expected. During the early (more discrete) stage, a few large hail and strong wind gust events are possible. However, rapid clustering is expected with a trend more to a heavy rainfall risk. A heavy rain level 1 situation is expected with slow moving storms over E/NE Austria, the Czech Republic, W-Slovakia and SW Poland and the hail and heavy rain risk further to the N/NE.

We excluded SE-Germany, N-Austria and SW-Czech Republic from the level 1 due to the aforementioned uncertainties. If no overnight cluster occurs those areas may see a transient level 1 risk (however no update will be issued for that). The lightning areas remain more aggressive to include the worst-case scenario (no overnight cluster).

... Lithuania and Latvia ...

EZ and GFS both agree in robust CAPE build-up with 1-1.5 kJ/kg. DLS of 15- locally 20 m/s will be supportive of a few well organized multicell storms with large hail and strong wind gusts. CI will wait for the arrival of a weakening short-wave and surface cold front, which both spark scattered thunderstorms mainly during the afternoon hours.

... Benelux and NW Germany ...

A pronounced mid-level thermal trough affects the highlighted area during peak time heating. Isolated to scattered thunderstorms are forecast during the daytime hours. Strongest storms contain isolated large hail (15 m/s DLS) and strong wind gusts. LL CAPE will be enhanced well above 100 J/kg with LCLs at or below 1000 m. 500-800 J/kg SBCAPE support a few stronger updrafts, which may assist in a few cold-core funnels/ short lived tornado events (keeping aforementioned LLCAPE in mind). The thunderstorm activity decreases after sunset.

... E-Spain ...

An impressive 20-25 K surface dewpoint gradient persists along the east/southeast coast. Yesterday's sounding of Murcia is representative of that environment with elevated 2 kJ/kg CAPE and we expect similar values again during today's forecast. Subtle mid-level waves cross Spain from west to east and we do not want to rule out isolated CI. Very high-based storms, impressive EML and deep/very dry subcloud layer indicate a risk of a few severe downburst events next to isolated large hail. Like yesterday, QPF of global models is non existent, but a few storms may be able to initiate along the rough topography. Due to ongoing uncertainties in CI, only a low lightning probability area will be added. Despite a transient severe risk, no level 1 was added.

... The rest of the lightning areas ...

Moderate CAPE up to 800 J/kg but weak shear preclude organized storms (despite strong to isolated severe pulsating storm activity). Marginal (isolated large) hail and strong wind gusts will be the main hazard during the daytime hours, with an increasing heavy rain risk during the evening hours onwards, as storms tend to grow upscale.

Especially the N-Baltic Sea, C-Sweden and S/C-Finland may see a pretty extensive overnight cluster with heavy rain the main risk due to slow storm motion and potential back-building along a NE ward moving triple point.