Storm Forecast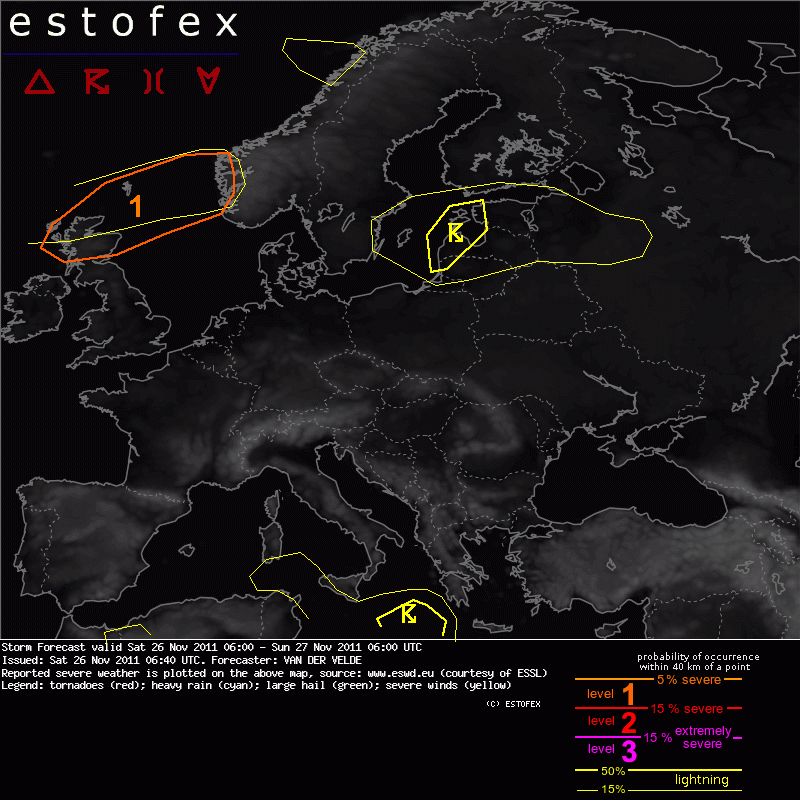 Storm Forecast
Valid: Sat 26 Nov 2011 06:00 to Sun 27 Nov 2011 06:00 UTC
Issued: Sat 26 Nov 2011 06:40
Forecaster: VAN DER VELDE
A level 1 was issued for Scotland and western Norway mainly for severe convective wind gusts and possibly a tornado.

SYNOPSIS and DISCUSSION

A deep low is centered near the Lofoten islands of Norway. Its cold, unstable airmass has entered Scandinavia and will move on into the Baltic countries and Russia. Two new low pressure cores will affect the Scotland - Shetland islands - Faroer - SW Norway area during the forecast period. The second one will be strongest and is forecast to cross the region between 00Z and 06Z and will be accompanied by severe non-convective winds and gusts, but some wind gusts of 25-35 m/s, enhanced by convection, are possible. GFS and HiRLAM models calculate both some instability and storm-relative helicity values over 300 m2/s2 and 40 m/s deep layer shear at the occlusion of this low, crossed by a strong jetstream. This occlusion should arrive in Norway toward 06Z on Sunday, and if there is any convective activity on it, it has the potential to produce tornadoes and severe wind gusts.