Storm Forecast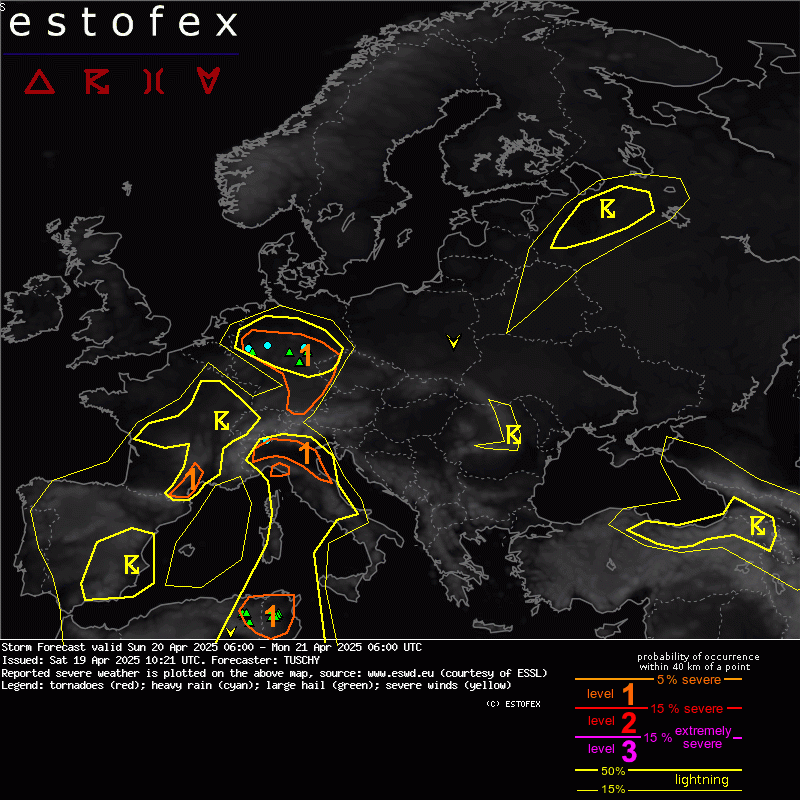 Storm Forecast
Valid: Mon 03 Aug 2015 11:00 to Tue 04 Aug 2015 06:00 UTC
Issued: Mon 03 Aug 2015 11:29
Forecaster: VAN DER VELDE
Levels 1 and 2 were issued for Spain and SW France mainly for large hail.
A level 1 was issued for S Italy mainly for large hail.
A level 1 was issued for a part of Russia mainly for tornadoes.

SYNOPSIS

A deep low of less than 984 hPa resides west of Ireland and causes a southwesterly flow over SW Europe, W Europe and N Europe. The associated cold front stretches from British Isles to Portugal. A Spanish plume/Saharan Air Layer is being drawn into its flow causing steep low-mid level lapse rates to advect into Spain and France. Moisture is drawn mainly from the Mediterranean Sea via the Ebro Valley. Another warm plume is over S Italy with CAPE extending over the Balkan towards Poland, ahead of an upper trough.

DISCUSSION

...Spain and France...

MLCAPE over 1000 J/kg will be capped in most regions initially. During afternoon mountainous terrain will trigger thunderstorms with high cloud bases (2500m LCL) which will expand over the area helped by lift from a mid level trough. Deep layer shear of 20-25 m/s and SREH over 300 mē/sē supports supercellular storms with chances of very large hail and severe wind gusts. During the evening convecting parcels will become elevated while low-level shear over 10 m/s develops over N Spain after 15Z. A tornado is not ruled out An evening/nocturnal mesoscale convective system may form over N Spain/SW France suggested by GFS upper divergence, with a higher threat of severe wind gusts supported by Corfidi vectors of around 25 m/s.

...S Italy....

Strong 1500-2500 J/kg MLCAPE is present under an upper trough slowly moving east. While deep layer shear is only weak to moderate, large hail may form as result from strong updrafts. Local excessive precipitation can occur as storm motion is weak. However high delta-theta-e suggests dry mid levels which may reduce this threat while increasing potential for local severe gusts.

...Russia...

A trough passes with up to a few hundred J/kg MLCAPE in the cool airmass. A jet axis overruns the southern edge of the CAPE field, causing strong deep layer shear. Significant 0-1 km shear of 10-15 m/s is also present. A tornado or two may result.