Storm Forecast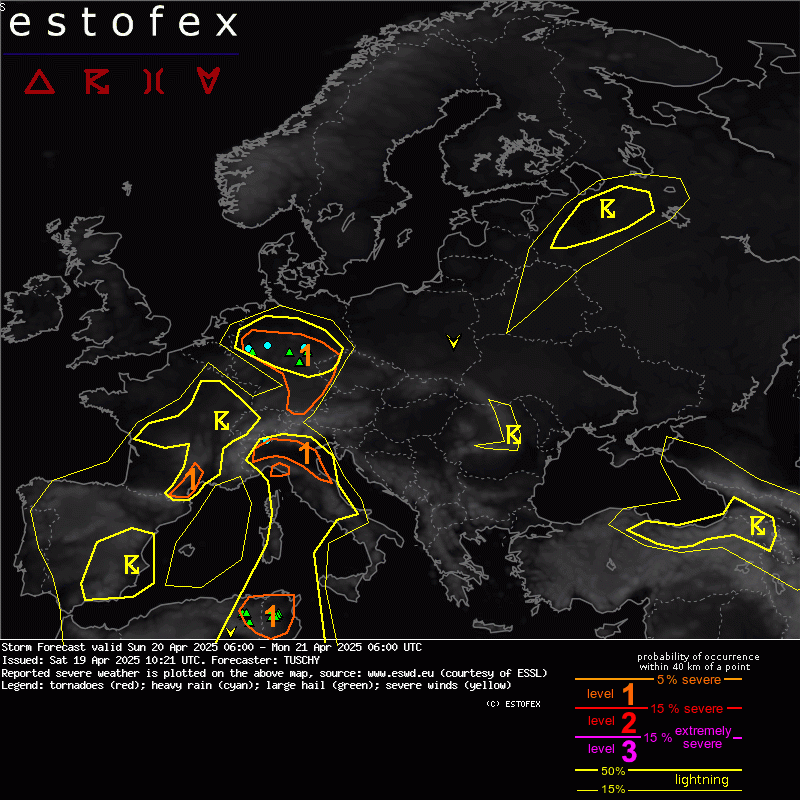 Storm Forecast
Valid: Thu 05 Dec 2019 06:00 to Fri 06 Dec 2019 06:00 UTC
Issued: Thu 05 Dec 2019 00:32
Forecaster: GATZEN
A level 1 was issued across the Tyrrhenian Sea region mainly for excessive precipitation and to a lesser extent tornadoes and large hail.

A level 1 was issued across the west Mediterranean mainly for excessive rain and to a lesser extent waterspouts.

SYNOPSIS

A zonal mid-level flow has established across northern Europe, with a strong North Atlantic jet extending into southern and central Scandinavia. Several mid-level vorticity maxima will cross this region. Ridging from the Azores to the Black Sea continues while a cut-off trough spreads south-west across Morocco and the east Atlantic. This cut-off low initially affects most of the Mediterranean but looses its influence later on. Ahead of this trough, a weakening low-level jet advects some steeper lapse rates northward across the central Mediterranean. A tongue of rich low-level moisture extends from the southern towards the central and west Mediterranean.

DISCUSSION

Southern to central Mediterranean

Steep lapse rates from the Saharan desert are advected atop of a humid Mediterranean boundary layer with low-level mixing ratio around 10 g/kg. However, the rather cold boundary layer will not allow for sufficient CAPE and CIN will be high as well. Farther west, colder air masses result in MLCAPE of up to 1000 J/kg with weak CIN. With easterly winds in the boundary layer and westerly at 3 km, more than 10 m/s 0-3 km bulk shear are expected by latest models, increasing to 20-30 m/s in the 0-6 km layer. Main convective mode will be multicells that move eastward with southward propagation. Main focus for excessive rain is a convergence zone south-east of Italy, with storms moving almost parallel to it. Most of the precipitation will fall offshore, however, some excessive precipitation is also expected to affect the shores. Additionally, tornadoes and some larger hail are not ruled out if low-level mesocyclones develop in the strongly-sheared environment with SRH of more than 100 J/kg in the lowest 3 km.

West Mediterranean

Skinny CAPE profiles in a weakly-sheared environment influenced by the mid-level trough axis and low-level convergence will result in showers and thunderstorms, mostly along sea-breeze convergence lines with a threat of waterspouts and excessive rain. Threat will decrease during the period as the trough moves away.

Western Norway

North of the mid-level jet axis, some weak CAPE will develop across the Atlantic. Along the coasts, showers and thunderstorms will become organized due to strong low-level vertical wind shear. A tornado is not ruled out, along with some severe wind gusts. Overall contribution of deep moist convection to the severe weather is expected to be weak given the weak CAPE and degree of organization of storms.