Storm Forecast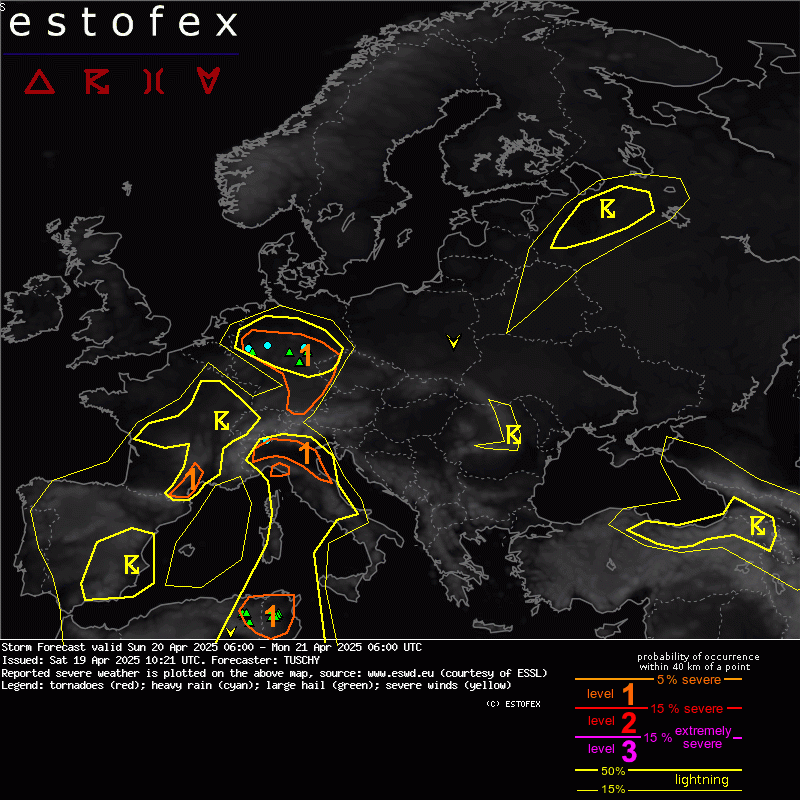 Storm Forecast
Valid: Mon 23 Sep 2019 06:00 to Tue 24 Sep 2019 06:00 UTC
Issued: Mon 23 Sep 2019 00:31
Forecaster: VAN DER VELDE
A level 2 was issued across the east Adriatic coast mainly for excessive convective rainfall and tornadoes.

A level 1 was issued across Italy, Adriatic Sea and western Balkan for excessive rain, large hail and tornadoes.

A level 1 was issued for W France mainly for a chance of tornadoes.

SYNOPSIS

Low pressure systems are found over Russia/Finland (cold), the Atlantic/Ireland and Italy/W Balkan. The latter is an active system with steep African lapse rates over a moist Mediterranean leading to 500-1500 J/kg CAPE, and a shortwave trough passing from NW Italy to Croatia, then traversing the Adriatic Sea to Albania, focusing upward motion and storm activity. The Atlantic low sends a warm unstable air plume across Bretagne and SW England at night.


DISCUSSION

...Italy and W Balkan...

Moderate deep layer shear (15-20 m/s)and SREH (150-300 m2/s2) are sufficient for organizing some supercells which can produce large hail. Low level shear of locally 10 m/s or more is favorable for tornadogenesis. The storms benefit from upward moisture flux caused by orography, especially along the E Adriatic coast, and abundant rainfall will likely cause issues.

...Bretagne...

A small area where 20-25 m/s DLS and 10 m/s LLS could organize rotating updrafts with tornado chances as well as isolated severe wind gusts.