Storm Forecast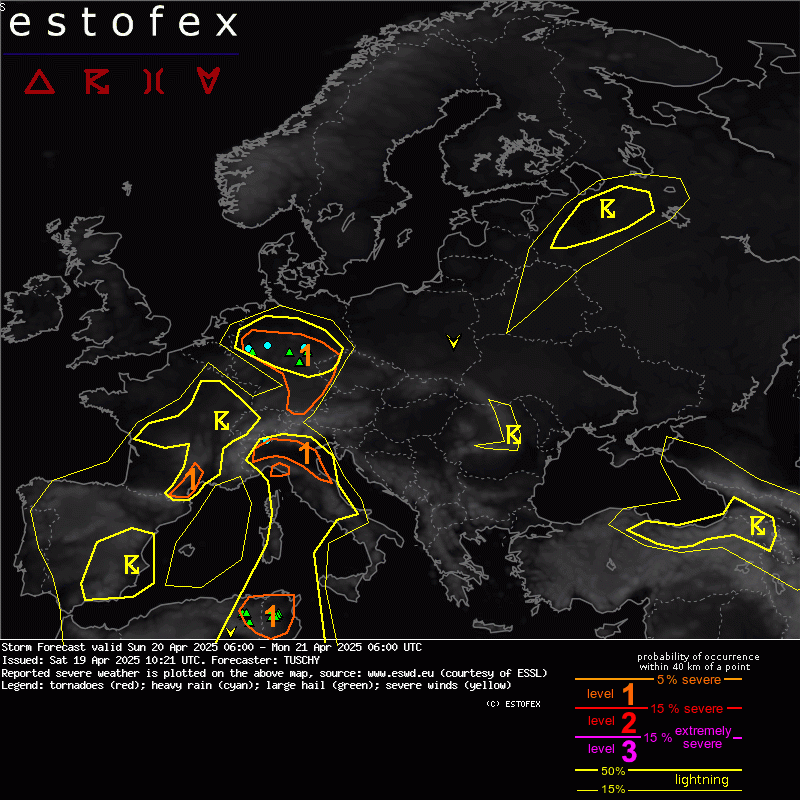 Storm Forecast
Valid: Tue 16 Jul 2019 06:00 to Wed 17 Jul 2019 06:00 UTC
Issued: Mon 15 Jul 2019 20:58
Forecaster: DAFIS
A level 2 was issued for parts of Greece and Italy mainly for excessive precipitation, large hail and/or large amounts of small hail and severe wind gusts.

A level 1 was issued for parts of Italy, Malta, Greece, Albania, and Turkey mainly for excessive precipitation and tornadoes.

A level 1 was issued for Spain for large hail, severe wind gusts, and excessive precipitation.

A level 1 was issued for parts of Poland, Belarus, Ukraine, and Russia mainly for severe convective wind gusts and excessive precipitation.

SYNOPSIS

Low geopotentials under an extensive trough over Eastern Europe result in widespread but weak instability. Several short-wave troughs surround this trough with local PV maxima, one over the Baltic States associated with a low-level vortex, another disturbance over Crimea (with local flash-flood threat), and the most interesting one over Italy. The latter has led to a lee-cyclogenesis south of the Alps and a vorticity lobe is extending from Russia towards Italy providing a strong synoptic lift to unstable air masses in the Mediterranean. A weak short-wave trough will also move close to the Iberian Peninsula where we expect DMC events and finally, a cyclone will get close to the British Isles where a short-wave trough will also cross the Ireland and the UK.


DISCUSSION

.... Italy, Malta, Greece, Albania, and Turkey ....

As the trough and the associated low-level vortex are approaching to South Italy on Tuesday 16/07, strong synoptic lift is expected over a large area in Central Mediterranean with warm and moist air masses. Baroclinicity is rather strong more to the south where a jet-stream will exceed 30 m/s wind speeds. The strongest overlap of CAPE and DLS will be found in South Italy and W-SW Greece where we expect storms to get benefit of more than 1.000 J/kg MLCAPE and high low-level helicity. The storms should cluster into MCSs able to produce flash floods, large hail, and tornadic waterspouts. In the afternoon, the PV max is forecast to cross Greece, where weak storm motions and high PWAT increase the flash flood threat. Later, during the night, a strong convergence is forecast in the west coasts of Aegean Sea where locally more than 100 mm of rainfall may accumulate until the early morning of Wednesday 17/07.
If storms persist in the southern parts of the Ionian and Aegean Seas during the late night of Tuesday, the threat for flash floods, hail, and severe gusts is increased in the islands, for e.g. Crete.


.... Spain ....

The thermal low over the Iberian Peninsula will be responsible for the low-level advection of moist air masses from the east coast of Spain inland, where in addition very steep mid-level laspe rates will create fat CAPE profiles. DLS will be in the range of 12-15 m/s overlapping with about 500 J/kg MLCAPE according to GFS, and SREH0-3km is calculated to exceed 100-150 m2/s2. The time of convective initiation is somewhat questionable given the strong cap, but even if the storms initiate late in the afternoon and stay elevated, they will be still able to produce severe wind gusts and excessive precipitation.

.... Poland, Belarus, Ukraine, and Russia ....

Weakly unstable air masses are forecast on the periphery of a cyclone crossing the Baltic States and moving SE. The strong mid-level flow, especially over Poland, may translate to the surface during thunderstorms and locally severe convective wind gusts are expected. In Russia high PWAT, weak flow and rather higher instability may also result in flash floods.