Storm Forecast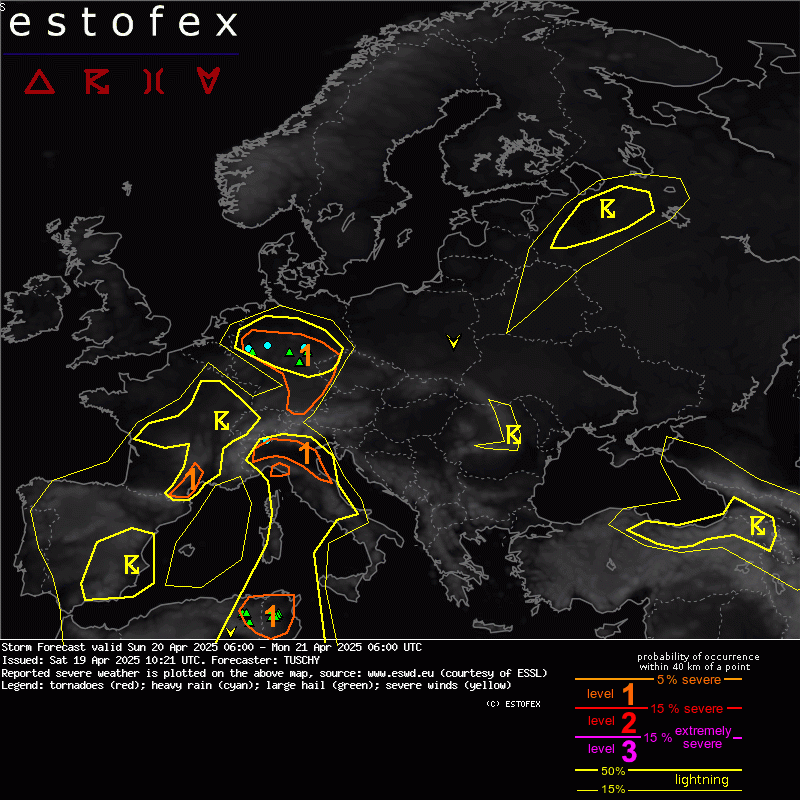 Storm Forecast
Valid: Tue 09 Feb 2016 06:00 to Wed 10 Feb 2016 06:00 UTC
Issued: Mon 08 Feb 2016 21:58
Forecaster: DAFIS
A level 2 was issued for NE France and Belgium mainly for large hail, severe wind gusts and tornadoes.

A level 2 was issued for N Italy mainly for excessive rain, isolated large hail and severe wind gusts. An isolated tornado event is possible.

A level 1 was issued for France, Benelux and NW Germany mainly for severe wind gusts and an isolated tornado.

A level 1 was issued for N Italy, Slovenia, Switzerland, Austria, Croatia, Bosnia and Herzegovina mainly for excessive rain, severe wind gusts and isolated large hail.

SYNOPSIS

Very active weather pattern over Europe is expected during Tuesday, 09/02. A series of progressive troughs and ridges travels eastward within a strong frontal zone over the Northern half of Europe. While zonal flow continue to affect the southern parts of the continent, vigorous cyclonic vortices over the NW parts induce severe weather phenomena. A slightly positive tilted trough is formed W of Ireland and moves quickly SE with strong PV advection over continental Europe. On the surface a cyclonic vortex will form in NW France with strong baroclinicity and non-convective wind gusts of more than 130 - 140 km/h are expected. During the night, another cyclone will be found over N Italy, where numerous rounds of thunders will affect mostly the N Adriatic Sea.

DISCUSSION

.... NE France, Benelux and NW Germany ....

In the left exit of a mid-level jet streak, an intense vorticity maximum ejects northeastward, from central France towards Belgium. Larger threat can be anticipated from convective features which may develop over NE France and SW Belgium, under 30-40 m/s 0-6 km shear and over 25 m/s 0-3 km shear, just SE of an occluded front. These conditions may induce isolated short-lasting mesocyclones in storms with potential for tornadoes. Showers and low-topped thunderstorms will evolve, and short bowing lines with widespread severe wind gusts between 30 and 40 m/s can be expected. More discrete updrafts could evolve into multicells and bring one or two tornadoes as well. Ahead of the cold front, a narrow tongue of boundary-layer moisture with 0-1 km mixing ratio around 6 g/kg will spread from France to Germany and SREH0-3 values are forecast by GFS at the range of 400 - 600 mē/sē. After 15z, behind the cold front, moisture will further decrease but showers capable of producing severe wind gusts are still not ruled out. A level 1 is issued for widespread CI with threat of marginal large hail or large amounts of small hail and mainly, for severe convective wind gusts.

.... N Italy, Slovenia, Switzerland, Austria, Croatia, Bosnia and Herzegovina ....

DLS of 25 m/s and more than 4 kJ/kg MLCAPE south of the Alps, create a favorable environment for organized convection. Given very strong vertical wind shear, convection will organize and shallow multicells with linear segments are expected. Organized multicells with large to very large hail will be likely as mid-level lapse rates are forecast to reach 9 K/km, apart from strong DLS. Excessive rain and severe wind gusts also could accompany those storms as PBL mixing ratio will be at the range 8 - 10 g/kg and 850 hPa winds exceed the 30 m/s. A level 1 surrounds the level 2 for similar risks but lower coverage. Convection will spread further into Croatia, Bosnia and Herzegovina overnight while it gradually weakens.