Storm Forecast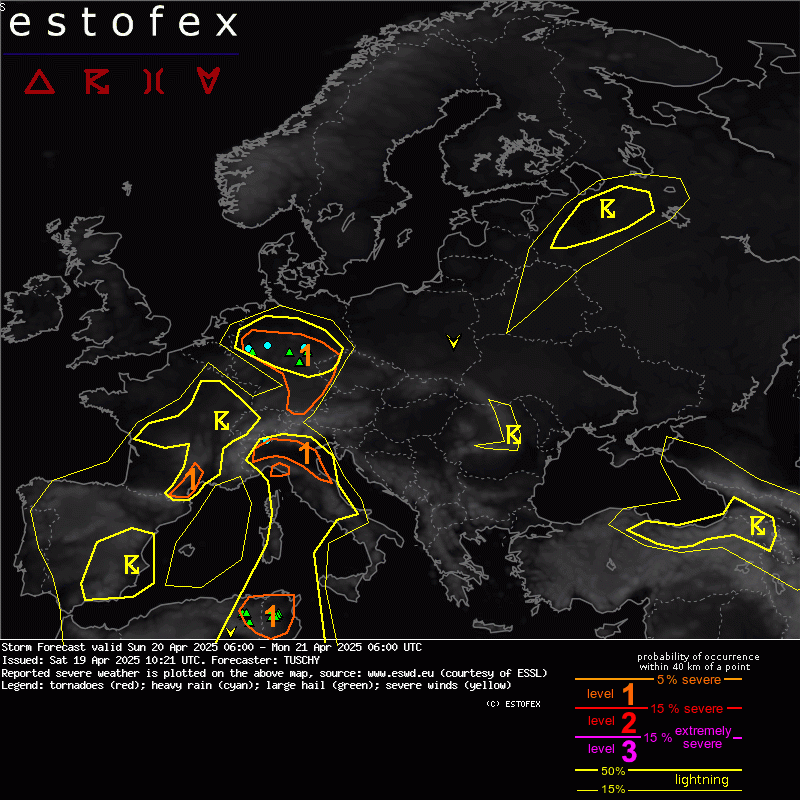 Storm Forecast
Valid: Sat 25 Apr 2015 06:00 to Sun 26 Apr 2015 06:00 UTC
Issued: Sat 25 Apr 2015 05:54
Forecaster: GATZEN
SYNOPSIS

An amplifying trough across the eastern Atlantic merges to low geopotential west of Iberia, resulting in a south-westerly flow from the Bay of Biscay to Scandinavia. The remaining of the Alpine cut-off crosses the Balkans reaching Turkey at the end of the period. In its wake, a rather strong westerly jet remains across the Mediterranean.

Quite cool air masses with weak lapse rates are present over most of Europe. Steeper lapse rates can evolve in the wake of the Iberian plateau and the Alps, spreading into southern France and central Europe where an overlap with better low-level moisture is possible. Ahead of a strong cold front crossing the British Isles, increasing lapse rates are also expected within a moist maritime air mass. Best CAPE can be expected over the Ukraine, where moist low-level air masses overlap with steep lapse rates near the centre of the approaching low geopotential.

DISCUSSION

North-eastern Algeria and surroundings

Along the northern slopes of the Atlas mountains, rich low-level moisture overlaps with an elevated mixed layer, resulting in CAPE. Given quite large CIN, initiation is not expected over most regions. Best potential exists across north-eastern Algeria, where moisture is highest. Any thunderstorm that forms will likely organize given strong deep layer vertical wind shear around 20 m/s, posing a threat of large or very large hail, and a level 1 is issued. Storms will decay after sunset.

Ukraine

Latest Kyiv sounding indicates steep lapse rates in the lowest 3 km. Given the actual moisture in the lowest kilometre, diurnal heating is expected to allow for CAPE during the day, even though some clouds will limit solar heating. Given weak CIN and low-level convergence, initiation of storms is forecast. Weak vertical wind shear is forecast, and organized storms are not expected. Stronger storms may produce locally large hail. Storms will spread gradually to the east and decay in the evening hours.

France, north-eastern Spain

Embedded in the rather strong south-westerly flow, a mid-level short-wave trough affects a moist air mass across France today. Latest Bordeaux and Trappes soundings indicate steep low-level lapse rates and low-level moisture around 7 g/kg. The approaching trough is associated with low-level clouds and embedded showers currently entering western France.

Current thinking is that diurnal heating will allow for widespread showers and thunderstorms spreading from south-west to the north-east from late morning to the evening. Given weak vertical wind shear, storm organization is not likely. Marginally severe hail can be expected locally, with increasing potential across southern France including north-eastern Spain due to stronger deep layer vertical wind shear. A level 1 seems to be not needed, though. Storms are expected to weaken in the evening hours across eastern France, spreading into Switzerland, Germany, and the Benelux countries, whereas storms across southern France may last well into the night.

Portugal

Ahead of a cold front entering Portugal late in the period from the north-west, a moist air mass will be affected by strong DCVA. Steepening lapse rates will result in weak CAPE, and thunderstorms are expected ahead of the cold front. Given strong low-level vertical wind shear due to a 15 m/s low-level jet SE of the cold front, tornadoes are not ruled out. The overall threat is weak given limited low-level buoyancy and a level 1 is not issued.

Southern British Isles area

To the south of the approaching arctic air mass, a moist maritime air mass is affected by a passing short-wave trough. Together with weak low-level warm advection from the south-west, QG lift can be expected. Latest Camborne sounding already indicates weak low-level CAPE that is expected to increase in depth in the range of the trough axis.

Showers and thunderstorms can be possible across southern England, especially when diurnal heating results in sea-breeze fronts during the day. Given about 8 m/s 0-1 km vertical wind shear, shallow mesocyclones are not ruled out, posing a threat of brief tornadoes. However, many clouds will limit diurnal heating, keeping the potential to low for a level 1.