Storm Forecast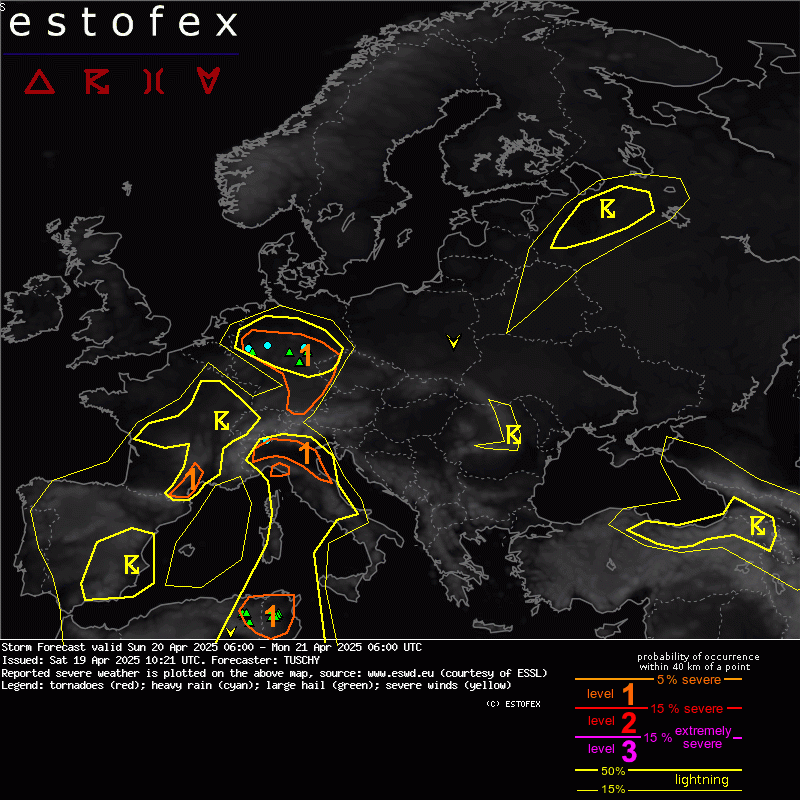 Storm Forecast
Valid: Thu 21 Mar 2019 06:00 to Fri 22 Mar 2019 06:00 UTC
Issued: Wed 20 Mar 2019 23:49
Forecaster: GATZEN
A level 2 was issued for north-eastern Tunisia mainly for excessive precipitation.

A level 1 was issued for the southern Mediterranean including Sicily mainly for excessive rain and tornadoes.

SYNOPSIS

Intense ridging is underway across western and Central Europe, associated with a cut-off process into the west Mediterranean. The center of the cut-off will be placed over northern Tunisia on Thursday. A jet streak ejecting of the base of the trough will spread across the south Mediterranean Sea and a vort-max rotates around the shores of Tunisia. At lower levels, a tongue of moist maritime air mass advects westward towards northern Tunisia where it overlaps with steep lapse rates near the cut-off center. Farther east, an elevated mixed layer spreads across the south-east Mediterranean.

Tunisia, Sicily

A strong low-level jet feeds into the cut-off trough over Tunisia on Thursday. Moisture advection and low-level convergence will be almost parallel to the low-level flow south of Sicily. Back-building storms are expected with a threat of excessive precipitation augmented along the shores of Tunisia given skinny CAPE profiles and high relative humidity. Together with heavy rain, a few tornadoes are not ruled out as low-level vertical wind shear is strong. The band of storms will move northward during the period eventually reaching Sicily late in the day. Although models indicate some weakening due to decreasing CAPE, severe potential will continue.