Storm Forecast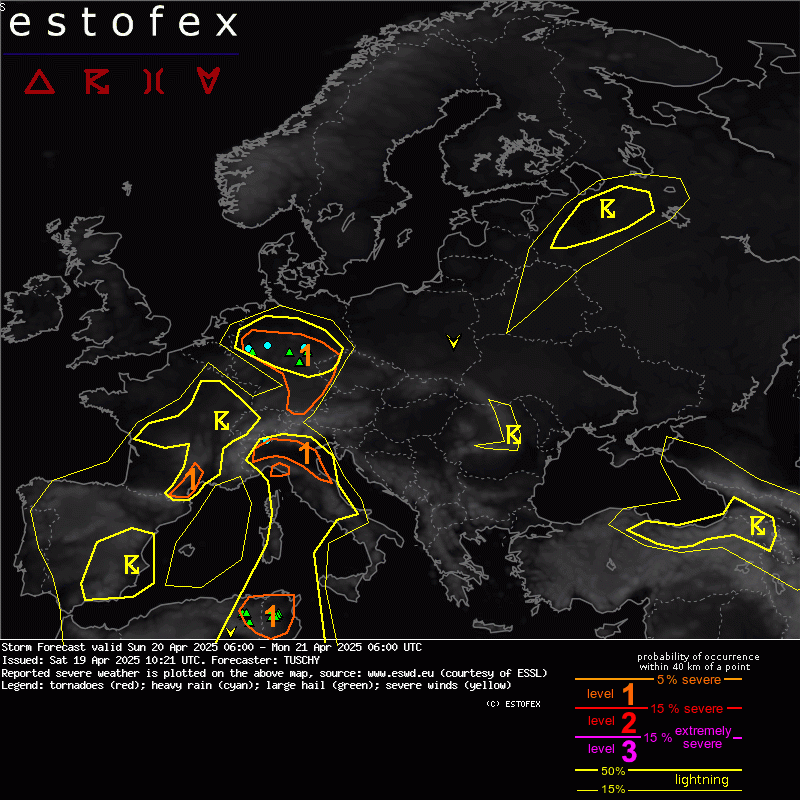 Storm Forecast
Valid: Thu 17 Aug 2017 06:00 to Fri 18 Aug 2017 06:00 UTC
Issued: Wed 16 Aug 2017 23:18
Forecaster: GATZEN
A level 1 was issued for north-western Russia mainly for tornadoes and to a lesser extent severe wind gusts.

A level 1 was issued for northern France and central Belgium mainly for tornadoes and to a lesser extent severe wind gusts.

A level 1 was issued for northern and central Belarus mainly for excessive precipitation.

SYNOPSIS

Zonal flow has established across western Europe, the broad delta of the Atlantic jet stream is situated over eastern Europe. South-eastern Europe is affected by a weak trough over the Black Sea and a ridge over western Russia. Lapse rates are relatively poor over most of Europe. Better lapse rates can be expected near the Black Sea trough, from Greece towards the Black Sea and Turkey, where upslope flow also advects maritime moisture. Rich moisture is also present along a convergence zone over eastern Central Europe and along a frontal boundary from the Bay of Biscay to the Benelux region.

DISCUSSION

Northwestern Russia, Estonia, northern and western Belarus, western Ukraine, south-eastern Poland, northern Slovakia

Rich low-level moisture is expected along a convergence zone fed by moisture advection from the south and east. Thunderstorms have formed on Wednesday within this air mass and it is expected that new storms can form on Thursday although lapse rates will be limited due to large-scale sinking. Given weak flow, unorganized storms are expected, however, given the slow motion and rather high moisture, excessive precipitation is forecast. Pulse storms may also cause locally large hail and severe wind gusts.
In the northern portions of the area, warm air advection supports more widespread storms that could cluster. Additionally, stronger flow evolves due to a low-level trough over Russia, Estonia, and Belarus. The enhanced low-level shear of 7-10 m/s in the lowest km could support some better organized storms capable of producing severe wind gusts as an additional threat. If mesocyclones form, also a tornado is not ruled out. Storms will likely cease soon after sunset except for north-western Russia where continuing warm air advection ahead of the trough is expected.

Western Romania and Bulgaria, Serbia, FYROM, northern Greece, Albania

A relatively moist boundary layer becomes unstable during the day due to diurnal heating and quite cool mid levels at the western flank of the Black Sea trough. Thunderstorms are forecast over the mountains in the noon and afternoon. Weak vertical wind shear will limit storm organization and severe potential. Given weak flow, locally excessive precipitation is forecast. Large hail is not ruled out with stronger storms.

Turkey

Within the mid-level trough, cool mid levels allow for steep lapse rates in response to diurnal heating. Thunderstorms are expected over the mountains with excessive precipitation and large hail the main threat. Weak CAPE and shear limit severe potential, though. In the northern portions, upslope flow into the thermal low may support some clusters with a slightly increased threat of large hail and excessive precipitation.

Northern France, Benelux, north-western Germany

Along a frontal boundary, rich low-level moisture spreads in to the region. Lapse rates are poor initially but increase due to stretching of the low-levels below PV intrusions moving eastward. Main features are a vort-max spreading across northern France in the noon hours and moves into Benelux in the afternoon. Another one follows in the night hours and spreads over the same area until the morning. Although many clouds will limit low-level heating, thunderstorms may form over The Channel and northern France, moving into the Benelux countries and north-western Germany later on. Strong vertical wind shear also at low levels (0-1 km bulk shear about 10 m/s) and low cloud base can be supportive for mesocyclones capable of producing tornadoes. Severe wind gusts are also possible if storms merge or form bowing lines.

British Isles

A highly dynamic situation evolves late in the period due to an intense trough moving into the British Isles. Its tropopause fault will cause lift and steep lapse rates will evolve. Low-level moisture will decrease from the west, however, warm sea surface will limit the moisture decrease somewhat. Currently, models do not indicate the development of a well-defined low-level convergence line that could support a convective line capable of producing severe wind gusts and tornadoes. Instead, only isolated showers and thunderstorms are expected, capable of producing gusty to locally severe wind gusts and also a tornado is not ruled out. The situation must be monitored in the next model runs as severe potential can increase if linear organization of storms occurs.