Storm Forecast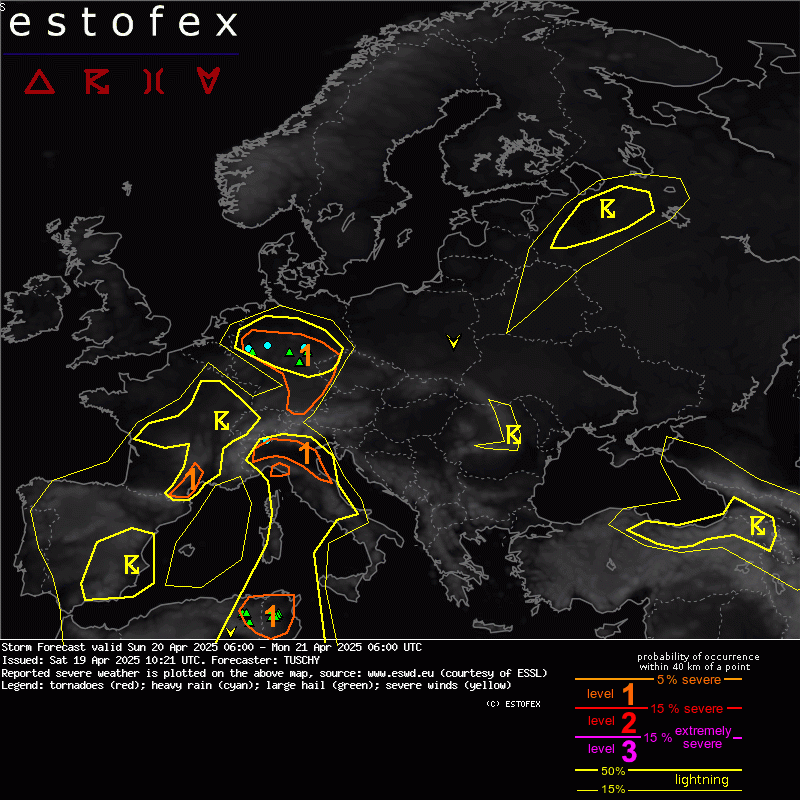 Storm Forecast
Valid: Wed 27 Jul 2016 06:00 to Thu 28 Jul 2016 06:00 UTC
Issued: Tue 26 Jul 2016 18:48
Forecaster: PUCIK
A level 1 was issued for parts of Central and E Europe mainly for excessive rainfall and to the lesser degree for marginally large hail and severe wind gusts.

A level 1 was issued for N Sweden, N Finland and extreme NW Russia mainly for excessive rainfall and to the lesser degree for marginally large hail.

SYNOPSIS

No significant changes to the synoptic-scale features at the mid to upper troposphere are expected in the forecast period. Cyclonic vortex will remain over the Atlantic with its trough stretching towards S France. Towards the east, weak ridge will cover much of E Europe. In the N Scandinavia, a trough will cross the region moving N-ward during the day. Similar to the previous forecast period, a very large area of scattered to widespread tstms can be expected, spanning from Italy through Central Europe towards Scandinavia.

DISCUSSION

... Central and E Europe ...

Tuesday 12 UTC soundings, as well as forecast soundings for Wednesday display very similar pattern over basically the whole region. Skinny CAPE profiles with MLCAPE values up to 1500 J/kg locally profit from moist boundary layer while lapse rates are modest, partly because the airmass has already been "worked over" by thunderstorms in the previous days. Very weak flow up to upper troposphere and DLS mostly below 10 m/s suggest chaotic storm organisation with numerous stationary pulse storms or multicell clusters which move only due to the cell propagation along the outflow. Slightly stronger vertical wind shear is forecast over Germany, where storms may attain better organization than over the rest of the area. Storms will be initiated especially along the mountain ranges or perhaps on the outflow boundaries from the previous rounds of storms. Primary threat will be heavy rainfall from slow moving storms. Secondary, much less prominent threats will be marginally large hail and local downbursts from stronger cells.

... N Sweden, N Finland, extreme NW Russia ...

Ahead of the advancing trough, NWP simulates widespread storms forming in the environment of low to moderate CAPE values, locally perhaps up to 1000 J/kg. However, similarly to the other areas, vertical wind shear will not be too favourable for well organised convection. DLS values will be in between 5 to 15 m/s and thus mostly multicellular convection is forecast. Shear will be confined mostly to the lower troposphere. Primary threat will be, due to the slow moving nature of storms, excessive rainfall. Even though weak shear and meager lapse rates do not support a pronounced large hail risk, stronger cells may still be capable of marginally large hail.