Storm Forecast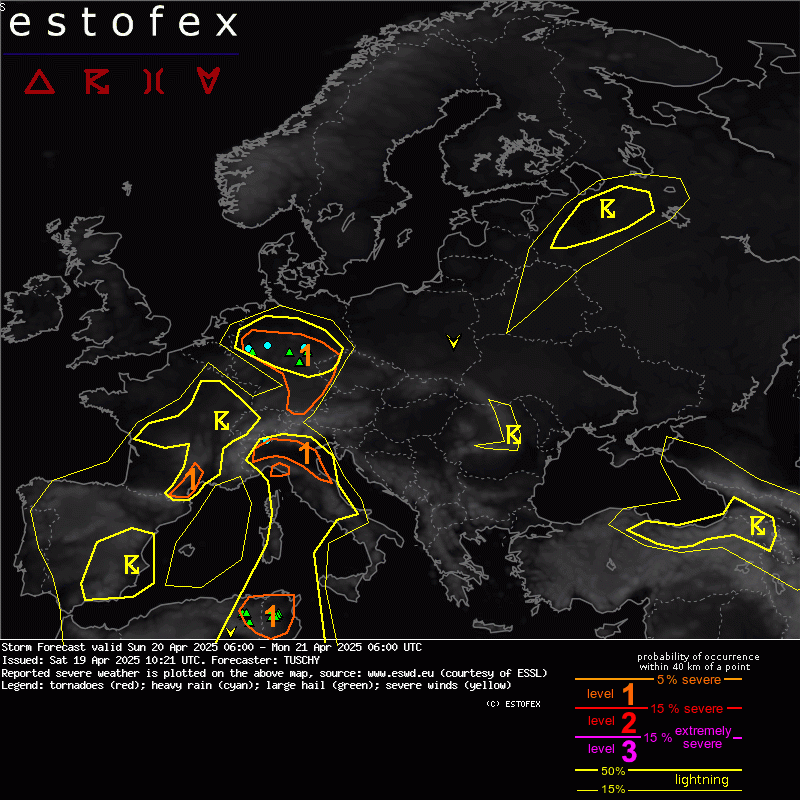 Storm Forecast
Valid: Thu 23 May 2013 06:00 to Fri 24 May 2013 06:00 UTC
Issued: Wed 22 May 2013 23:00
Forecaster: GATZEN
A level 2 was issued for central Romania mainly for large hail and severe wind gusts and to a lesser extend for tornadoes.

A level 1 was issued for northern central Romania mainly for excessive rain.

A level 1 was issued for a region from the central Mediterranean to the southern Balkans and the central Ukraine mainly for large hail and severe wind gusts.

A level 1 was issued for parts of western Russia mainly for tornadoes, large hail, and severe wind gusts.

A level 1 was issued for northern Turkey mainly for severe wind gusts and large hail.

A level 1 was issued for northern Italy mainly for large hail.

SYNOPSIS

An amplified long-wave trough remains over Europe and re-intensifies as a new short-wave impulse leads to cold air advection across western Europe. Ahead of the trough, an unseasonably strong jet streak will travel from the south Mediterranean across Greece and Turkey into the Black Sea during the period. Downstream, a negatively tilted short-wave trough will move northward across western Russia.

DISCUSSION

Western Russia

Ahead of the European trough, a southerly low-level flow is present across eastern Europe. This is associated with warm air advection. The nose of the warm air advection regime will move across western Russia on Thursday, reaching an old frontal boundary in the afternoon hours. Latest soundings and observations indicate that modest boundary-layer moisture is available. Best moisture is situated along the old frontal boundary as well as along the new warm front currently over the Ukraine. This moist air is expected to spread northward on Thursday.

Lapse rates across western Russia and the Ukraine are steep especially at low levels due to latest sounding data. An overlap of steep lapse rates with the low-level moisture is forecast by GFS and CAPE can easily exceed 500 J/kg during the day, although daytime heating will be limited by convective clouds and showers in the morning hours. Initiation is likely due to low-level forcing along outflow boundaries and especially along the main warm front. Additionally, the approaching short-wave trough will be associated with QG forcing. Widespread thunderstorms are forecast from the Baltic Sea to western Russia.

Main focus for severe organized convection is the area affected by the strong mid-level jet streak, leading to deep layer bulk shear in the order of 25 m/s overlapping with the instability near the warm front. Due to a southerly low-level jet, also low-level vertical wind shear will be strong reaching 15 m/s in the lowest 3 km and 10 m/s in the lowest km. With favorably veering profiles near the warm front, supercells are not ruled out that can produce tornadoes that may be strong. Additionally, large hail and severe wind gusts are possible. Limiting factor will be the widespread convective activity and cloudiness, reducing the low-level buoyancy. Storms will likely go on the evening hours while the activity weakens in the wake of the short-wave trough that moves into the stable cool air mass further north. Therefore, overall threat seems to justify a high-end level 1 threat in the area as upscale growth of the convection with widespread severe weather is not expected.

Bulgaria, Romania, Ukraine

Another round of intense convection is forecast on Thursday. The very strong jet streak currently over the Mediterranean will move into Greece, leading to strong differential cyclonic vorticity advection. The ageostrophic circulation advects warm and unstable low-level air masses into Romania during the day, where a favorable overlap of instability and vertical wind shear is expected.

Thunderstorm are actually forming across the central Balkans near the nose of an developing low-level jet streak. This convection will spread across Romania in the morning hours. In the wake of the strongest forcing, the trough axis will cross Romania in the afternoon hours. Latest models indicate downward mixing of the warm air mass across Bulgaria, whereas moist low-level air masses remain over most parts of Romania. With southerly winds, steep lapse rates forming over Bulgaria will spread into central Romania, where CAPE will be near 1000 J/kg according to latest GFS model run.

Current thinking is that deep moist convection will go on across Romania and the western Ukraine on Thursday, whereas dry and sunny weather can evolve across the Black Sea region and Bulgaria. Storms will profit from strong vertical wind shear especially from central Romania to the central Ukraine, where easterly low-level winds evolve at the northern flank of an approaching surface low. Bulk shear is expected to exceed 5 m/s in the lowest 3 km and 10 m/s in the lowest km with SRH around 150 mē/sē. Especially near the dry regions, isolated supercells may form, capable of producing large hail and severe wind gusts. Tornadoes are not ruled out. A level 2 is issued given the widespread nature of convection and therefore a rather large number of possible severe weather events. Further west, embedded convection will pose a level 1 threat of excessive rain as well as a few hail events.

In the evening hours, the cold front will reach the Black Sea. Some storms are expected to form along the cold front, but overall threat will decrease given weaker vertical shear and CAPE as well as low-level convergence in the wake of the surface low. Isolated severe wind or hail reports are not ruled out, though.

Central Mediterranean to southern and central Balkans

In the wake of the main short-wave trough, a complex weather pattern is expected. Models indicate locally remaining low-level moisture and CAPE around 500 J/kg. Another trough axis will approach from the west leading the QG forcing in the afternoon hours, although weak cold air advection is expected through-out the day. Diurnal heating and orographic forcing are expected to result in scattered showers and thunderstorms. With about 10 m/s 0-3 km bulk shear and around 100 mē/sē 0-3 km SRH, storms may organize into multi- and supercells. The weak low-level convergence and limited and inhomogeneous instability will likely disable severe storms over most places, but some isolated severe hail events are forecast.

Northern Turkey

A well-mixed boundary-layer is expected on Thursday afternoon. As the mid-level jet approaches, QG forcing is expected. As low-level moisture will be quite fair, leading to weak CAPE, some thunderstorms may evolve. These are expected to become rather intense given the strong deep layer vertical wind shear. Given the deep boundary-layer, main severe threat will be downburst winds, but large hail is also not ruled out.

Northern Italy

Late in the period, a jet streak of the west European trough affects the Alpine region. Due to some remaining low-level moisture across northern Italy and increasing lapse rates as the mid-level trough approaches, CAPE is likely in the afternoon and evening hours. Isolated to scattered thunderstorms are forecast. Given rather strong deep layer vertical wind shear, rather good storm organization will increase the threat of isolated hail. After sunset, threat decreases due to the cooling boundary-layer.

Belgium into western Germany

Mid-level cold air and a surface low pressure center will affect Belgium in the morning hours. Latest GFS indicates a tongue of moisture near the low center overlapping with steep lapse rates that develop due to diurnal heating. Showers and thunderstorms are forecast that will spread eastward during the day. The set-up with moist and buoyant low-level air and weak vertical wind shear may support tornadoes. Marginally large hail is also possible with the stronger storms. Main limiting factor will be reduced low-level heating due to the cloud coverage.