Storm Forecast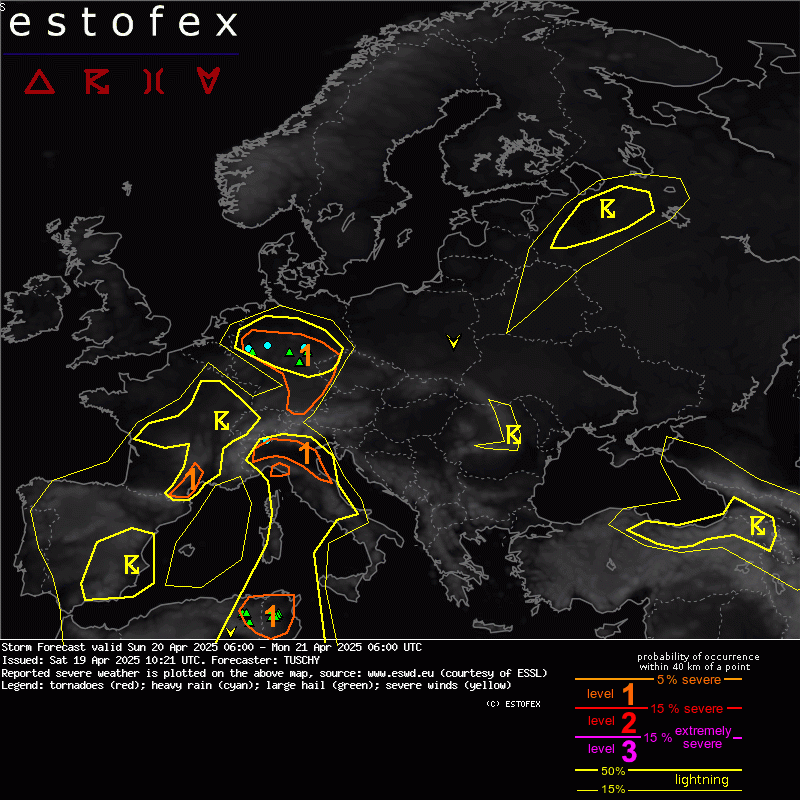 Storm Forecast
Valid: Tue 17 Oct 2017 06:00 to Wed 18 Oct 2017 06:00 UTC
Issued: Mon 16 Oct 2017 23:30
Forecaster: DAFIS
No threat levels have been issued.

SYNOPSIS and DISCUSSION

A high-pressure system prevails over continental Europe and several waves form along its periphery. Gusty and wet conditions are found beneath the jet stream, in UK, Scandinavia and the Baltic States. A short-wave trough is currently over Poland, the remnants of Ophelia over Scotland and another trough is approaching the Iberian Peninsula from the west. Only SW Europe will experience some thunderstorms during Tuesday and early morning of Wednesday, as this wave is approaching Portugal, with decreasing geopotentials and increasing LR, strong PVA signals after midnight of Wednesday and adequate QG-forcing. Some of these storms originating from the ocean may produce locally severe wind gusts in Portugal but the spatial coverage of threat remains low. Some CAPE is forecast by GFS in NW Morocco and W-S France, where some short-lived storms may also form. For the rest of the continent, stable conditions will continue.