Storm Forecast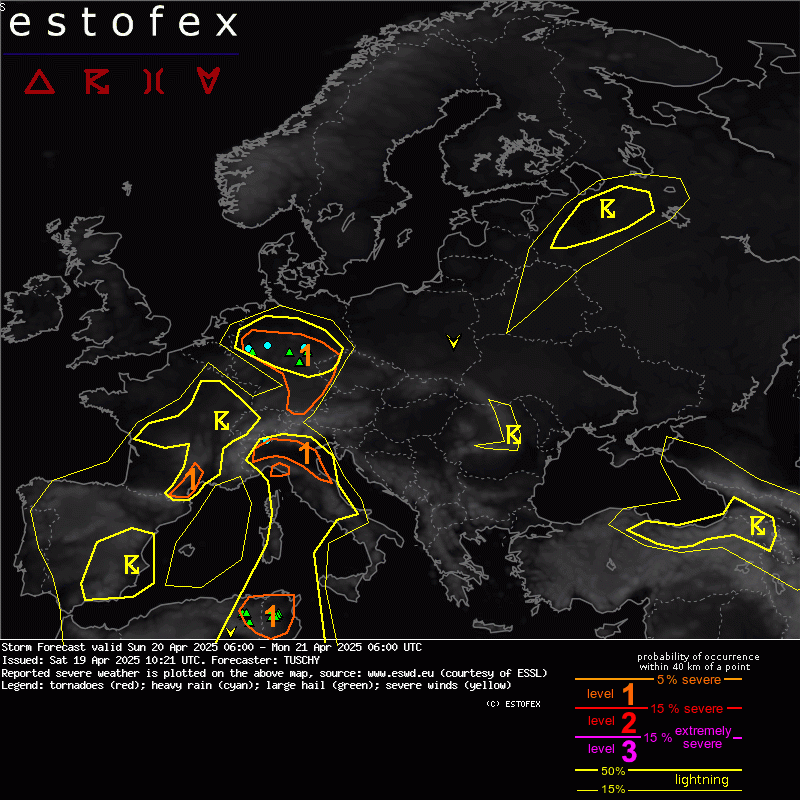 Storm Forecast
Valid: Fri 01 Aug 2014 06:00 to Sat 02 Aug 2014 06:00 UTC
Issued: Thu 31 Jul 2014 20:05
Forecaster: TASZAREK
A level 2 was issued for NE Spain mainly for large and very large hail, excessive precipitation, severe wind gusts and isolated tornado event.

A level 1 was issued for N Italy, Switzerland, Austria, Slovenia, Croatia, Bosnia and Herzegovina, Serbia, Macedonia, Albania, Bulgaria, Slovakia, Czech Republic, Poland, Belarus, Latvia, Lithuania, Hungary, and parts of Russia mainly for excessive precipitation.

A level 1 was issued for N Italy, Bosnia and Herzegovina, and Serbia also for severe wind gusts

A level 1 was issued for Switzerland, Austria, Slovakia and SE Poland also for large hail

A level 1 was issued for N and E Spain, and SW France mainly for large hail and severe wind gusts

A level 1 was issued for Bulgaria, parts of Greece, and NW Turkey mainly for large hail and severe wind gusts


SYNOPSIS

Trough that is cutting from Icelandic Low will move towards Ireland and Great Britain bringing atmospheric fronts. The belt of strong atmospheric flow over this feature together with intensifying ridge extending from Russia to Poland will move tropical air masses to central and eastern Europe while cooler polar marine air masses in the rear of the trough will move to British Isles and NW France. A well developed cut-off low over Balkans will begin to weaken and move eastwards.

NW Europe will be under influence of moderate mid-level flow associated with wide geopotential wave, while central, E and SE Europe will demonstrate rather weak wind speeds. Jet streaks will be located over N Atlantic, S Spain and partially over British Isles and Scandinavia. The majority of the thunderstorm will form in the homogenious air masses in low environmental wind shear. Increased DLS and better storm organization is expected over British Isles, western Scandinavia, NE Spain and N Turkey.

The highest CAPE values are expected in the regions of highest boundary-layer moisture content (NE Spain, Alps, Aegan Sea, N Turkey and SE Poland) where large hail is possible. Due to high values of PW (> 30) and low storm motion thunderstorms that will occur over Balkan Peninsula, Italy, and the belt from Poland to NE Russia may produce excessive precipitation and create risk for flash floods.


DISCUSSION

...North-eastern Spain...

On the peak of the long wave axis associated with trough over British Isles, QG-forcing and low-level convergence will take place in environment of CAPE ~ 2000 J/kg, DLS ~ 20 m/s and SRH ~ 200 m2/s2. This setup will be conducive for supercellular thunderstorms that can produce all kinds of severe weather phenomena including damaging wind gusts and very large hail. Although high LCL can prevent from tornadogenesis, isolated tornado event is not ruled out.

...Northern and eastern Spain, south-western France...

High boundary-layer moisture resulting in CAPE up to 1500-2000 J/kg together with moderate wind shear up to 15m/s can result in large hail. Convective initiation in this region is expected in the afternoon hours and is predicted to be active also during the night over SW France.

...Central Europe, Balkan Peninsula, northern Italy, and belt from Poland to north-western Russia...

Internal thunderstorms that form in the low-sheared environment will start to be active in the afternoon hours and are expected to dissipate after the sunset. Storms that form will likely be weakly organized and move in the environment of high PW (> 30mm). Their motion will be relatively low and create threat for flash floods phenomena. Nearby mid-level cut-off over Balkan Peninsula higher storm motion is expected in Bosnia and Herzegovina where also severe wind gusts are expected. Increased delta Theta-E values (> 16C) can also favor convective wind gusts in northern Italy. Belt of higher boundary-layer moisture content extending from Alps up to SE Poland will result in CAPE up to 1600-2000 J/kg creating threat for large hail phenomena. Equilibrium level temperature exceeding -40C may suggest that thunderstorms are expected to have intense lightning activity.

...North-eastern Greece, north-western Turkey, Bulgaria...

Ahead of the mid-level cut-off moving eastward, strong QG-forcing is expected in the environment of CAPE exceeding 1500 J/kg and wind shear of even 25 m/s that may suggest good storm organization and severe weather phenomena. However, due to strong convective inhibition associated with warm and dry air advection from Sahara Desert convective initiation seems to be unlikely. Therefore, level 1 was issued in this region with low probability for lightning and severe weather phenomena. The highest probability for the thunderstorm occurrence as denoted by the 50% lightning probability polygon is in western Bulgaria and is mainly related to large hail and excessive precipitation phenomena.