Storm Forecast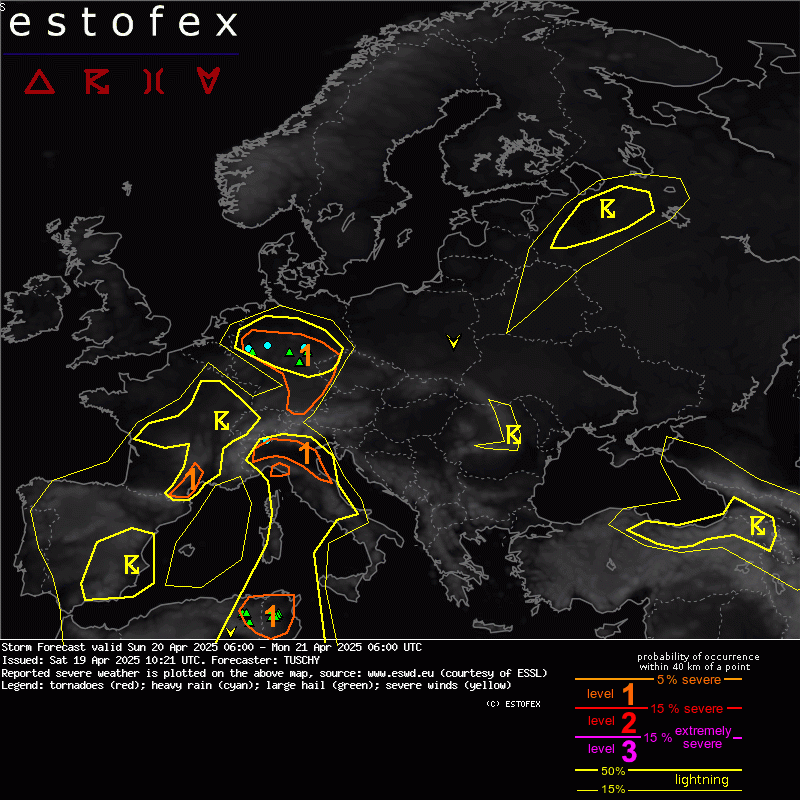 Storm Forecast
Valid: Fri 20 Oct 2017 06:00 to Sat 21 Oct 2017 06:00 UTC
Issued: Thu 19 Oct 2017 20:30
Forecaster: TUSCHY
A level 1 was issued for parts of W/SW-UK mainly for severe wind gusts.

A level 1 was issued for parts of the S-CNTRL Mediterranean mainly for excessive rain, large hail and an isolated tornado risk.

SYNOPSIS

A pronounced upper low drops southeast during the forecast from N-Algeria to Libya. This feature is embedded in a broad upper trough over the CNTRL Mediterranean. Over NW-Europe, an intense vortex rolls east with a progressive downstream ridge affecting CNTRL-/N-Europe. Over NE-Europe a deep trough supports strong CAA with winter-like temperatures (850 hPa temperature below -5 to -10 °C).

A sub-980 hPa depression approaches Ireland from the W during the forecast and encroaches on Ireland during the overnight hours. Elsewhere no substantial LL pressure anomalies are forecast over the rest of Europe.

DISCUSSION

...South and west of Sicily ...

In the periphery of the upper low, cold mid-levels overspread a warm/moist marine layer. Downstream of the upper low a northward fanning EML overspreads the marine layer and results in 1 to 1.5 kJ/kg MLCAPE. Augmented upper divergence and persistent deep lift cause scattered CI all day long ...
probably maximized along an E-W aligned convergence zone between S-Sicily, Malta and SE-Sardinia. 10-15 m/s DLS and increasing upper divergence support clustering storms with slow storm motion and hence excessive rain will be the main risk next to isolated large hail. A low-end tornado risk exists mainly along any boundary with locally enhanced LL directional shear and augmented LL CAPE.

... Ireland and SW-UK ...

A gradually filling depression with a warm-core anomaly approaches Ireland during the night with a weakening gradient wind event along the S-periphery of the depression. Strong subsidence in the well mixed post frontal air mass should limit the overall chances for thunderstorm activity during the night, although some low-end chances exist over offshore areas (e.g. Celtic Sea). A severe wind gust risk accompanies convection, but in general the gradient wind risk should dominate. Hence no level area was issued for now.
At 03 UTC onwards the Irish Sea and W-UK may need some monitoring as dry air aloft overspreads a well mixed/moist BL air mass with slowly intensifying lift. We expanded the lightning area to the east and issued a small level 1 to account for enhanced downward transport of 25 m/s winds at 850 hPa (which may increase the general severe wind gust threat next to the gradient wind threat). Despite favorable kinematics, the tornado risk remains marginal at best due to very little CAPE.