Storm Forecast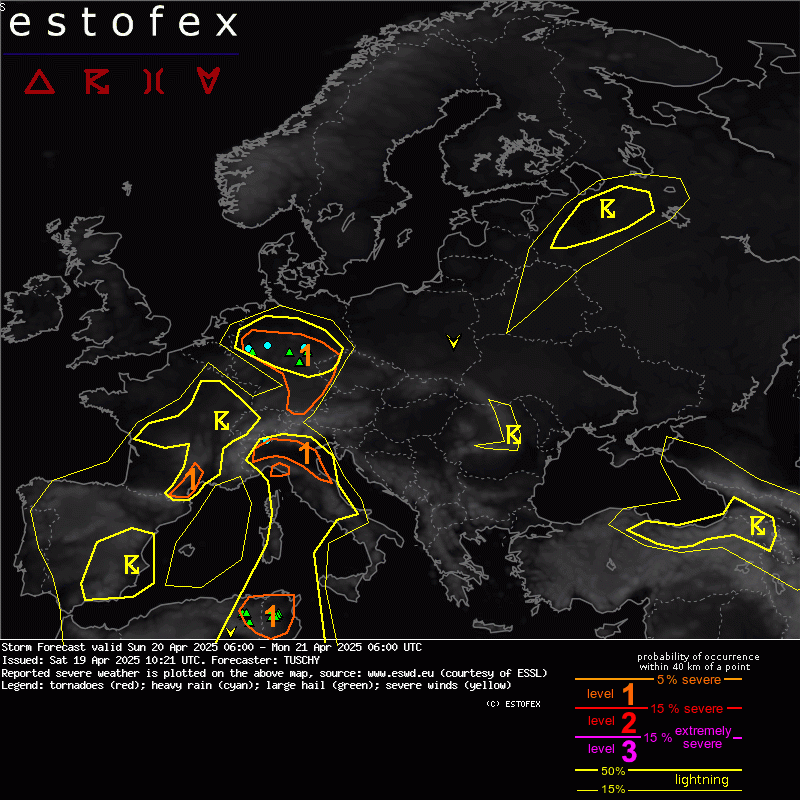 Storm Forecast
Valid: Wed 23 Apr 2014 06:00 to Thu 24 Apr 2014 06:00 UTC
Issued: Tue 22 Apr 2014 22:12
Forecaster: TUSCHY
A level 1 was issued for NE Germany, parts of Poland, the NE Czech Republic and N Slovakia mainly for an isolated large hail event and excessive rain.

A level 1 was issued for the N-Ionian and S Adriatic Sea, Albania, parts of Greece, the Republic of Macedonia, S Serbia, W Bulgaria and SW Romania mainly for large hail and excessive rain. An isolated tornado event is possible mainly along coastal areas and over Albania.

SYNOPSIS

A ridge over Norway / Sweden and a depression over the central Mediterranean create a blocking pattern over Europe. Despite gradually increasing mid-level geopotential heights and faint warming of the mid-troposphere over central Europe, environmental conditions continue to support widespread thunderstorm development over many European countries. The vortex over Sicily and S-Italy sparks a surface depression, which tracks from Malta to the Ionian Sea. Peak intensity is forecast over the far N Ionian Sea. During the night, this depression shifts further to the east and weakens over Greece and the Aegean Sea. Another mid-tropospheric trough deepens NW of the Iberian Peninsula and is about to approach Portugal during the end of the forecast. Yet another trough affects Ireland and assists in convective initiation.

Latest observational data indicates numerous convergence zones over central Europe, either induced by ongoing convection and attendant outflows or due to convergent flow due to the synoptic pattern and weak synoptic fronts.

DISCUSSION

... A region, which is framed by France / Ukraine and Germany/ Italy ...

Yesterday's soundings showed thin but vertically elongated CAPE profiles with PWs around 20 mm and weak shear. Expect a similar stratification and shear of the low/mid- troposphere.

Sub-severe convection from the overnight hours continues during the morning hours / forenoon from NE Germany to S-Poland, whereas the rest experiences its diurnal minimum of activity.

Diurnal heating however induces a gradual increase of thunderstorms during the noon and afternoon hours. Confidence for widespread thunderstorm activity is the highest over the mountainous regions and along the quasi-stationary area with convergent flow, which extends from NE Germany to the Ukraine and then further to the east. Outside the level 1, the activity evolves in an environment with 400-800 J/kg weakly capped MLCAPE and DLS of less than 10 m/s, so clustering storms with marginal hail, gusty winds and heavy rain will be the main hazard.

Deeper BL moisture with a lesser chance for diurnal mixing helps to boost SBCAPE values to 800 J/kg or more within the level 1 area. Initial storms could yield stronger updrafts with an isolated large hail risk. Rapid upscale growth into numerous storm clusters however shifts the main risk to isolated excessive rain. The level 1 was expanded all the way to Slovakia, where stronger deep layer flow counteracts lower CAPE with a similar hail/rain risk.

The thunderstorm activity slowly subsides after sunset although localized, non-severe and short-lived thunderstorm activity remains possible all night long. Grazing upper troughs also induce weak forcing and hence ongoing thunderstorm probabilities from Benelux to central France to the Black Forest until 06 Z.

... Albania, Greece, Republic of Macedonia to Bulgaria ...

Ingredients support a more organized thunderstorm risk with the NE-ward moving trough and attendant surface low. EZWMF and GFS show a similar track of a 1002-1004 hPa depression with good run-to-run consistency.

A shield of heavy rain (stratiform) with isolated embedded thunderstorms affects Sicily, the SE-Tyrrhenian Sea and far S-Italy until noon. Latest data keeps plume of most unstable air just offshore. Still, we can't exclude a few coastal storms with heavy rain and a very isolated tornado risk...confidence for a level 1 remains too low due to displaced CAPE. EZMWF and GFS also show a maximum of convectively enhanced precipitation over N-Sicily until noon. Here, low confidence in thunderstorm activity precludes a level 1.

Overlap of 15-20 m/s DLS and 500-800 J/kg MLCAPE over Albania, the Republic of Macedonia and NW Greece indicate a risk for organized multicells/isolated supercells. Initiation awaits the vertically stacked trough/surface low, which occurs during the early afternoon. The deepening surface low causes ageostrophic deflection of the low-tropospheric wind but also channeling of that flow along the coast of Albania/Greece. Resultant 15-20 m/s SE-erly winds at 850 hPa with aforementioned ingredients support clustering and constantly re-developing storms over the SE-Adriatic/N-Ionian Sea. Excessive rain is forecast and will be the main hazard. Also large hail and an isolated tornado event will be possible with more discrete thunderstorms. The risk diminishes after midnight as the weakening depression moves further to the east.

During the overnight hours and north of the depression's core, convergent flow in the low/mid troposphere beneath at least weak upper divergence and cooling mid-levels create a belt of a few hundred J/kg CAPE from the Republic of Macedonia, S-Serbia to far S-Romania and W-Bulgaria. Effective PWs in excess of 20 mm and storm motion vectors of 5-10 kt point to slow moving thunderstorms with excessive rainfall. Those clusters continue until 06Z and beyond.

... Ireland ...

An upper trough approaches Ireland during the afternoon/evening hours from the SW. A marine air mass beneath cooling mid-levels creates up to 500 J/kg MLCAPE. A 25 m/s jet at 500 hPa develops over Ireland and pushes 0-6 km bulk shear to 15-20 m/s. A few organized thunderstorms with strong wind gusts and marginal hail will be possible. Thunderstorms rapidly decay after sunset.