Storm Forecast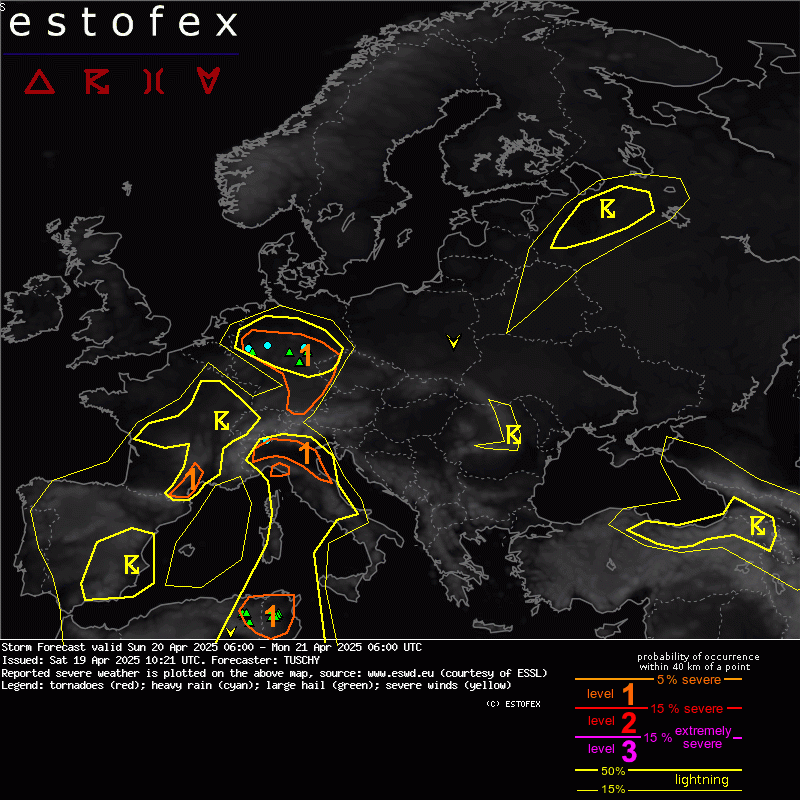 Storm Forecast
Valid: Tue 20 Mar 2018 06:00 to Wed 21 Mar 2018 06:00 UTC
Issued: Mon 19 Mar 2018 23:06
Forecaster: DAFIS
A level 1 was issued for W Balkans and S italy mainly for convective severe wind gusts, excessive precipitation and tornadoes.

SYNOPSIS

The cut-off low over the Bay of Biscay is quickly moving towards the Iberian Peninsula. The jet-stream is curved south of this weakening feature, and on Tuesday 20/03 several vorticity maxima will be placed over W Mediterranean Sea. The instability caused by this cold mid-level air mass will be widespread, so we expect several thunderstorms from Spain to W Greece. Thermodynamics do not look so promising for widespread severe DMC events but the level 1 area shows where we could expect some.

DISCUSSION

The low-pressure system at the surface just west of Sardinia will result in large-scale lifting of unstable air masses towards Italy. Saturated vertical profiles in forecast soundings suggest that storms will be able to produce excessive precipitation when the cold front will reach the coasts of Italy. Strong 850 hPa wind field also increases the probability of severe wind gusts during thunderstorms. This perturbation will move towards the Adriatic Sea and W Balkans later in the night and early morning of Wednesday. Limited CAPE (less than 600 J/Kg) but pronounced DLS make forecast difficult about the types of severe weather to expect. If a MCS forms then severe wind gusts may be the main threat but otherwise excessive precipitation from training convection will affect mostly Albania, where models place the strongest LL convergence zone. Enhanced LLS near the shores may induce the formation of tornadic events. Waterspouts may also form in W Italy and Corsica due to steep LL lapse rates and veering winds at the NE side of the cyclone.