Storm Forecast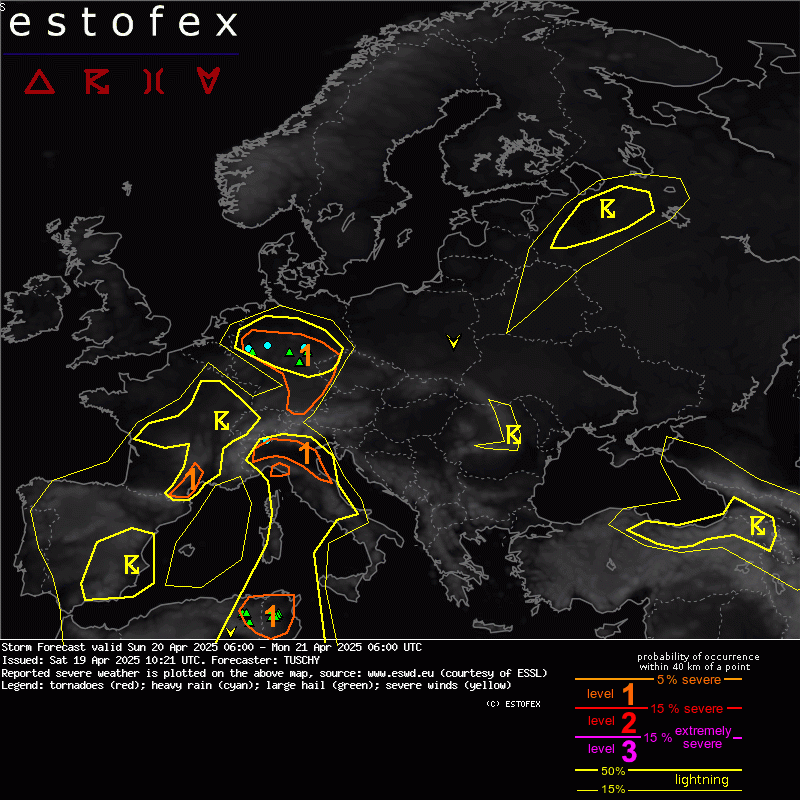 Storm Forecast
Valid: Tue 03 May 2016 06:00 to Wed 04 May 2016 06:00 UTC
Issued: Mon 02 May 2016 20:06
Forecaster: DAFIS
A level 1 was issued for Bulgaria, E Greece and W coasts of Turkey mainly for excessive rainfall and large hail.

SYNOPSIS / DISCUSSION

The wide ridge in W Europe will give its place to a longwave trough, at least for 24 hours, combined with a cold front on the surface which will cross central Europe during Tuesday. Another shortwave trough exists in NW Scandinavia, which may produce some lift for some pulse thunderstorms. A cold pool in SW Russia is moving quickly eastwards and quite cold mid-level air masses west of this pool result in steep lapse rates and some hundreds of CAPE, where showers and thunderstorms are expected to form but severe weather should be rather unlikely in the absence of DLS and low PW .

The most interesting part of the continent for DMC on Tuesday is found under a cold bubble, over Greece. Steep lapse rates and moist PBL create CAPE up to 1000 J/kg which partially overlaps with DLS in the range of 20-25 m/s. GFS is more reluctant for this overlap in NE Aegean, but ECMWF and high resolution models forecast a favorable environment for rapid storm organization under a jet streak in mid and low levels in NW Turkey, so an isolated multicell/supercell event is possible.

More particularly, concerning the coasts of Turkey, we expect excessive rainfall as the inflow parcels reveal high moisture content for long lived DMC, enhanced by local topography. For NE Greece and SE Bulgaria, modest anvil-layer shear and marginal stronger flow next to the mid-level impulse may support well organized multicell clusters and isolated supercells, able to produce large hail and isolated severe wind gusts at the storm outflows.

Several other parts of the Balkans and Italy will experience thunderstorm activity were marginal CAPE is forecast, with a possible waterspout formation near the coasts as the SST-T850 hPa difference exceeds the 12°C and LLCAPE will assist some low based cumulonimbus. Thunderstorms will continue well into the night over the sea.