Storm Forecast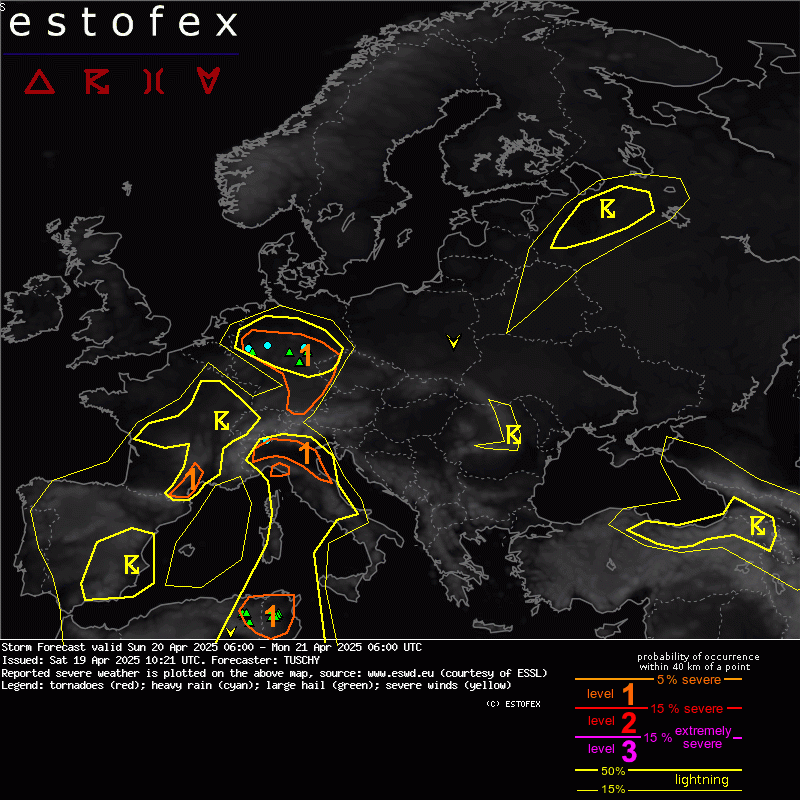 Storm Forecast
Valid: Thu 23 Jan 2020 06:00 to Fri 24 Jan 2020 06:00 UTC
Issued: Wed 22 Jan 2020 23:35
Forecaster: GATZEN
A level 1 was issued across the Gulf de Lion due to heavy precipitation.

A level 1 was issued across the Gulf of Cadiz mainly due to large hail and severe wind gusts.

A level 1 was issued across Cyprus towards Syria and Lebanon and surroundings mainly for severe wind gusts.

SYNOPSIS

A large closed upper low extends across south-western Europe. A ridge extends from western to southern Europe, yielding a deep north-westerly mid-level flow across eastern Europe, where an intense digging trough spreads into the east Mediterranean. While cold and dry air spreads south-east across most of Europe, a tongue of warm and moist air spreads into southern France ahead of the closed low.

DISCUSSION

Gulf de Lion and surroundings

Quasi-stationary frontal boundary is still present from the west Mediterranean into southern France. Showers and thunderstorms will go on along this boundary. Forecast soundings indicate weak instability and skinny CAPE profiles, with a mean flow mostly parallel to the front. This will support backbuilding convection through-out the period, that will slowly move east with the frontal boundary. Some heavy rain reports are expected, although the precipitable water content is not too high.

Golf of Cadiz and surroundings

Near the base of the trough, rather moist air spreads north ahead of the surface low pressure center. At mid levels, several vorticity maxima travel east. Skinny CAPE profiles are expected and some thunderstorms are forecast. Given long straight-line hodographs, fast moving storms are forecast, capable of producing locally large hail and severe wind gusts. Marginal CAPE will limit severe potential, though.

Cyprus towards Syria and Lebanon

A cold front moves south-east across the east Mediterranean. Some moisture is present ahead of the cold front and will overlap with steepening lapse rates ahead of the progressing mid-level trough. Weak CAPE will result and spread south-east. Given weak CIN and frontal lift, showers and thunderstorms are forecast. Main threat is severe wind gusts whereas precipitation is not expected to be too heavy since storms are pretty fast moving and large hail is not likely given weak CAPE. Storms will move onshore late in the period where some heavy precipitation is forecast across the mountains of Lebanon, while convective contribution will decrease due to weakening CAPE.