Storm Forecast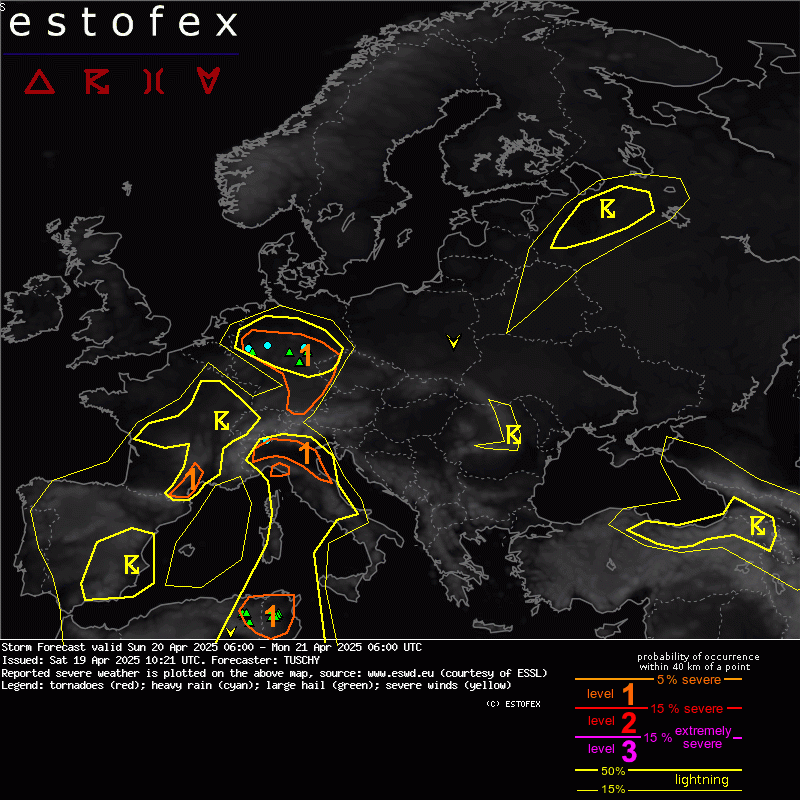 Storm Forecast
Valid: Tue 16 Oct 2018 06:00 to Wed 17 Oct 2018 06:00 UTC
Issued: Mon 15 Oct 2018 21:19
Forecaster: DAFIS
A level 1 was issued for parts of Italy, Malta, Algeria, and Tunisia mainly for excessive precipitation and to a lesser extent for large hail and severe wind gusts in Tunisia.

SYNOPSIS

A Rossby-wave breaking in W Europe has resulted in several vorticity maxima, mainly over the Iberian Peninsula and Germany. Two cut-off lows are developing with their centers over Spain and Germany. In Germany, steep lapse rates and LL moisture will feed some thunderstorms driven mostly by diurnal heating, which may produce locally small hail but otherwise, they should stay non-severe. Better moisture-steep lapse rate overlap exists in Central Mediterranean, where the strong southwesterly flow will create some wind shear and storms may become severe.
Iceland is expecting a strong cyclone with torrential rainfall and its cold front will pass over Ireland and the UK but models forecast stable conditions. The wide high-pressure system in eastern Europe will suppress any convection, apart from parts of Turkey which are still under the influence of a dissipating cut-off low over NE Greece.

DISCUSSION

.... Central Mediterranean ....

Ongoing thunderstorm activity will continue on Tuesday. Saturated vertical profiles, especially over Algeria and Tunisia, suggest that storms will be able to produce large amounts of precipitation. The IFS model shows that rainfall peak will be recorded during the second half of the day, with storms building over land, moving slowly north towards the coasts. Steep lapse rates over Tunisia will create about 1-1.5 kJ/kg CAPE and 10-15 m/s DLS show the potential of storms to produce large hail (no larger than 2 cm in diameter) and locally severe convective wind gusts. Overall the threat should be limited, especially if the storms become severe offshore. Finally, persistent southwesterly flow in S Italy will assist training convection to produce excessive precipitation in short time periods. Some waterspouts may develop near the coasts of Spain, France, Italy, Malta, Algeria and Tunisia.