Storm Forecast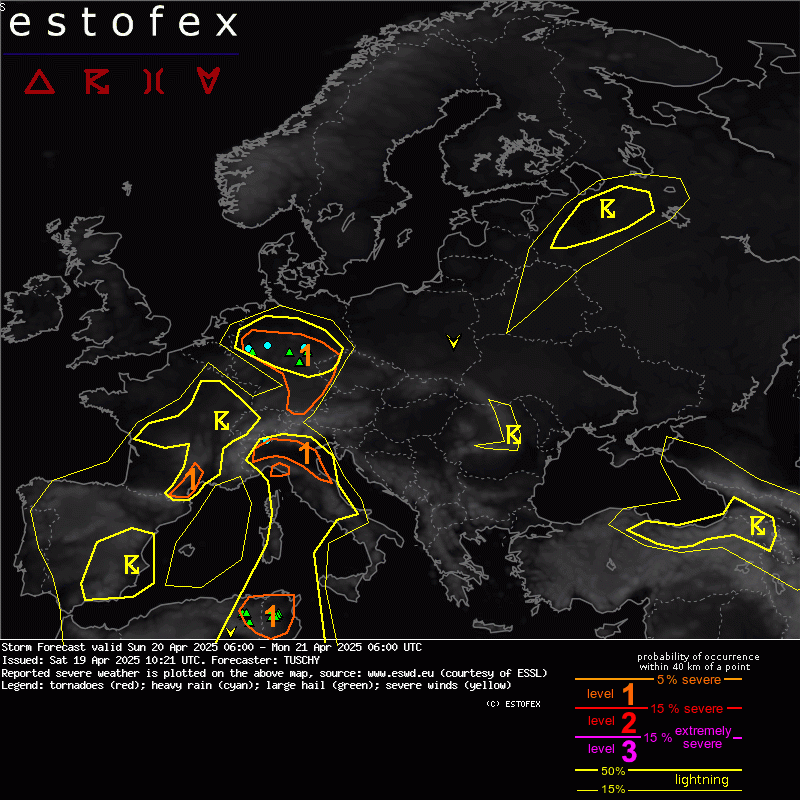 Storm Forecast
Valid: Wed 20 Sep 2017 06:00 to Thu 21 Sep 2017 06:00 UTC
Issued: Tue 19 Sep 2017 22:35
Forecaster: DAFIS
A level 2 was issued for Romania, Moldova and Ukraine mainly for severe wind gusts, large hail, excessive rainfall and tornadoes.

A level 1 was issued for a large part of E Europe and the Balkans, mainly for excessive rainfall and severe wind gusts.

SYNOPSIS

A long-wave trough extending from Scandinavia towards Italy creates steep mid-level lapse rates but dry conditions limit convective activity. The best overlap of all ingredients for DMC can be found at the eastern parts of the continent, under the regime where warm and moist air masses from the SE collide with the cool continental air masses. A stationary front over this area for several days now, create numerous convergence zones, where convection is triggered before noon and thunderstorms continue well during the night. West Europe will lie under a strong ridge tomorrow, while another trough is approaching from the Atlantic.

DISCUSSION

Early morning convection in South Italy, under the leading edge of the trough, may produce locally severe wind gusts, as well as in the East coasts of the Adriatic Sea.
One of the several embedded short-wave troughs within the larger trough, will cross Romania during noon with note-worth PVA, during the maximum diurnal heating and the strongest LL flow at the convergence zones. For this reason, we expect widespread convective activity and level 2 denotes the area where we expect the most severe phenomena. Bulgaria, Romania, Moldova and Ukraine will be under a southwesterly jet streak, overlapping with some 1-2 kJ/kg MLCAPE creating a favorable environment for MCS and supercells. Strong DLS and 0-3km shear in the range 20-25 m/s and 15-18 m/s respectively, increase the probability of large hail formation and severe wind gusts (strong downdrafts) could result in widespread damage on the ground.
Strong mid-level flow, which will be the steering wheel of these storms, decrease the probability of flash floods, but more to the west of the level 2 area (eg. Hungary), we expect some storms in the afternoon to become more stationary and may produce excessive precipitation.
Moreover, LL looped forecast hodographs create some hundreds of SREH where LCL will remain below 1km throught the day and SBCAPE will reach at least 1 kJ/kg according to GFS, so we forecast tornadoes within the strongest cells.