Storm Forecast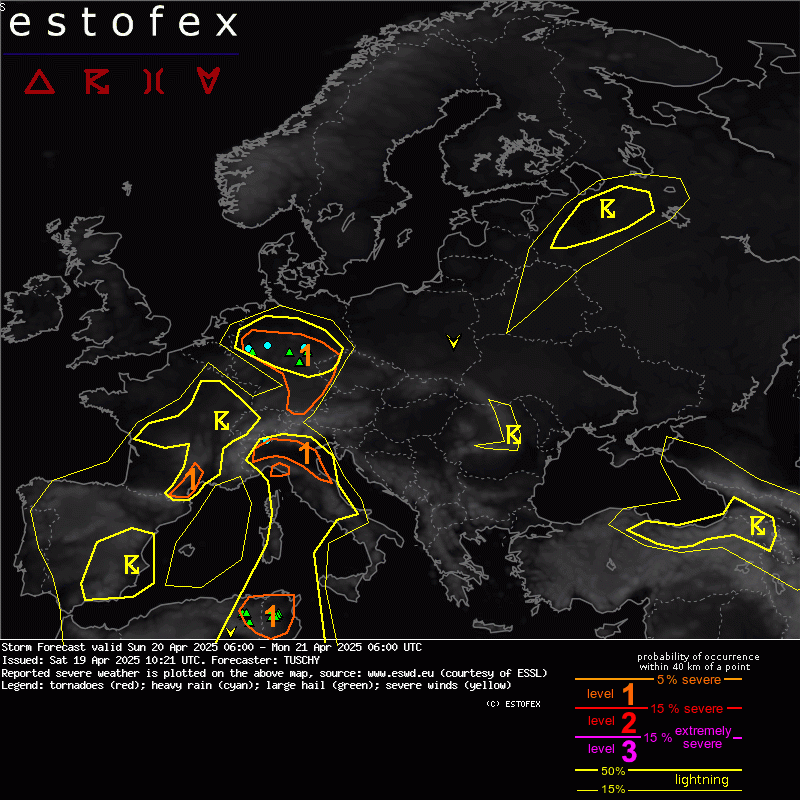 Storm Forecast
Valid: Mon 21 May 2018 06:00 to Tue 22 May 2018 06:00 UTC
Issued: Mon 21 May 2018 02:13
Forecaster: VAN DER VELDE
A level 2 was issued across N Tunesia mainly for large hail and severe wind gusts.

A level 2 was issued across W Turkey mainly for large hail.

A level 1 was issued across SW France mainly for large hail.

SYNOPSIS

High pressure dominates northern and eastern Europe. Weak low pressure and unstable air mass is present south of the line S UK to N Romania. This area is rounded by high level winds with generally low shear within, 10-15 m/s over SW France, SE Germany to NW Romania. Over Tunesia and Turkey a westerly jet enhances the shear conditions over 15 m/s (SREH 150-200 m2/s2) where MLCAPE is 700-1500 J/kg, allowing supercell mode and significant potential for large hail. Slight upper troughs ensure lift. Over SW France a trough will focus enhanced convective activity, with 10 m/s allowing a few cells to become well organized and produce large hail. The Balkan region seems to lack buoyancy needed in the mid/upper levels to aid significant hail production.