Storm Forecast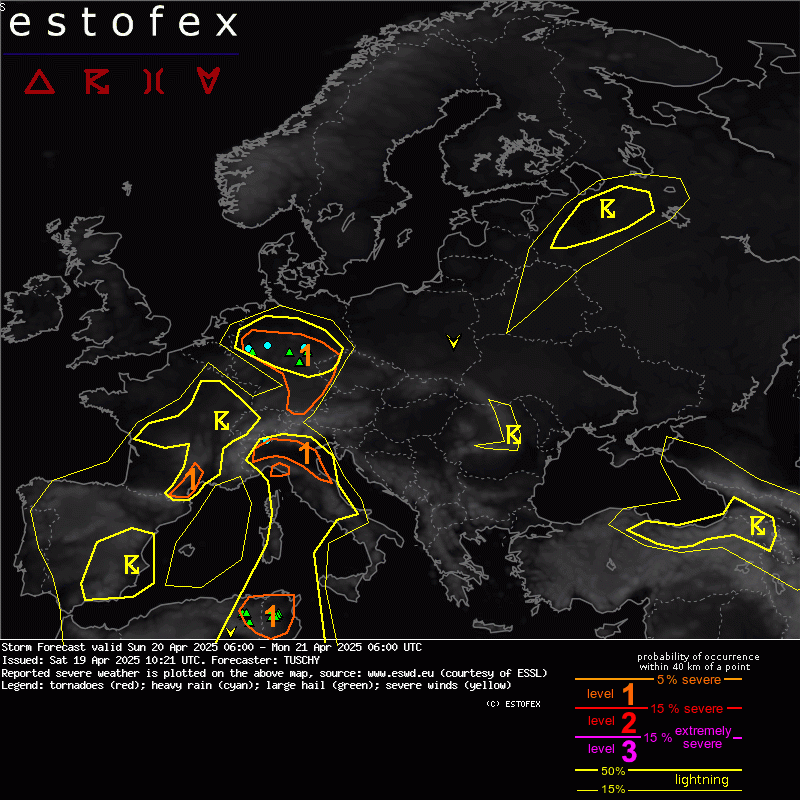 Storm Forecast
Valid: Mon 06 Apr 2020 06:00 to Tue 07 Apr 2020 06:00 UTC
Issued: Mon 06 Apr 2020 07:13
Forecaster: GATZEN
No threat levels have been issued.

SYNOPSIS

A mid-level ridge is located across Central Europe, flanked by low geopotential over western and eastern Europe. A lifting trough moves from the British Isles to Scandinavia, leaving a rather weak mid-level vortex across Iberia today. Another trough is located across the Aegean. Dry low-level air is still present over most areas including the central and western Mediterranean. Better moisture can be found over the east Mediterranean and also over west Iberia. At the same time, lapse rates are weak except for far north-eastern Europe, where polar air masses are present. Steep lapse rates are also present over the Atlas mountains. Additionally, diurnal heating leads to improving lapse rates across Iberia and Turkey today.

DISCUSSION

Turkey

Today, some diurnally driven thunderstorms are forecast. Weak CAPE, lapse rates, and shear will limit any severe potential. Storms will decay soon in the late afternoon.

East Mediterranean

A south-westerly mid-level flow is present ahead of the Aegean trough. Mid-level sinking is expected at the anticyclonically sheared flank of the mid-level jet. Furthermore, dry low-level air masses are present. Storms are not expected to develop.

Iberia

Although some steeper lapse rates can develop close to the trough axis that affects northern and central Spain today, and low-level moisture is sufficient to allow for weak CAPE, equilibrium level temperature are quite high. Therefore, most showers are not expected to produce lightning. However, some storms may develop, though. Vertical wind shear is weak and severe storms are not expected. Farther west, more moisture is present across Portugal, however, equilibrium level temperatures are even higher, and some showers may only produce very isolated lightning if any.